News
USA Wrestling
High School & Youth
Women
USAW
Fargo Day 1 preview (7/16): 16U women's and men's freestyle starts seven days of wrestling
by Adam Engel, USA Wrestling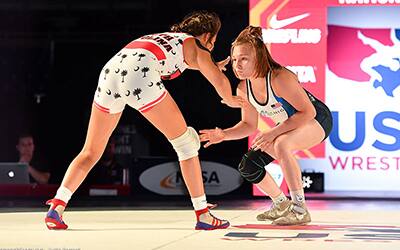 Cecilia Williams of Michigan in her stance during the 2021 16U Nationals finals. Photo by Austin Bernard.
What's new: The USMC 16U women's and men's freestyle nationals begin the show.
The two tournaments start on Saturday morning, in the 16U division, with men's and women's freestyle.
The women's 16U tournament, which had 531 pre-registered wrestlers as of Friday afternoon, is scheduled to reach the semifinals Saturday night. We will know the finalists by Saturday night. This number is a massive upgrade from last year's numbers with 350 in 2021 and is an all-time record.
The men's 16U tournament, however, is scheduled to wrestle through the preliminaries on Saturday. There are some amazing numbers among the men also. The division shows 1,471 registered wrestlers as of Friday afternoon. This is a big bump from 1,337 last summer.
Both sessions being at 8 a.m. in the FargoDome, with a second session beginning at 3:00 p.m..
The 16U women's tournament will feature six returning national champions and 48 All-Americans.
16U Women's Freestyle returning champions:
Cecilia Williams of Michigan (112 in 2021, 112 in 2022), Cadence Diduch of Illinois (117 in 2021, 127 in 2022), Skylar Little Soldier of Minnesota (127 in 2021, 127 in 2022), Nebi Tsarni of Maryland (144 in 2021, 144 in 2022), Ella Pagel (164 in 2021, 164 in 2022) and Sabrina Nauss of Michigan (180 in 2021, 180 in 2022)
On the men's side, watch for three national champions along with 28 All-Americans return to Fargo.
16U Men's Freestyle returning champions:
Seth Mendoza of Illinois (100 in 2021, 106 in 2022), Anthony Knox of New Jersey (106 in 2021, 113 in 2022) and Leo DeLuca (113 in 2021, 120 in 2022)
WHAT'S TO EXPECT IN THE TEAM RACE
16U women's outlook: California returns as the defending champions. The girls from the West Coast carry a streak of nine consecutive 16U national championships into Fargo. (No tournament in 2020 because of COVID-19.) No team closely followed California in second either. Ironically, there is not a returning national champion on California among the 16U women, while Minnesota (Little Soldier and Pagel) and Michigan (Williams and Nauss) have two returning champions each.
16U men's outlook: Pennsylvania has won the last three events (2021, 2019, 2018), with Illinois claiming the title in 2017. Several All-Americans, but no national champions, return to Fargo on Team Pennsylvania, A world champion, however, will represent Pennsylvania in Fargo. 2021 U17 World champion Bo Bassett makes his Fargo debut on Saturday morning.
FLOWRESTLING TO BROADCAST LIVE ON ALL MATS
As has been the past, FloWrestling is the host broadcaster for the USMC Junior & 16U Nationals, bringing live coverage from all 27 mats on the floor of the FargoDome for seven straight days.
Watch the USMC Junior/16U Nationals live on FloWrestling
https://flosports.link/37y8RpF
SATURDAY'S SCHEDULE
8:00 a.m. - 1:30 p.m. — 16U Women Freestyle: Session I — Preliminaries and Consolations
8:00 a.m - 1:30 p.m. — 16U Men's Freestyle: Session I — Preliminaries and Consolations
3:00 p.m. - 7:30 p.m. — 16U Men's Freestyle: Session II — Preliminaries and Consolations
3:00 p.m. - 7:30 p.m. — 16U Women Freestyle: Session II — Quarterfinals, Semifinals, and Consolation