News
USA Wrestling
High School & Youth
Women
USAW
Adam Engel's first Fargo blog: July 22: Fifth finals, interviews and cookies
by Adam Engel, USA Wrestling
Note: USA Wrestling intern Adam Engel will do short blog posts daily as he attends the USMC Junior & 16U Nationals for the first time.

July 22 - Welp…you know it's near the end when several mats are packed up and ready to ship out of the Fargodome. Fargo is almost over.

The fifth finals were held on Thursday with the 16U Greco-Roman. I'll be honest, I am not super experienced with Greco-Roman, but I enjoy watching it and am learning the finer details as we go on. All I know is that big throws can be fun to watch. Boom. One guy chucks another over his head and slams him on his back. How can you not love that?

During Thursday's final, Haakon Peterson of Wisconsin became a returning champion at 94. In his four Fargo appearances, he's made four finals and won three times. Watch out for this guy who will only be a freshman in high school. Jayden Raney of Kentucky also doubled up after he won a freestyle championship earlier in the week at 113 What's possibly even cooler is that he won a championship alongside his twin brother, Jordyn, who won at 120. These guys are representing Kentucky well.

Despite Fargo serving as a strong coverage point for wrestling media, the local Fargo news stations arrived to cover the event. Cullen Holt of WDAY News interviewed several North Dakota wrestlers.

I'm still doing just fine with the Mountain Dew. But hey, if the folks at Mountain Dew find themselves bored enough to read this, please consider the first ever NIL deal with a student journalist. I promise I will represent your brand with pride. Do the Dew.

Instead of the early in the week donuts at the head table, they brought cookies. You can bet I'm eating M&M cookies with my coffee.

Anyways, that does it for the day eight blog. It was a fun day and I'm looking forward to the Junior Greco-Roman finals.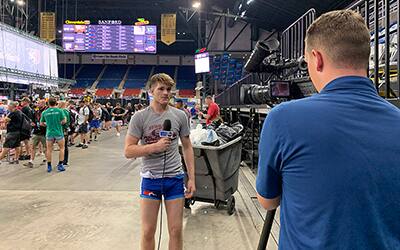 William Ward of North Dakota interviewed by WDAY News. Adam Engel photo.

July 21: Women's finals, Microsoft Word and Greco-Roman

Let me start with this: the wrestling, particularly the Junior women's finals, was amazing on Wednesday. I thoroughly enjoyed watching hundreds of matches yesterday, but the girls showed off under the Mat 1 spotlight.

Fourteen Junior women's champions were decided but I had a few matches that were my favorite. One of my personal favorites was the final at 144 between Sydney Perry of Illinois and Michigan's Clarissa Agostini who attends high school in Canada. It was a see-saw battle but Perry fought off a late effort by Agostini to win, 13-12.

Brooklyn Hays of Utah surprised thousands of people in the Fargodome by teching Minnesota's Ella Pagel, 10-0, at 164. Hays is headed to Augsburg University in Minneapolis, Minnesota, but started wrestling less than two years ago when she switched over from basketball. It's amazing what can happen in a short time on the mat.

The biggest thing I learned for the day — Koral taught me how to save several minutes by using the "Find and replace" function of Microsoft Word. When we compile the results for the bottom of the article, we switch out some of the FloWrestling jargon for more commonly wide known abbreviations. For example, what a VPO is to FloWrestling, is a decision to the rest of the wrestling world. Instead of going one by one and changing VPO to decision, with the use of the function, you change all VPO results to decision with one function. The more you know. Thanks, Koral.

"If you can find ways to save time, do it," Gary always says.

Anyways, my tasks yesterday were to write the stories from the 16U Greco-Roman sessions and preview Thursday. On Thursday, the 16U Greco-Roman finalists and champions will be determined. The Junior Greco-Roman tournament will also begin.

With the tournament nearing its finish, almost all of the girls left Fargo. Now, only the boys remain.

Also, Greco-Roman is fun to watch. People only say it's boring because they don't understand it.

That is all. Talk to you folks, tomorrow.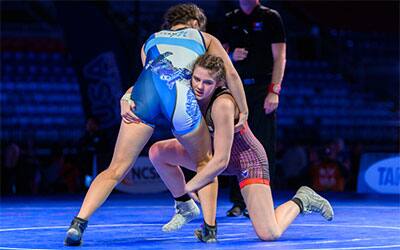 Sydney Perry (IL) and Clarissa Agostini (MI) in the 2022 Junior Women's finals. Photo by Tony Rotundo, Wrestlers Are Warriors.

July 20: Record women's entries, rubber chickens and golden tickets

Nine hundred forty-six. Those were the number of athletes participating in the Junior women's freestyle on Tuesday in Fargo. It is incredible to see the growth of women's wrestling especially now that several states are starting to sanction it at the high school level.

Also, these girls are tough. I wouldn't want to scrap with any of them. I would lose. Badly.

From a writing perspective, the assignments were lighter today. Since there are three communication workers here in Fargo (Gary, Koral and I), we take turns throughout the six tournaments writing the wrap stories. Gary wrote the story from the Junior men's finals which meant I was in charge of video interviews with the winners.

I love interviews. I love digging into the athlete's mind and figuring out the "Why and How" of it all. It's not like I watch these guys a lot. In fact, I haven't watched many of these athletes until now. How did they improve from last year? What did they learn from Fargo last year that they used to their advantage this year. What is their college recruiting process looking like? Those are just a sample of the questions I like to center my interviews around.

Speaking of which, I saw a familiar sight in the interviews with the Maryland champions. A rubber chicken. Yeah… apparently it is Maryland tradition for one of their coaches to chuck a rubber chicken onto the mat after they win a national championship. You can't question it. It's wrestling. Some things are just weird and that's OK.

Tuesday morning began with the Junior women's tournament. Because I wasn't writing about that, I spent a lot of time roaming around the mats watching and looking for coaches to list in our "In the House" series. I found the crew from Iowa women's wrestling — head coach Clarissa Chun and assistant coach Gary Mayabb.

In the afternoon, I went to the Nike merchandise table on the concourse and got a few sweet things; I bought this super sweet teal USA Wrestling Nike jacket. I also bought more roasted almonds from the concession stand. They are delicious. They seem to be one of the most popular concession items here at Fargo.

Anyways, during the interviews Andy Hamilton of FloWrestling presented a few Golden Tickets — an automatic pass to the Who's Number One event in fall — to a few of the Fargo champions. At the end of the night when we're leaving, I saw Andy again with the Golden Tickets. He said he thought about presenting me with one, but his co-worker David Bray said he didn't think I had done enough to earn that right.

C'mon David. As a man with zero wrestling experience whatsoever, I am absolutely disgusted that FloWrestling passed on an opportunity to ship me to Ann Arbor, Michigan, for the Who's Number One event.

That does it for this blog entry and I'll talk to you all tomorrow.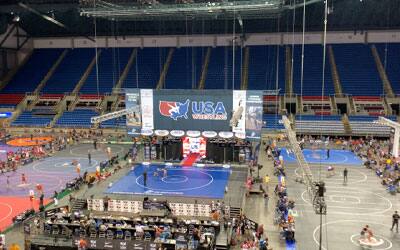 A birds-eye view of the mats from high up in the FargoDome. Adam Engel photo.

July 19: Coffee, donuts and more wrestling

I am tired. I need an I.V. of Mountain Dew. Instead I'm having coffee and donuts.

Good morning from the FargoDome. I am enjoying my first Fargo tournament and proving the advice given to me ahead of this tournament. Fargo is tiring. It's a grind. Yeah, and I'm just a media member. Think about the wrestlers, some of whom are wrestling in two divisions. All that physical fatigue, sore torsos and the mental exhaustion that comes with winning and losing.

On Monday afternoon, we got our second glimpse of the sport's future stars. 16U men's freestyle. Although the majority of these wrestlers aren't even juniors in high school (some are still in middle school), the college coaches will be lined up for them when it their turn for recruiting. Speaking of which, we (Gary and I) have found 67 college coaches of all levels for our "In the House" series. With the tournament picking up its pace, you will start to see the coaches show out. Plenty dotted the barricades around the finals stage and others monitored some of the men's Junior freestyle semis.

I ran into Chris Bono (Wisconsin head coach) and his assistant, Jon Reader. Both guys are friendly and full of energy. In fact, Bono had this to say after I big-timed him on Twitter. He followed me (You can too. @AdamEngel9) several months ago and I only followed back on Sunday night.

"I'm pissed at you," he said jokingly while playfully shoving me. "C'mon man. I liked you."

An encounter like that made me laugh and it made my day.

One of my favorite 16U men's freestyle finals from Monday was at 220. Adam Farha of California vs Utah's Jay Henderson. Henderson won, 10-8, in a fast-paced battle that featured action from the start. Both guys attacked from the whistle and were guided by the adrenaline attached to wrestling in a Fargo final.

Meanwhile, we will start to see many more women's coaches show out with the Junior women's freestyle tournament on Tuesday. The Junior tournaments are a lot of fun with more competitive matches and highly technical wrestlers. That's not a knock on the 16U wrestlers. Those scrappers are talented but they're young. That's not their fault. Naturally, the Juniors are more developed and closer to graduating high school. During the school year, I cover the Oklahoma State wrestling team for the O'Colly, our student newspaper. With that experience, I am tied into college recruiting news which makes following the Junior divisions fun with college storylines. In fact, several returning champions and contenders are headed to powerhouses like Oklahoma State, Iowa and Penn State.

P.S. — Happy birthday to Koral. It was her birthday yesterday. When she was competing in the Junior women's division in 2011, there were 189 entries. Now, there's 992.

Anyways, that's it for this blog entry. Thank you all for reading and we'll talk to you tomorrow.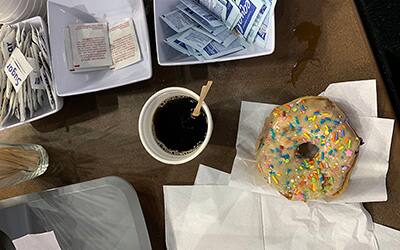 Breakfast of champions: Coffee and donuts. Adam Engel photo.

Monday, July 18: Mountain Dew, printers and Cormier

I'm not going to lie. I'm starting to feel the effects of this grind of a tournament. Yeah, yeah. I know what you're saying, "C'mon Adam, it's only been a day?!" True but I'm sure the coaches, wrestlers and all table workers are tired as well. This is far from the average wrestling tournament.

For those wondering, here's a little by the numbers from my experience today:
4: Bottles of water consumed
3: Mini bottles of Mountain Dew consumed. I don't drink pop all the time but when I do, it's my favorite—Mountain Dew.
2: Donuts consumed for breakfast. (Thanks, head table)
1: Giant cheesesteak consumed from one of the concession stands.

No, I'm not fat but I'm not cutting weight either. The wrestlers can do that for me.

Anyways, today became an example of the Fargo grind. I powered through and had a great time.

At about 9 or 10 a.m., I helped with another non-communications related task. Pete Isais, USA Wrestling's director of national events approached me with a smile on his face.

"Where are the storage bags?" he asked as he laughed in reference to my day one blog. Apparently, the blog is becoming a hit among my co-workers.

But a little later, he approached me and said, "I've got something for your blog." He wanted me to put my young technology literate brain to the test and Google how to make the print darker on an HP LaserJet P4015n printer. And guess what? Now, I know how to increase the tone density on an HP printer.

I collected plenty more names for our "In the House" article series and interviewed former Olympian and UFC Hall of Famer, Daniel Cormier. He announced the UFC fights in New York the day before on ESPN immediately caught a flight to Fargo.

I asked him why this event is so important to him. He spoke with enthusiasm explaining that there is nothing more important than being here for his California wrestlers and supporting them in their corner. They worked hard to be here, and they deserved his coaching and attention.

There's a reason why Cormier is well-respected in his field, and it goes beyond his skill in the octagon. His answer to my question is a major reason why.

Anyways, that does it for today's blog. I need to do some homework for one of my online summer classes (I'm a rising senior at Oklahoma State University) and hit the pillow. I get to sleep in a little bit longer thanks to the 9 a.m. start time rather than 8.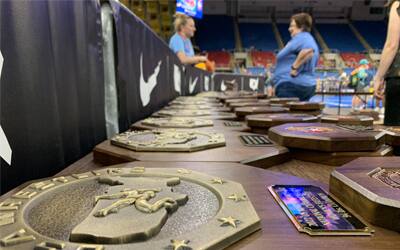 16U Nationals stop sign trophies. Adam Engel photo

Sunday, July 17 -Crazy competition and college coaches

I'm not going to lie. I love this but it's a little overwhelming. Constant whistles, music playing over the PA during the action, Sandy Stevens (one of the PA announcers) giving orders over her microphone and hundreds of wrestlers roaming the floor. It will take some getting used to. But I'm happy I'm here.

At about 8:30 a.m. I took my first walk around the arena during competition. I was on the lookout for college coaches, former stars in the sport and current college All-Americans that might be coaching. This is to collect for our article series "In the House" where we list any notable wrestler or wrestling coach that is in attendance. The most notable person I found on my first walk was Steve Mocco — a former Olympian and two-time NCAA champion (once for Iowa and once for Oklahoma State). He is Florida's state chair.

As a communications intern, I spend most of my time typing notes, stories and walking around the arena looking for people to add to "In the House" and to interview. With all that, little wrestling watching is happening. Surprising, I know.

One of the lasting impressions from this tournament, like all national wrestling tournaments, is the emotion shown by each wrestler. I witnessed countless athletes sob into their coach's arms. Tears brought on by their Fargo dreams either being shattered within an afternoon or being one step closer to it. In a tournament this large, few will go home happy.

At around 12 p.m, I grabbed my first video interview of the tournament. I chatted with Luke Smith, head coach of Cal State Bakersfield about his program and his mission to find the next Roadrunner in Fargo. It is neat to meet all the college coaches here and listen to how their recruiting can differ dramatically depending on their location.

The first session ended at about 1:50 p.m. I finished my story recapping the first session of the 16U men's freestyle tournament and helped Koral compile the 16U women's quarterfinal results. With that, not much time remained before the second session started.

With a better idea of the contenders, I tracked several returning All-Americans around the arena. First, I watched Haakon Peterson of Wisconsin (94) collect a quick win to advance to the round of 16. On the mat over, I saw Alex Rozas of Louisiana do the same. As someone from a smaller state, it is cool to see the kids from the non-traditional wrestling states find success. Speaking of which, how about Jordyn Raney of Kentucky? He pinned Bo Bassett of Pennsylvania, a 2021 Cadet World champion, in the round of 32. I became hungry at about 4:40 and ran to grab a quick dinner. I gobbled the pieces of lemon pepper chicken while I was walking back to my media seat.

Then, I settled in and closely monitored the round of 32 and round of 16 results. As each bout ended, I updated the results to the list of returning All-Americans that you will see in the 16U men's freestyle wrap which was posted tonight. I finished that story at 7:50 p.m. and helped out with anything else that was needed. After that, my first day of Fargo competition was complete.

Overall takeaways? It's unlike anything I've ever seen before. I thought NCAAs was insane (it still is) but goodness. This is different. You really have to see it to believe it.

See you folks, tomorrow.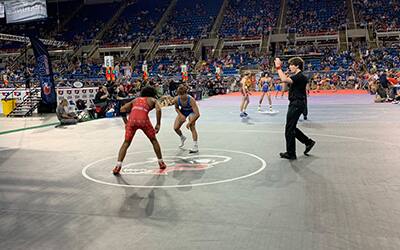 The view from the press row at the FargoDome. By Adam Engel

July 16 - Tape, baseball and workouts

A lighter set-up day rolled into the first day of action.

There wasn't a whole lot of work to be done on Friday with most of the event set-up complete.

Gary and I hauled in the goods from Sam's Club — boxes of M&Ms, Skittles, cheese balls (everyone's favorite), among other items for the media hospitality food.

In preparation for the largest wrestling tournament in the world, the work goes beyond accommodating wrestlers and their families. For the USA Wrestling communications staff, that means taking care of 100 credentialed media members and providing them with the resources to cover the event.

So, Gary and I were assigned one of the "Home football locker rooms" for our media work room. It looked more like the one they use for the North Dakota high school championships rather than the North Dakota State football locker room. That fancy room is across the hall behind locked doors.

We set up all the chairs and pulled in several extension cords and power strips. I went and grabbed a roll of gaffing tape and secured all extension cords.

Media workroom = complete.

After that, I wrote the preview for the first day of action and we were out of the Fargodome in the afternoon. From there, I took advantage of some time off and napped for two hours. It was a much-needed nap.

With the evening free and being the avid sports fan I am, I decided to walk across the street to Newman Outdoor Field — home of the Fargo-Moorhead RedHawks of the American Association of Professional Baseball. Friday night at the ballpark. What could be better? I grabbed a footlong hot dog and doused it in ketchup and mustard. I stayed for six innings but left only because I wanted some extra sleep with the early wake up time.

For me, it was lights out at about 10:30 p.m.

At 6:25 a.m. Saturday: Welcome to the Fargodome. Koral Sugiyama, a former women's national team member and past USA Wrestling communications intern, arrived late last night. She will be the third member of our crew this week. We beat a few of the event staff members to the arena and prepared the snacks for the media and did other preparation things.

Suddenly, I saw it. Hundreds of wrestlers, identified their bright and distinct team colors, occupied their spots in the bleachers. At 7 a.m., I caught my first glimpse of Fargo chaos. Mats were open for workout. They rushed down the stairs to the mats and it wasn't long until wrestlers clogged the walkway from the stands to the mats.

The largest wrestling tournament on earth has begun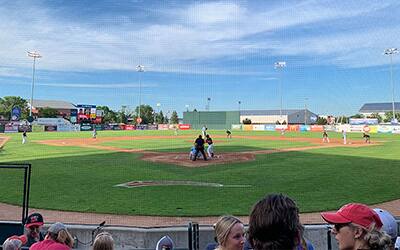 View of home plate from Neuman Outdoor Field in Fargo, N.D. Photo by Adam Engel

Thursday, July 14 - Windshield wipers, lost keys and heavy rain

It all started with the windshield wipers.

As Communications Intern at USA Wrestling, one of the main trips is to Fargo, N.D. for the 16U and Junior Nationals. My boss, Gary Abbott, USA Wrestling's Director of Communications, and I arrived in Jamestown, North Dakota, after a smooth flight from Denver. The adventures started with our rental car on the 90-minute drive to Fargo. A light, barely noticeable drizzle dotted the windshield of our rental Ford Escape.

Immediately, Gary became annoyed that he couldn't turn off the rear windshield wipers. New rental car. New buttons. Confusing. You know how it is. He tried and tried but eventually gave up on the task. So, he drove about 50 miles with the rear windshield wipers sliding back and forth. At that point, the rain stopped.

In an attempt to help my boss, I googled a YouTube tutorial on how to turn the wipers off in this particular car. I followed the instructions and… nothing. About a minute later, Gary tried it again and guess what? It worked. The Gary touch.

When rain started to pour later in the day, he could put his newly learned skill to use. Once we arrived in town, we stopped at the Fargodome to pick up our media credentials and room keys. (Staying at the dorms with other staff members). All great except when I reached the mini envelope for my key, I didn't feel anything. I shook it upside down.

No key.

Gary and I drove to the NDSU Residential Life office and finally retrieved a key, but a few extra minutes were spent trying to find the building. (Thanks to road closures and detours).

We dropped off our bags and went to the grocery store to purchase groceries for the week and to get snacks for the media.

Note to self: Don't wear your Fargo media credentials to Walmart or else you'll be mistaken for an employee. Twice in 20 minutes. No, I don't know where the granola or the storage bags are. I'm just as new here as you are.

Gary and I headed back to the rental car in the pouring rain. Again, a great use for those rear windshield wipers. We weren't the only ones soaked. Team Oklahoma arrived in two charter buses and the wrestlers took their time in the rain. They enjoyed it.

And I enjoyed my first day in Fargo. The wrestling isn't until Saturday. But who cares? I'm having a good time already.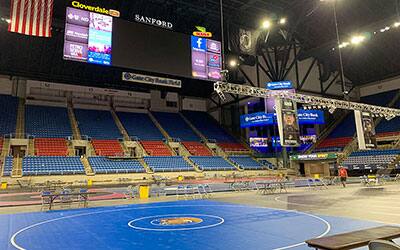 The FargoDome two days prior to start of 2022 USMC Junior/16U Nationals. Adam Engel photo.