News
USA Wrestling
College
USAW
Updated: Finals set at Midlands, with Wisconsin and Northwestern putting four each into finals
by Gary Abbott, USA Wrestling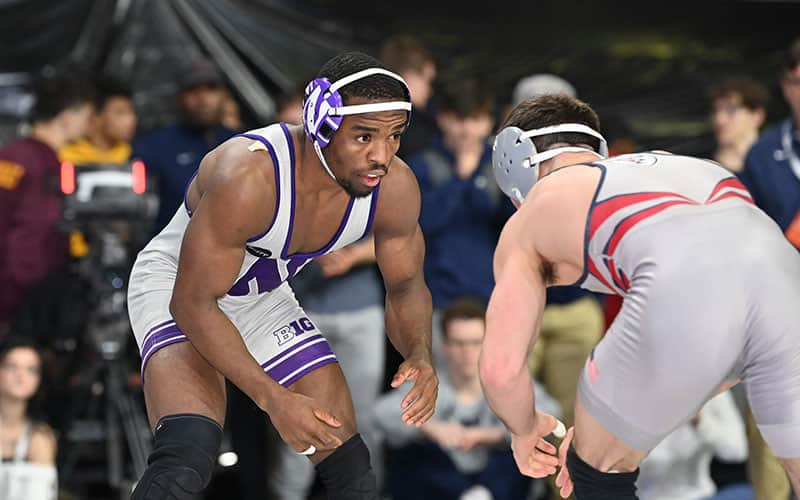 Yahya Thomas (Northwestern) competing in the 2022 Midlands semifinals. Photo by Sam Janicki
HOFFMAN ESTATES, Ill – The championship finals have been set for the 58th Midlands Chamionships, after an exciting semifinals round.
Wisconsin and Northwestern each put four wrestlers into the finals.
Wisconsin finalists are Eric Barnett (125), Drew Scharenbrock (157), Dean Hamiti (165) and Braxton Amos (197). The Northwestern finalists are Chris Cannon (133), Yahya Thomas (149), Trevor Chumbley (157) and Lucas Davison (285).
Pitt has three finalists: Cole Matthews (141), Reece Heller (184) and unseeded Dayton Pitzer (285). Pitzer pinned No. 3 Trent Hillger of Wisconsin at the 6:57 mark of their semifinal match.
Penn made a big run in the consolation rounds on Friday morning, to close into second place, just one-half point behind Wisconsin. Northwestern is third and Pitt is fourth.
The fourth session, which includes 1st, 3rd and 5th place bouts, begins at 6:05 p.m. CT, live on BTN+
MIDLANDS CHAMPIONSHIPS

At Hoffman Estates, Ill.


Finals pairings (with seeds)
125 - No. 1 Eric Barnett (Wisconsin) vs. No. 2 Brandon Courtney (Arizona State)
133 - No. 3 Chris Cannon (Northwestern) vs. No, 4 Michael Colaiocco (Penn)
141 - No. 1 Cole Matthews (Pittsburgh) vs. Josh Edmond (Missouri)
149 - No. 1 Kyle Parco (Arizona State) vs. No. 2 Yahya Thomas (Northwestern)
157 - Drew Scharenbrock (Wisconsin) vs. No. 3 Trevor Chumbley (Northwestern)
165 - No. 1 Dean Hamiti (Wisconsin) vs. No. 2 Quincy Monday (Princeton)
174 - No. 1 Edmond Ruth (Illinois) vs. No. 3 Nick Incontrera (Penn)
184 - No. 2 Reece Heller (Pittsburgh) vs. No. 5 Jaritt Shinhoster (Wisconsin-Whitewater)
197 - No. 1 Braxton Amos (Wisconsin) vs.. No. 2 Zac Braunagel (Illinois)
285 - No. 2 Lucas Davison (Northwestern) vs. Dayton Pitzer (Pittsburgh)
Finalists by team
Wisconsin (4)- Barnett (125), Scharenbrock (157), Hamiti (165), Amos (197)
Northwestern (4) – Cannon (133), Thomas (149), Chumbley (157), Davison (285)
Pittsburgh (3) – Matthews (141), Heller (184), Pitzer (285)
Arizona State (2) – Courtney (125), Parco (149)
Penn (2) – Colaiocco (133), Incontrera (174)
Illinois (2) – Ruth (174), Braunagel (197)
Missouri (1) – Edmond (141)
Princeton (1) – Monday (165)
Wisconsin-Whitewater (1) – Shinhoster (184)
Semifinal results
125 pounds
No. 1 Eric Barnett (Wisconsin) dec. No. 4 Dean Peterson (Rutgers), 6-2
No. 2 Brandon Courtney (Arizona State) med. fft. No. 3 Killian Cardinale (West Virginia),
133 pounds
No, 4 Michael Colaiocco (Penn) dec. No. 1 Lucas Byrd (Illinois), 15-13
No. 3 Chris Cannon (Northwestern) dec. No. 7 Ryan Crookham (Lehigh), 3-1
141 pounds
No. 1 Cole Matthews (Pittsburgh) dec. Saul Ervin (SIU Edwardsville), 4-0
Josh Edmond (Missouri) dec. No. 2 Sammy Alvarez (Rutgers), 3-2
149 pounds
No. 1 Kyle Parco (Arizona State) dec. Caleb Tyus (SIU Edwardsville), 8-2
No. 2 Yahya Thomas (Northwestern) dec. No. 3 Doug Zapf (Penn), 3-2
157 pounds
Drew Scharenbrock (Wisconsin) dec. No. 8 Andrew Clark (Rutgers), 3-2
No. 3 Trevor Chumbley (Northwestern) dec. No. 2 Garrett Model (Wisconsin). 6-1
165 pounds
No. 1 Dean Hamiti (Wisconsin) dec. No. 5 Izzak Olejnik (Northern Illinois), 6-0
No. 2 Quincy Monday (Princeton) dec. No. 6 Dan Braunagel (Illinois), 6-4
174 pounds
No. 1 Edmond Ruth (Illinois) dec. No. 5 Alex Cramer (Central Michigan), 10-4
No. 3 Nick Incontrera (Penn) dec. Daniel Wask (Navy Prep), 3-2
184 pounds
No. 5 Jaritt Shinhoster (Wisconsin-Whitewater) dec. No. 1 Brian Soldano (Rutgers), 7-0
No. 2 Reece Heller (Pittsburgh) pin No. 3 Anthony Carman (West Virginia), 4:26
197 pounds
No. 1 Braxton Amos (Wisconsin) dec. No. 4 Mac Stout (Pittsburgh), 2-1
No. 2 Zac Braunagel (Illinois) dec. No. 3 Luke Stout (Princeton), 4-3
285 pounds
Dayton Pitzer (Pittsburgh) pin No. 3 Trent Hillger (Wisconsin), 6:57
No. 2 Lucas Davison (Northwestern) maj. dec. No. 6 Colton McKiernan (SIU Edwardsville), 8-0
Top 10 teams after morning session
1 Wisconsin 110.5
2 Penn 110.0
3 Northwestern 108.0
4 Pittsburgh 103.5
5 Illinois 89.5
6 Rutgers 84.0
7 Arizona State 83.0
8 SIU Edwardsville 60.5
9 Princeton 59.0
10 Harvard 55.5