News
USA Wrestling
College
Women
USAW
Soldier Salute preview: What to expect in both the men's and women's brackets in Coralville, Dec. 29-30
by Gary Abbott, USA Wrestling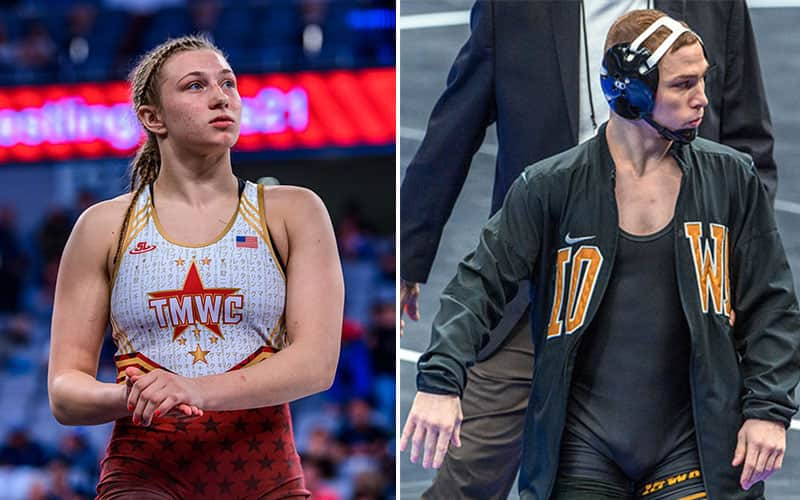 University of Iowa wrestlers Kylie Welker and Spencer Lee. Photos by Tony Rotundo, Wrestlers Are Warriors.
A new holiday open wrestling tournament gets its launch this week, the
Soldier Salute
, set for Xtream Arena in Coralville, Iowa, Dec. 29-30.
The competition will feature men's collegiate wrestling and women's freestyle wrestling, drawing a number of college teams from across the nation, as well as some talented unattached individuals.
The event was developed last season, after the cancellation of Midlands. Local wrestling leaders worked to quickly attempt to get the event organized, but ultimately decided to launch the tournament in 2022 instead. After a year of planning and preparation, the competition kicks off on Thursday. Xtream Arena is becoming one of the great wrestling venues in the nation and will showcase college wrestling this week.
The foundation for this tournament is the University of Iowa, which will enter strong teams in both the men's and women's division.
The Iowa's men's team, which is currently ranked No. 2 in the NWCA poll, published a list of 29 wrestlers who will compete, including 16 representing Iowa and 13 entering unattached. The Iowa women's team, which is competing unattached all season before its official launch next year, has 10 athletes competing, including some of the nation's best individuals.
The mission of the event is to recognize and honor our former, current, and future service members. The Iowa City Area Sports Commission had announced that 100% of the annual tournament proceeds will be split between the United Service Organizations (USO) and a development fund targeted towards the continued growth of high school girls wrestling. With that in mind, there are military-based teams entered in both divisions.
Rather than attempt a weight-by-weight preview, we will take a peek at the known teams and individuals who will hit the mats in each division tomorrow.
Men's folkstyle
No. 2 Iowa is putting its large group on the mats and will be expected to have the best finish of all of the college teams in the field. It won't be surprising to see Iowa athletes compete against each other, not just because of the amount of entries, but also the quality of the athletes entered.
Three-time NCAA champion Spencer Lee (125) makes his second appearance of the season, with the Iowa State dual being his first time out. Other big-name Hawkeyes competing under the Iowa name include All-Americans Jacob Warner (197), Tony Cassioppi (285), Real Woods (141), Max Murin (149) and Abe Assad (184). Don't be surprised to see some Iowa wrestlers who are not in the starting lineup, as well as unattached young Hawkeyes, make a strong run in this tournament.
There could be athletes competing from a number of other ranked teams, although some may be sending redshirts and young wrestlers. Teams that are ranked which are listed for sending entries are No. 4 Iowa State, No. 9 Minnesota, No. 11 Wisconsin, No. 13 Northern Iowa and No. 19 South Dakota State.
UNI is sending 15 athletes to compete, and with the exception of unattached senior Christian Minto (165), the other 14 are either freshmen or redshirt freshman. Freshman Wyatt Voelker (197), who is undefeated and has won three open titles this year, is wrestling unattached. Another young talent in the field is freshman Cory Land (133), a U17 World medalist in Greco-Roman and the 2022 Dave Schultz High School Excellence Award winner.
The military connection is strong in the men's division, as Navy, Army West Point, VMI and the Citadel are all expected delegations. VMI is bringing a full 10-athlete team with one starter in each weight class. Army West Point and the Citadel have the event on their schedule but have not announced lineups.
Among other Div. I teams on the entry list is Wyoming, which announced an 18-athlete delegation, including all of their starters. Columbia has 16 athletes on their travel roster, including nationally ranked Matt Kazmir (141), Cesar Alvan (157) and Joshua Ogansanya (165). Another Div. I program, Bellarmine, is also entering their team. North Carolina is sending four athletes, three in the men's division and one in the women's draw.
There should be strong competitors in each weight class, but we will know how many once the tournament brackets are announced.
Women's freestyle
We start with the unattached Iowa team, which has 10 excellent wrestlers listed. Two of the entries are either current or past members of the Senior Women's National Team, Felicity Taylor (116) and Kylie Welker (170). Taylor was second in 2022 Final X, while Welker was second in the U.S. Olympic Team Trials before sitting out last season recovering from injury. The Hawkeyes competing at the Soldier Salute who won titles at the Missouri Valley Open earlier this season are Taylor, plus Sterling Dias (101), Nanea Estrella (136) and Reese Larramendy (143). We also get to see some other talent for the first time including Ella Schmit (143) and Bella Mir (155).
There are four nationally ranked NAIA teams are listed as competing in the tournament. No. 3 Life brings a perfect 8-0 dual meet record with them. The other ranked NAIA teams among the entries are No. 8 Central Methodist, No. 10 Indiana Tech and No. 12 Iowa Wesleyan. NCAA No. 19 Tiffin is also expected to compete.
These teams have a number of talented stars. 2022 NAIA champions on these teams include Peyton Prussin of Life (109) and Adaugo Nwachukwu of Iowa Wesleyan (136). Both are currently ranked No. 1 in their weight class in the NAIA.
Other athletes with high national rankings from these five programs include No. 1 Caitlyn Davis of Central Methodist (155), No. 2 Mia Palumbo of Iowa Wesleyan (109), No. 3 Caitlyn Thorne of Central Methodist (116), No. 3 Zaynah McBryde of Life (130), No. 4 Makayla Young of Indiana Tech (101), No. 4 Ellyana Kuzma of Indiana Tech (136) and No. 4 Gabrielle Hamilton of Life (191). At this point, entry lists for these programs are not available.
The connection to the military in the women's division is the Army World Class Athlete Program, which is based at Fort Carson, Colo. Army WCAP will be bringing some of its college age athletes, including some talented wrestlers at the age-group level. Among the potential entries are young WCAP wrestlers Adriana Dorado Marin, Estrella Dorado Marin, Tristan Kelly, Brenda Reyna and Bridgette Duty. Kelly won a 2022 U20 World bronze medal. Reyna starred at McKendree and Duty at the Cumberlands during their college careers.
Iowa-based college programs who have been invited to compete include William Penn, Simpson College and Cornell College. The tournament could also include some Columbia student-athletes who compete at the club level with the NYC RTC. As an open tournament, there could also be some talented walk-up entries. Based upon the teams entered, the quality of the first women's event at Soldier Salute should be top-notch.
Soldier Salute will be streamed live on BTN+ which is a paid subscription service.Live results will be available via TrackWrestling.