News
USA Wrestling
High School & Youth
USAW
Edmond North defeats Stillwater in all-Oklahoma final at inaugural National Wrestling Hall of Fame Dual Classic
by Gary Abbott, USA Wrestling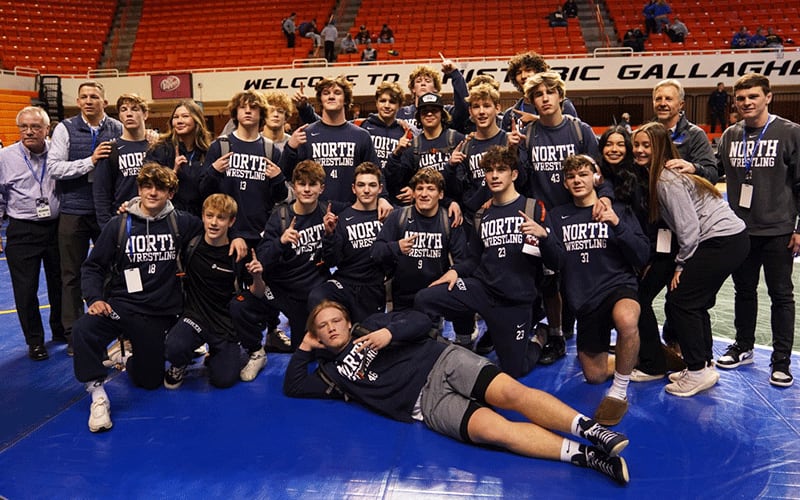 Edmond North, champion of the 2022 National Wrestling Hall of Fame Dual Classic. Photo courtesy of Edmond North Twitter.
STILLWATER, Okla. – The idea behind the new National Wrestling Hall of Fame Dual Classic was to invite many of the best high school wrestling programs from across the nation for a highly-competitive competition at historic Gallagher-Iba Arena at Oklahoma State and expose new people to wrestling's shrine at the same time.
Of course, the top teams from host state Oklahoma would also be invited to test themselves against these great programs from other parts of the nation. This year, those came from New Jersey, California, Florida, Colorado, Texas, Illinois, Kansas and Missouri.
After two days of fierce competition, the last two teams standing were from Oklahoma. In an extremely close finals dual meet,
Edmond North
edged
Stillwater
, 33-31.
Both teams won seven matches. Edmond North closed it out with the final two wins, at 215 pounds by Oscar Williams and at 285 by Ricky Thomas. Bonus points were the difference. Edmond North got key pins by Christian Belford (126), Brayden Belford (120) and Ricky Thomas (285), a technical fall by Talon McCollum (175) and a major decision from Layton Schneider (144).
Delbarton
, from New Jersey, placed third with a 30-22 win over
Poway
of California. In this dual meet, both teams won seven matches, but Delbarton was more dominant in their wins. Alessio Perentin (165), Vincent Lee (190) and Connor Martin (285) scored pins for Delbarton. The only bonus point win for Poway was a major decision from Lucas Condon (175).
The Gold Pool featured the top four teams in the event, the winners of Wednesday's Pool competition. In the Gold Pool semifinals, Edmond North beat Delbarton, 39-20 and Stillwater stopped Poway, 44-18.
Placements for the rest of the 16-team field were determined in the Silver Pool (places 5-8), Bronze Pool (places 9-12) and Copper Pool (places 13-16).
National Wrestling Hall of Fame Dual Classic
presented by Cliff Keen Athletic and Territory Resources
at Gallagher-Iba Arena, Stillwater, Okla., December 21-22

GOLD POOL (Places 1-4)
First Place – Edmond North High School (Edmond, Oklahoma)
Second Place – Stillwater High School (Stillwater, Oklahoma)
Third Place – Delbarton School (Morristown, New Jersey)
Fourth Place – Poway High School (Poway, California)
1st - Edmond North High School (Edmond, Oklahoma) 33, Stillwater High School (Stillwater, Oklahoma) 31

106Aydan Thomas (Stillwater, OK) MD Jake Goodin (Edmond North), 13-3
113Beric Jordan (Stillwater, OK) F Sawyer Hackbarth (Edmond North), 2:30
120Christian Belford (Edmond North) F Stockton Allen (Stillwater, OK), 0:45
126Brayden Belford (Edmond North) F Sam Smith (Stillwater, OK), 4:34
132Jj Mccomas-rogers (Stillwater, OK) DEC Hunter Hollingsworth (Edmond North), 2-1
138Cael Hughes (Stillwater, OK) DEC Joseph Jeter (Edmond North), 7-2
144Layton Schneider (Edmond North) MD Mitchell Borynack (Stillwater, OK), 16-5
150Kody Routledge (Edmond North) DEC Kael Voinovich (Stillwater, OK), 5-2
157Ladarion Lockett (Stillwater, OK) F Kanon Futrell (Edmond North), 3:34
165Landyn Sommer (Stillwater, OK) DEC Brayden Lucas (Edmond North), 8-3
175Talon Mccollom (Edmond North) TF Parker Brown (Stillwater, OK), 19-4 4:37
190Aj Heeg (Stillwater, OK) F Isaac Villalobos (Edmond North), 0:28
215Oscar Williams (Edmond North) DEC Cameron Johnson (Stillwater, OK), 4-1
285Ricky Thomas (Edmond North) F Silas Camp (Stillwater, OK), 1:39
3rd - Delbarton School (Morristown, New Jersey) 30, Poway High School (Poway, California) 22

106Devin Bobzien (Poway) DEC Dylan Palentchar (Delbarton High School), 4-0
113Jayden James East (Delbarton High School) DEC Edwin Sierra (Poway), 7-2
120Robert Jones (Poway) DEC Chase Napeloni (Delbarton High School), 5-0
126John Hager (Delbarton High School) DEC Elias Navida (Poway), 4-1
132Trevor Jones (Delbarton High School) DEC Jalen Concepcion (Poway), 1-0
138Tyler Vazquez (Delbarton High School) DEC Paul Kelly (Poway), 5-4
144Aleksandr Kikiniou (Poway) DEC Joe Davi (Delbarton High School), 3-1 SV
150Laird Root (Poway) DEC Cross Wasilewski (Delbarton High School), 4-2 SV
157Angelo Posado (Poway) DEC Cj Betz (Delbarton High School), 2-0
165Alessio Perentin (Delbarton High School) F Dominic Dotson (Poway), 1:13
175Lucas Condon (Poway) MD Henry Forte (Delbarton High School), 14-1
190Vincent Lee (Delbarton High School) F Gabe Taylor (Poway), 2:37
215Amir Farha (Poway) DEC Austin Quandt (Delbarton High School), 5-2 UTB
285Connor Martin (Delbarton High School) F Adam Farha (Poway), 1:59
Semifinals
Edmond North High School (Edmond, Oklahoma) 39, Delbarton School (Morristown, New Jersey) 20
Stillwater High School (Stillwater, Oklahoma) 44, Poway High School (Poway, California) 18
SILVER POOL (Places 5-8)
Fifth Place – Lake Highland Preparatory School (Orlando, Florida)
Sixth Place – St. Joseph Regional High School (Montvale, New Jersey)
Seventh Place – Bixby High School (Bixby, Oklahoma)
Eighth Place – Pomona High School (Arvada, Colorado)
5th - Lake Highland Preparatory School (Orlando, Florida) 37, St. Joseph Regional High School (Montvale, New Jersey) 21
7th - Bixby High School (Bixby, Oklahoma) 40, Pomona High School (Arvada, Colorado) 21
Semifinals
St. Joseph Regional High School (Montvale, New Jersey) 49, Bixby High School (Bixby, Oklahoma) 21
Lake Highland Preparatory School (Orlando, Florida) 40, Pomona High School (Arvada, Colorado) 12
BRONZE POOL (Places 9-12)
Ninth Place – Tuttle High School (Tuttle, Oklahoma)
10th Place – Blackwell High School (Blackwell, Oklahoma)
11th Place – James Martin High School (Arlington, Texas)
12th Place – Loyola Academy (Wilmette, Illinois)
9th - Tuttle High School (Tuttle, Oklahoma) 38, Blackwell High School (Blackwell, Oklahoma) 30
11th - James Martin High School (Arlington, Texas) 58, Loyola Academy (Wilmette, Illinois) 24
Semifinals
Tuttle High School (Tuttle, Oklahoma) 52, Loyola Academy (Wilmette, Illinois) 12
Blackwell High School (Blackwell, Oklahoma) 37, James Martin High School (Arlington, Texas) 30
COPPER POOL (Places 13-16)
13th Place – Derby High School (Derby, Kansas)
14th Place – Allen High School (Allen, Texas)
15th Place – St. Pius X High School (Kansas City, Missouri)
16th Place – Liberty High School (Liberty, Missouri)
Round robin
Allen High School (Allen, Texas) 44, St. Pius X High School (Kansas City, Missouri) 15
Derby High School (Derby, Kansas) 33, Allen High School (Allen, Texas) 30
Derby High School (Derby, Kansas) 45, Pius X High School (Kansas City, Missouri) 26
* - Liberty High School did not compete on Day 2 because of inclement weather. Three remaining teams competed in round-robin format to determine 13th, 14th and 15th places.Thursday, December 22