News
USA Wrestling
College
USAW
No. 7 N.C. State wins Journeyman Collegiate Duals Red Pool, beating No. 22 UNI, 27-12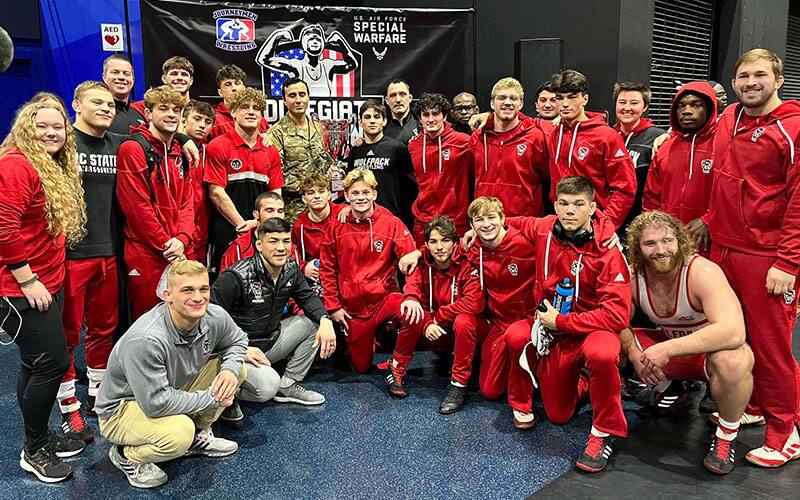 x
NC State after winning the Red Pool of the Collegiate Duals. Photo courtesy of NC State Athletics
.
NEW ORLEANS, La. - N.C. State junior Jarrett Trombley strutted through the halls of the New Orleans Convention Center with an over sized cup in his hand.
Trombley earned the right to carry the hardware, which wasn't a cup, but a championship trophy.
Over the weekend at the Journeyman Collegiate Duals, four individuals went undefeated as the Wolfpack won the Red Pool, 27-12, with a win over No. 22 Northern Iowa.
No. 7 N.C. State (8-0) also defeated Cal-Poly and Lehigh, giving the Pack three wins over ranked teams in two days.
The finals featured seven matches when ranked opponents went head-to-head. Their wins over Lehigh and Northern Iowa were their first wins in program history in those series.
Head coach Pat Popolizio admittedly had question marks at the beginning of the year with a young roster. After a hot start, some of those have been answered.
"The one thing we can see with our team is we are starting to be a little more consistent," Popolizio said. "Guys are settling into their style of wrestling and building confidence on stuff that we've worked on week to week. That's what we got out of our team this weekend, guys showing up ready to compete."
N.C. State won the first three matches over the Panthers (2-1), quickly gaining some important momentum right out the gate.
"You look at that match (early) on paper and there's a lot of splits," Popolizio said about the early showdowns. "When you can win those matches that are on paper, big toss ups it gives you some breathing room."
One of the bigger matches early on was a win by Kai Orine in the 133 class.
Orine trailed for most of the match and was down 4-2 going into the third. Orine needed a hail mary in the third and got one, going from down two to an 8-4 at the final whistle. It was his first win of the trip over a ranked opponent.
Ryan Jack (141) picked up his third win of the event when he defeated No. 10 Cael Happel, 6-3, before the Panthers got their first win in the 149 class. Ed Scott bounced back from a defeat on Monday, pinning No. 27 Derek Holschlag in the first period.
Scott and Isaac Trumble each bounced back from losses against Lehigh, pinning their opponents on Tuesday.
"Ed Scott, he's been on fire the last couple of weeks," Popolizio said. "He had a big win for us."
Northern Iowa took some of the momentum back in the 184 class when No. 3 Parker Keckeisen pinned No. 2 Trent Hidlay to make it 18-12. However, Trumble brought the energy back to N.C. State with his pin of Noah Glaser.
"That's what makes dual meets exciting," Popolizio said. "Things are going to go back and forth like that, but you have to have a short term memory for the guy going out there next."
Popolizio felt like the match of the night was in the heavyweight division where No. 13 Owen Trephan defeated Tyrell Gordon 3-1 in overtime.
"That was a very entertaining heavyweight match," Popolizio said.
Now the team will carry a first-place trophy and the momentum, and confidence, that comes with it, into 2023. Popolizio knows that's huge for his young squad.
"You look at the teams that were in our bracket, a lot of great teams to compete against," Popolizio said. "Our guys showed up and put it on the line and it's nice to come out of here with a win."
Red Pool Championship Results

No. 7 N.C. State 27, No. 22 Northern Iowa 12
125: Jarrett Trombley (NCSU) dec. Kyle Gollhofer, 8-4
133: No. 25 Kai Orine (NCSU) dec. No. 6 Kyle Biscoglia, 8-4
141: No. 12 Ryan Jack (NCSU) dec. No. 10 Cael Happel, 6-3
149: No. 25 Jarod Verkleeren (UNI) dec. No. 19 Jackson Arrington (NCSU), 5-4
157: No. 9 Ed Scott (NCSU) pin No. 27 Derek Holschlag, 0:18
165: No. 11 Austin Yant (UNI) def. Matty Singleton (NCSU), 5-2
174: Alex Faison (NCSU) dec. Carson Babcock, 3-1
184: No. 3 Parker Keckeisen (UNI) pin No. 2 Trent Hidlay (NCSU), 3:54
197: No. 9 Isaac Trumble (NCSU) pin Noah Glaser, 1:38
285: No. 13 Owen Trephan (NCSU) def. No. 19 Tyrell Gordon, 3-1 SV
Up next: N.C. State hosts Binghamton on Jan. 6 at 7 p.m.
Red Pool Third Place Results

Ohio State 23 Lehigh 12
125 - Carter Bailey (Lehigh) dec Andre Gonzales (Ohio State) 6-0
133 - Nic Bouzakis (Ohio State) by forfeit
141 - Dylan D'Emilio (Ohio State) dec Malyke Hines (Lehigh) 3-1
149 - Sammy Sasso (Ohio State) maj Max Brignola (Lehigh) 10-2
157 - Gavin Brown (Ohio State) dec Mazona Bryant (Lehigh) 6-3
165 - Josh Humphreys (Lehigh) dec Isaac Wilcox (Ohio State) 5-3
174 - Ethan Smith (Ohio State) maj dec. Jake Logan (Lehigh) 13-4
184 - Kaleb Romero (Ohio State) dec Tate Samuelson (Lehigh) 10-4
197 - Michael Beard (Lehigh) dec Gavin Hoffman (Ohio State) 5-3
285 - Nathan Taylor (Lehigh) dec Mike Misita (Ohio State) 6-2
Red Pool Fifth Place Results

Cal Poly 23, Lock Haven 15
125 - Anthony Noto (LHU) dec. Antonio Lorenzo (CP), 7-4
133: Gable Strickland (LHU) dec. Ethan Rotondo (CP), 7-1
141: Lawrence Saenz (CP) dec. Tyler Dilley (LHU), 10-3
149: #11 Dom Demas (CP) dec. Nick Stonecheck (LHU), 9-4
157: Ashton Eyler (LHU) pinned Luka Wick (CP), 4:26
165: #32 Legend Lamer (CP) dec. Avery Bassett (LHU), 5-2
174: Tyler Stoltzfus (LHU) dec. Brawley Lamer (CP), 9-2
184: #19 Adam Kemp (CP) dec. Colin Fegley (LHU), 4-1
197: #7 Bernie Truax (CP) tech falled Brad Morrison (LHU), 3:15
285: Trevor Tinker (CP) pinned Ethan Miller (LHU), 2:40