No. 6 Iowa State outlasts No. 12 Cornell in thriller at Collegiate Duals
by Andy Stubblefield, Iowa State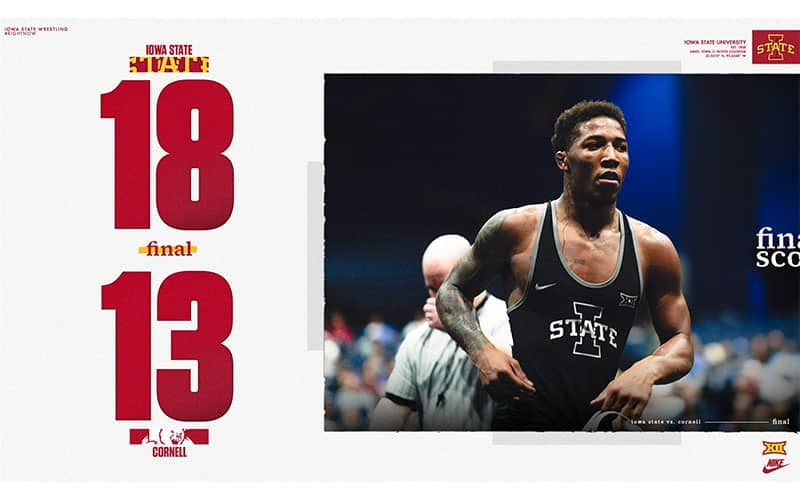 NEW ORLEANS – No. 6 Iowa State (7-1, 1-0 Big 12), despite wrestling without three starters, defeated No. 12 Cornell (1-2, 0-0 Ivy), 18-13, in a thriller which came down to the final match Monday afternoon at the Collegiate Duals.
The Cyclones close out pool competition with a 2-0 record and advance to the blue pool championship against either No. 1 Penn State, No. 21 North Carolina or Central Michigan Tuesday at 7 p.m.
"I thought we did a really good job today," head coach Kevin Dresser said. "I've been coaching for a while and I'm not sure I have ever seen more of a team effort considering the adversity we were facing. [Sam Schuyler] had a slight strain in his first match of the day so we had to improvise with the lineup because the guys wanted to win the dual. Top to bottom, everyone in the lineup contributed."
How It Happened
Iowa State, trailing 13-9 with three matches remaining, got creative with its lineup in the upper weights with Joel Devine, Marcus Coleman and Yonger Bastida all bumping up a weight class.
Devine was solid on top in a 5-1 decision against Evan Canoyer at 184 pounds while Coleman put ISU back in the lead with a 4-1 victory over No. 23 Jacob Cardenas, a 2022 U23 World Silver Medalist.
At heavyweight, Bastida, surrendering 59 pounds to No. 15 Lewis Fernandes, was clutch with the dual on the line. The Trinidad, Cuba native earned a takedown with three seconds remaining to come out on top, 4-2.
Corey Cabanban opened the dual with an important 3-1 victory over No. 21 Brett Ungar at 125 pounds. Cabanban managed the only takedown of the match and sealed the win with a riding time point.
No. 21 Ramazan Attasauov came up short against No. 3 Vitali Arujau at 133 pounds, 3-1. Attasauov was in on a couple of first period shots but couldn't finish as neither wrestler could muster a takedown in the affair.
An early takedown by No. 21 Vince Cornella, followed by a ride out, put Zach Redding into an early hole at 141 pounds. Redding ultimately fell, 6-1, in the match.
The marquee match of the dual came at 149 pounds where No. 5 Paniro Johnson took on three-time NCAA champion No. 1 Yianni Diakomihalis. Johnson was in deep on a couple of shots but couldn't finish, ultimately falling in SV-1, 3-1.
Jason Kraisser prevailed over Colton Yapoujian in a key match at 157 pounds. Kraisser came from behind to force sudden victory where he earned the takedown to win, 6-4.
No. 3 David Carr tied the dual at 9-9 after a 10-5 decision against No. 7 Julian Ramirez at 165 pounds. Carr gave up his first takedown of the season, but secured four of his own, as he won his 15th consecutive match dating back to last season.
At 174 pounds, Julien Broderson gave up a major decision, 17-4, against No. 6 Chris Foca. Broderson surrendered two sets of back points in the first period but secured a late takedown in the third to avoid a tech fall.
The Cyclones closed out the dual with three-straight victories at 184, 197 and 285 to seal the dual victory.
Up Next
Iowa State will wrestle Tuesday at 7 p.m. against either No. 1 Penn State, No. 21 North Carolina or Central Michigan.
Iowa State 18, Cornell 13
125: Corey Cabanban dec. #21 Brett Ungar, 3-1
133: #3 Vitali Arujau dec. #21 Ramazan Attasauov, 3-1
141: #21 Vince Cornella dec. Zach Redding, 6-1
149: #1 Yianni Diakomihalis dec. #5 Paniro Johnson, 3-1 SV-1
157: Jason Kraisser dec. Colton Yapoujian, 6-4 SV-1
165: #3 David Carr dec. #7 Julian Ramirez, 10-5
174: #6 Chris Foca maj. dec. #21 Julien Broderson, 17-4
184: Joel Devine dec. Evan Canoyer, 5-1
197: Marcus Coleman dec. #23 Jacob Cardenas, 4-1
285: Yonger Bastida dec. #15 Lewis Fernandes, 4-2