News
USA Wrestling
International
College
High School & Youth
USAW
National Wrestling Media Association announces 2021-22 award winners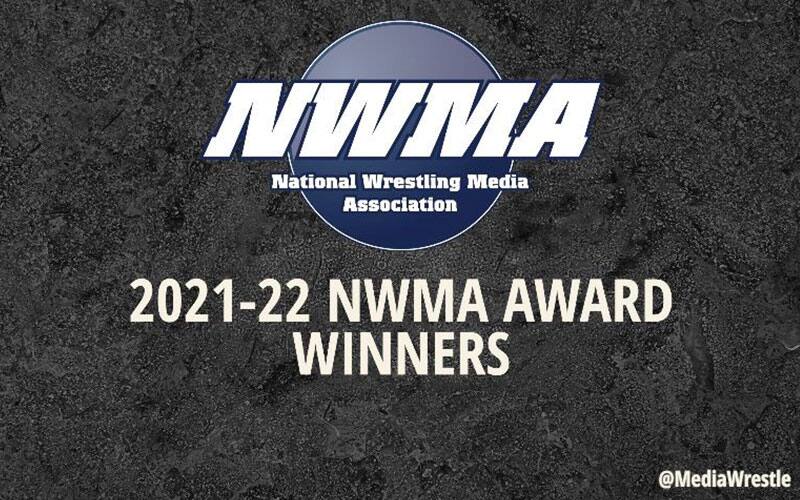 New Brighton, Minnesota – The National Wrestling Media Association announced the winners for the group's 2021-22 awards on Wednesday. The NWMA awards reward excellence or notable achievement in areas of journalism, broadcasting, content creation and social media in covering wrestling across all levels.
Individual winners this year are Shawn Kenney, Levi Ventura, Earl Smith, Chris Brewer, and Don Stoner while Bloodround and InterMat received outlet-based awards.
Broadcaster of the Year – Shawn Kenney, ESPN, ACC Network & UWW
Shawn began his career with ESPN in 2009, when he provided play-by-play coverage of the NCAA Wrestling Championships. Kenney has grown into a consistent voice on ESPN, broadcasting a variety of sports, including football, basketball, softball and track.Shawn is a mainstay on the wrestling scene in the United States and across the globe. In addition to his collegiate coverage, which includes the NCAA and ACC Championships, along with both ACC Friday Night Duals and NCAA regular season action, Shawn provides play-by-play for United World Wrestling events. Broadcasting all three styles with men's and women's freestyle, along with Greco-Roman, Kenney has been a part of several World Championships, as well as the European and Asian Continental Championships, and Olympic Qualifying events.A native of Council Bluffs, Iowa, Shawn currently resides in Perry, Iowa with his family.
Photographer of the Year – Levi Ventura, BehindTheShot.tv, Pennsylvania RTC
An early adopter of photography, Levi Ventura was first a basketball nut. Through his love for sports overall, he took that passion and keen eye for video and photography and meshed them with friends and eventually wrestling. Ventura's move into the sport came when he decided to stay in Nebraska in the summer of 2019 to try to find more clients. That decision led to a direct message from one of the sport's icons, Nebraska alum Jordan Burroughs, who had seen Ventura's work on social media and reached out. Ventura's Final X project that summer led to more content with Burroughs as well as his photography showing up across wrestling outlets worldwide.
A recent graduate of Union College in Lincoln, Nebraska, Ventura's working closely with Burroughs and the Pennsylvania Regional Training Center, shooting events and developing content for those involved with the PRTC as well as United World Wrestling and USA Wrestling. Ventura came to the United States when he was 7 and grew up in Texas.
Journalist of the Year – Earl Smith, InterMat
Earl Smith has been the site editor and lead writer for InterMat since April 2021. He regularly writes recaps and previews for notable events, along with feature stories, though his passion is finding a way to incorporate the historical aspects of our sport into current action. Prior to working with InterMat, Earl was the site editor for The Open Mat from 2018-21. He got his start in the wrestling media world by creating the website DICollegeWrestling.net which was active from 2007-17. During that time he also started the Sudden History podcast which ran on the Mat Talk Podcast Network.
Earl was a Business Administration major at Mary Washington College (now University of) where he played rugby after a brief baseball career. At Manassas Park High School, he was a three-sport athlete and a Virginia state placewinner in wrestling. He later coached wrestling at Manassas Park and was a part of two state championship-winning teams and worked with nine individual state champions.
Outlet of the Year – InterMat
Originally founded by Tom Owens in 1995, InterMat has been one of the leaders in wrestling communications, journalism and coverage since its inception. The site saw an ownership change in 2021, bringing on Earl Smith as the site editor with previous NWMA Journalist of the Year Willie Saylor overseeing the enterprise. Since Smith and Saylor have had control at InterMat, they have assembled a large contingent of experienced journalists and up-and-coming writers to help inject new life into the website.
Weekly conference roundups, links to streams around college wrestling and new video features are part of the site's core, as are the site's rankings. InterMat ranks third in the sport's history for tenure in the college rankings world, only behind publishing stalwarts Amateur Wrestling News and Wrestling Insider Newsmagazine. The site, found at intermatwrestle.com, has seen a number of facelifts over the years as well as a number of technological advances. This is InterMat's third award from the NWMA. The site won the now-retired Website of the Year award in 2001-02 and 2006-07.
Podcast of the Year – Bloodround
Bloodround has always been categorized as two dudes who like to talk about wrestling and drink a beer. Tommy Baranoski and Kevin Claunch started doing just that in 2014, and have basically kept the same general premise to this day. Thanks to help from people who know what they are doing, and the traction of people continuing to listen to the program. According to Claunch, "Bloodround has gotten to the point where we have enough credibility to get some awesome guests and become established media members in this awesome sport. We've been fortunate enough to cover some big events like NCAAs, Olympic Trials, Conference Tournaments, and get some credentialed guests as well."
In 2022, the show celebrated its 400th episode, a landmark number in the podcast space. Early in the tandem's Bloodround venture, they joked about eventually getting the chance to interview Michigan native and Olympic champion Kevin Jackson. According to Claunch, "It only took us 400 episodes to get there!" The vision has always been about putting the sport first and cutting through anything else that gets in the way. Claunch and Baranoski like to think that vision has remained the same, and they can make some jokes along the way. Rock On.
Division I SID of the Year – Chris Brewer, University of Iowa
Chris Brewer served as the University of Iowa Wrestling SID from 2011-2022. The Hawkeyes led the nation in attendance in each of Brewer's 12 seasons, including an average record 14,905 at each of their six home dates in 2021-22. Iowa is annually among the nation's leader in media coverage. In Brewer's final season as Iowa SID, the Hawkeyes had nine wrestling duals broadcast on national television, setting a Big Ten Network record in viewership when Iowa hosted Penn State on Jan. 28. That same night, The Brands Brothers documentary set a viewership record for BTN original programming. Brewer also led publicity efforts for the Iowa Women's Wrestling team, which in September 2021 became the first Power 5 women's wrestling program in the nation. Brewer "graduated" from Iowa Athletics in April 2022. He is now a Public Relations Manager at the University of Iowa Office of Strategic Communication. This is Brewer's second time winning the award. He previously won in 2015-16, while the University of Iowa has won this award four times.
Small College SID of the Year – Don Stoner, Augsburg University
Don Stoner has served as Augsburg University's sports information director since the fall of 1997. In the summer of 2021, Stoner was named as the 19th recipient of the Minnesota Intercollegiate Athletic Conference's Mike Augustin Award, which recognizes outstanding contributions to MIAC athletic programs and their student-athletes by members of the media or athletic communicators.Stoner has also been active as a freelance worker for numerous sports organizations during his Augsburg years. He has been a part of the game-night statistics and scorer's table crew for the NBA's Minnesota Timberwolves since 1999 and WNBA's Minnesota Lynx since 2000, currently serving as a scoreboard operator for both teams.
He has also been a volunteer for 26 NCAA Division I national or regional championship events in eight different sports hosted by the University of Minnesota over the years. Stoner has been a part of nine NCAA Division III national championship men's wrestling teams at Augsburg, along with 37 NCAA Division III national champions, 144 NCAA All-Americans and 13 NWCA All-Americans. Since women's wrestling began at Augsburg in 2019, Stoner has been a part of four individual national champions, 16 All-Americans and three top-10 team finishes in NCWWC national competition. This is Stoner's third time winning in the category. He previously won the Small College award in 2012-13 and he shared the award with Mark Adkins of Wartburg College in 2003-04 before the category was split into Division I and Small College categories.
Two additional awards – the Jay Hammond Memorial Award and the Spotlight Award – will be released at a later date. The nominations for those awards are open to anyone.
Process:
The NWMA collects nominations from active members of the association and via members of College Sports Communicators (formerly known as CoSIDA). The nominations are then broken down by category by the NWMA's officers and then a final ballot is distributed for active members to vote on the winner. Winners and nominees do not have to be active members of the NWMA to be considered.
A list of previous winners can be found at
nationalwrestlingmedia.com
.