News
USA Wrestling
International
Women
USAW
Lineups set for Beat the Street LA International Wrestling event, USA vs. Ukraine women and men, in San Marino, Calif., Dec. 18
by Gary Abbott, USA Wrestling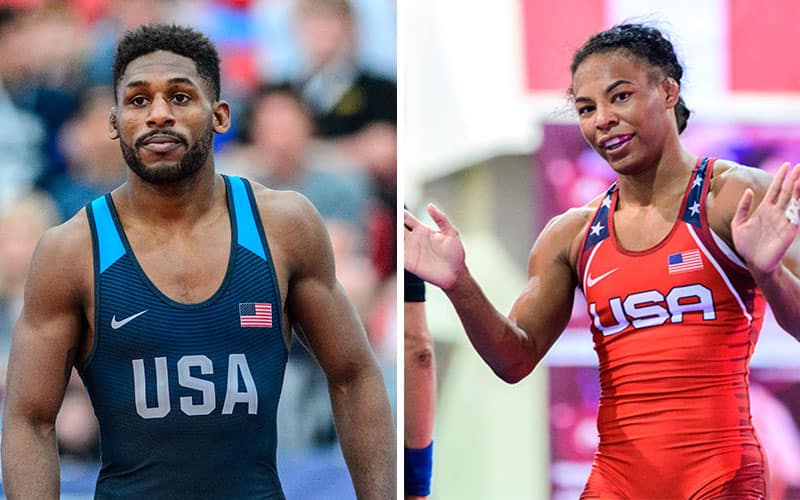 Nahshon Garrett (USA) and Jacarra Winchester (USA). Photos by Tony Rotundo, Wrestlers Are Warriors
Wrestling fans are in for a treat on Sunday, December 18, as elite international men and women wrestlers from the United States and Ukraine will compete at the
Beat the Street LA's Benefit Gala and International Wrestling Event
in San Marino, Calif.
There will be 10 international freestyle matches between U.S. athletes from the Titan Mercury Wrestling Club and world power Ukraine, six in women's freestyle and four in men's freestyle. The event will help raise funds for the non-profit Beat the Streets LA, to allow them to provide their programming free of charge to community youth.
The
United States
is a world power in freestyle wrestling, winning the 2022 World Team title in men's freestyle and placing second in women's freestyle at the World Championships.
Ukraine
was fifth in the 2022 World Championships in women's freestyle, and 11th in men's freestyle. The Ukrainian women are fresh off their historic victory at the 2022 UWW World Cup in Coralville, Iowa on December 11.
The U.S. women's freestyle lineup is headlined by 2019 World champion
Jacarra Winchester
(55 kg). 2022 U23 World medalists
Alex Hedrick
(57 kg) and
Dymond Guilford
(76 kg) will compete, along with 2021 Senior World fifth-place finisher
Amy Fearnside
(50 kg), two-time Pan American champion
Jennifer Page
(62 kg) and 2022 Pan American champion
Skylar Grote
(68 kg).
The Ukraine women's lineup includes World bronze medalists
Oksana Livach
(50 kg),
Alina Hrushnya Akobiia
(57 kg) and
Iliona Prokopevniuk (
62 kg), plus Tokyo 2020 Olympian
Alla Belinska
(72 kg), 2017 U23 World bronze medalist
Anastassia Osniach Shustova
(76 kg) and 2022 Senior World Team member
Lilija Malanchuk
(55 kg).
The U.S. men's lineup features 2018 Final X champion
Nahshon Garrett
(61 kg), 2022 Final X runner-up
Evan Henderson
(65 kg), 2021 U23 World bronze medalist
Jay Aiello
(97 kg) and 2020 U23 Nationals champion
Evan Wick
(79 kg).
The Ukrainian men's team will include 2022 World bronze medalist
Vasyl Mykhailov
(79 kg), 2019 U23 World champion
Erik Arushanian
(65 kg), 2019 U20 World silver medalist
Andrii Dzhelep
(61 kg) and 2022 Senior World Team member
Illia Archaia
(97 kg).
There are a number of California high school wrestling legends competing for the USA. Included are California CIF state champions Nahshon Garrett (Chico HS), Evan Wick (San Marino HS), Amy Fearnside (Live Oak HS), Alex Hedrick (Bella Vista HS) and Dymond Guilford (Lancaster Eastside HS), plus California high school stars Jacarra Winchester (Arroyo HS) and Jennifer Page (Bella Vista HS).
There will also be four youth wrestling matches as part of the card, featuring Beat the Streets LA youth wrestlers facing wrestlers from other local clubs.
Tickets for the wrestling event are on sale now for $50.
PURCHASE WRESTLING EVENT TICKETS HERE
The competition will be broadcast live and free by Stalemates on its YouTube Channel.
https://www.youtube.com/@StaleMates
The weekend will serve as a 10th anniversary celebration of the organization. Founded 10 years ago with a mission to empower and transform the lives of youth, Beat the Streets LA has always been about more than wrestling and competitions — it's about nurturing a sense of community and confidence that makes anything seem possible. Since its earliest days, Beat the Streets LA has lived up to that mission.
The Beat the Streets Gala will kick off the weekend on Saturday night, followed by the International Wrestling Event on Sunday at the Barth Athletic Complex in San Marino, starting at 2:00 p.m. (Doors open at 1:00 p.m.).
BEAT THE STREETS LA INTERNATIONAL WRESTLING EVENT

USA VS. UKRAINE

Sunday, December 18

Barth Athletic Complex, San Marino, Calif., 2:00 p.m.
USA vs. Ukraine Senior Men
61 kg - Nahshon Garrett (USA) vs. Andrii Dzhelep (Ukraine)
65 kg - Evan Henderson (USA) vs. Erik Arushanian (Ukraine)
79 kg - Evan Wick (USA) vs. Vasyl Mykhailov (Ukraine)
97 kg - Jay Aiello (USA) vs. Illia Archaia (Ukraine)
USA vs. Ukraine Senior Women
50 kg - Amy Fearnside (USA) vs. Oksana Livach (Ukraine)
55 kg - Jacarra Winchester (USA) vs. Lilija Malanchuk (Ukraine)
57 kg - Alex Hedrick (USA) vs. Alina Hrushyna Akobiia (Ukraine)
62 kg - Jennifer Page (USA) vs. Ilona Prokopevniuk (Ukraine)
68 kg - Skylar Grote (USA) vs. Alla Belinska (Ukraine)
76 kg - Dymond Guilford (USA) vs. Anastasiia Osniach Shustova (Ukraine)
Youth wrestling matches
Xander Fronhofer (Beat the Streets LA) vs. Jesse Lugo (Titan Mercury WC)
Kiara Fernandez (Beat the Streets LA) vs. Elena Lopez (Titan Mercury WC)
Marc Jumanan (Beat the Streets LA) vs. Eli Butler (California Grapplers)
Valeria Miranda (Beat the Streets LA) vs. Sapphire Shafer (Smash WC)