News
USA Wrestling
International
USAW
USA men beat Iran, 6-4, to win World Cup title; in 97 kg World champion showdown, Snyder beats Ghasempour to seal team victory
by Gary Abbott, USA Wrestling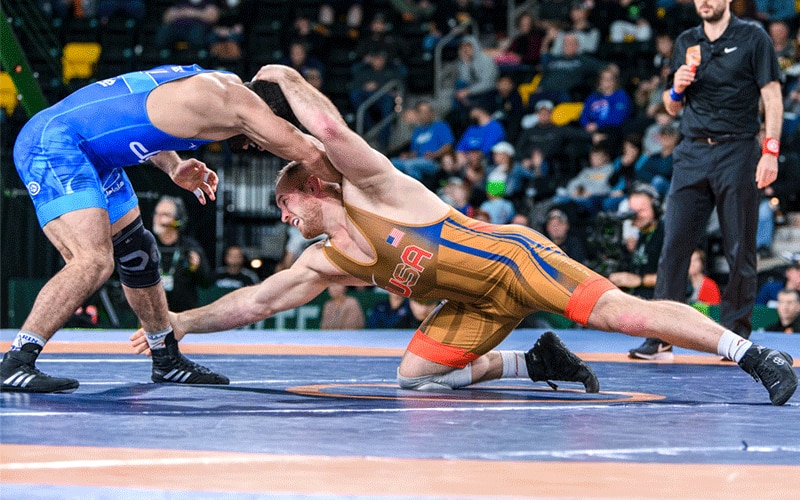 Kyle Snyder (USA) shoots on Kamran Ghasempour (Iran) in 2022 World Cup finals dual. Photo by Tony Rotundo, Wrestlers Are Warriors
CORALVILLE, Iowa – The top two teams in the world in men's freestyle made the finals of the
World Cup
, the annual World dual meet event within United World Wrestling. With a full night of great action, the
United States
scored an imspiring 6-4 win over Iran to the delight of their home fans.
The dual meet met all expectations, with some unexpected results. With the USA leading five matches to three, Iran moved up its two-time World champion Kamran Ghasempour from 92 kg to 97 kg to take on 2016 Olympic champion and three-time World champion
Kyle Snyder
of Team USA.
Snyder controlled the action, never in threat of being scored upon. He scored first when Ghasempour was placed on the shot clock and did not score, leading 1-0 at the break. Snyder added two step out points and the only takedown of the match to win 5-0. His victory clinched the U.S. team title.
The World Cup finish matched the 2022 Senior World Championships in Belgrade, Serbia, where the USA won the title and Iran was second.
It took a team effort to claim the World Cup this time around. The USA won the first two matches, to set the tone for the evening.
At 57 kg, National Team member
Zane Richards
got the USA off to a strong start with a 6-2 victory over 2022 Asian U20 silver medalist Reza Hossein Momenijoujadeh. Richards scored two takedowns and a counter turn to secure the win.
2022 World Team member
Seth Gross
lit up the scoreboard at 61 kg, getting a 10-0 technical fall over Ebrahim Elahichouran, who was fourth in 2022 U17 World Championships. Gross scored a takedown and four consecutive turns for the quick win.
Iran bounced back at 65 kg, in a rematch of the 2022 Senior World finals at 65 kg. 2022 Senior World champion Rahman Mousa Amouzakhalili edged World silver medalist Yianni Diakomihalis of the USA, 5-4. Amouzakhalili scored the first takedown, but Diakomihalis scored the next two takedowns for a 4-2 lead. Amouzakhalili tied it with a takedown, and won the bout with a step out.
The USA secured a tough clutch win at 70 kg, as
Alec Panteleo
edged 2021 World silver medalist Amirmohammad Yazdanicherati 4-3. Pantaleo secured two single leg takedowns which was the difference in the bout.
Iran came back with two straight wins to tie the team score at 3-3 each.
At 74 kg two-time age group World medalist Mohmmadsadegh Firouzpourbandpei scored the only takedown to edge Jason Nolf, 2-1. Nolf's only point came when Firouz was put on the shot clock and did not score.
U23 World bronze medalist Ali Bakhtiar Savadkouhi of Iran scored a stunning 6-6 criteria decision over Olympic champion and six-time World champion Jordan Burroughs at 74 kg. Burroughs struck first with a takedown and turn to lead 4-0. Savadkouh scored a takedown to close it to 4-2, then added a takedown and turn to take a 6-4 lead. Burroughs forced a late step out, and received a point and caution for Savadkouhi fleeing the mat, but Savadkouhi won with the most two-point moves. It was the first time in his international career that Burroughs had lost to an Iranian opponent.
The USA rallied immediately at 86 kg, as past U20 World silver medalist and National Team member
Zahid Valencia
secured a 5-3 victory over three-time Senior World medalist Alireza Karimimachiani. Valencia scored the first two takedowns, and led 5-0 after Alireza Karimimachiani didn't score on the shot clock. Karimimachiani scored a late step out and takedown, but could not turn Valencia at the end.
A huge win for the USA came at 92 kg, as National Team member
Nate Jackson
wrestled with skill and passion in an 8-4 win over Amirhossein Firouzpourbandpei. Jackson scored an early four-point takedown to set the tone for the bout. When Firouzpourbandpei tried a late comeback, Jackson closed it out with a clutch takedown.
Snyder's win finished off the victory for the United States. Iran finished the dual with a victory, as two-time age-group World champion Amirreza Masoumi Valadi of Iran stopped 2022 World Team member Hayden Zillmer, 6-1.
This was the first time the Men's and Women's Freestyle World Cup was held together. The event is scheduled to return in December 2023 to Coralville, Iowa.
World Cup Men's Gold Medal Dual

United States 6, Iran 3
57 kg - Zane Richards (USA) dec. Reza Hossein Momenijoujadeh (Iran), 6-2
61 kg - Seth Gross (USA) tech. fall Ebrahim Elahichouran (Iran), 10-0
65 kg - Rahman Mousa Amouzadhalili (Iran) dec. Yianni Diakomihalis (USA), 5-4
70 kg - Alec Pantaleo (USA) dec. Amirmohammad Yazdanicherati (Iran), 4-3
74 kg - Mohmmadsadegh Firouzpourbandpei (Iran) dec. Jason Nolf (USA), 2-1
79 kg - Ali Bakhtiar Savadkouhi (Iran) dec. Jordan Burroughs (USA), 6-6
86 kg - Zahid Valencia (USA) dec. Alireza Mohammad Karimimachiani (Iran), 5-3
92 kg - Nathan Jackson (USA) dec. Amirhossein Firouzpourbandpei (Iran), 8-4
97 kg - Kyle Snyder (USA) dec. Kamran Ghasempour (Iran), 5-0
125 kg - Amirreza Masoumi Valadi (Iran) dec. Hayden Zillmer (USA), 6-1