News
USA Wrestling
International
USAW
U.S. men smash Georgia 10-0, to win Group A and advance to World Cup finals
by Gary Abbott, USA Wrestling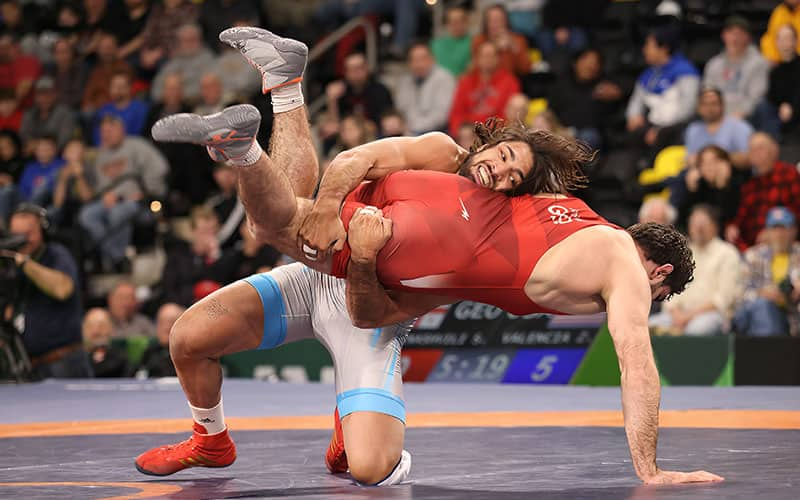 Zahid Valencia (USA) scores a takedown against Sandro Aminashvili (Georgia) in the World Cup. Photo by John Sachs, Tech-Fall.com
CORALVILLE, Iowa - Team USA came out strong in its second Group A match, getting on a winning streak which never ended, with a powerful 10-0 victory over Georgia.
With the win, the USA finishes Group A with a 2-0 record, and advances to face the winner of Group B, Iran, which beat the All World Team this evening to get into the finals.
Nick Suriano
got the USA to a strong start, with a 6-3 win over 2022 World Team member Beka Bujiashvili. Scoring two takedowns and a turn. 2022 World Team member
Seth Gross
kept up the pressure with an 11-0 technical fall over 2022 World Team member Teimuraz Vanishvili, scoring takedowns and turns in his wide-open style.
2022 World silver medalist
Yianni Diakomihalis
followed with an active 11-0 technical fall over 2016 World silver medalist Beka Lomtadze at 65 kg.
Alec Pantaleo
grinded out a strong 8-0 shutout win over Giorgi Ekbakidze. The fifth straight win was at 74 kg, as
Jason Nolf
dominated to a 10-0 technical fall over Giorgi Sulava.
One of the most exciting bouts of the night came at 79 kg, when 2012 Olympic champion and six time World champion
Jordan Burroughs
scored a comeback 5-3 win over U23 World champion Vladimeri Gamkrelidze. Burroughs fell behind 3-0, but powered back with three step outs to tie it at 3-3 but still trailed on criteria. A low single finished off a takedown, giving Burroughs the match.


Zahid Valencia
continued his powerful wrestling with his second technical fall of the day in less than a minute, dispatching Sandro Aminashvili, 11-0 in 50 seconds at 86 kg.
The USA closed it out with victories by
Nate Jackson
(92 kg), Olympic and three-time World champion
Kyle Snyder
(97 kg) and 2022 World Team member
Hayden Zillmer
(125 kg).
Jackson got his offense going strong in the second period and cruised to a 10-4 decision over Miriani Maisuradze. Snyder was in control the entire match for a 6-0 decision over Givi Matcharashvili. Zillmer fell behind early, 5-0 to Solomon Manashvili, but powered back with four straight takedowns and held his edge to the final whistle.
United States 10, Georgia 0

57 kg - Nick Suriano (USA) dec. Beka Bujiashvili (Georgia), 6-3
61 kg - Seth Gross (USA) tech. fall Teimuraz Vanishvili (Georgia), 11-0, 1:30
65 kg - Yianni Diakomihalis (USA) tech. fall Beka Lomtadze (Georgia), 11-0, 1:18
70 kg – Alec Pantaleo (USA) dec. Giorgi Ekbakidze (Georgia), 8-0
74 kg - Jason Nolf (USA) tech fall. Giorgi Sulava (Georgia), 10-0, 4:05
79 kg - Jordan Burroughs (USA) dec. Vladimeri Gamkrelidze (Georgia), 5-3
86 kg - Zahid Valencia (USA) tech. fall Sandro Aminashvili (Georgia), 11-0, 0:50
92 kg - Nathan Jackson (USA) dec.. Miriani Maisuradze (Georgia), 10-4
97 kg - Kyle Snyder (USA) dec. Givi Matcharashvili (Georgia), 6-0
125 kg - Hayden Zillmer (USA) dec. Soloman Manashvili (Georgia), 8-7
Records – USA 2-0, Georgia 1-1