News
USA Wrestling
College
USAW
Wartburg No. 1 in NWCA Coaches Poll for duals and tournament, individual rankings updated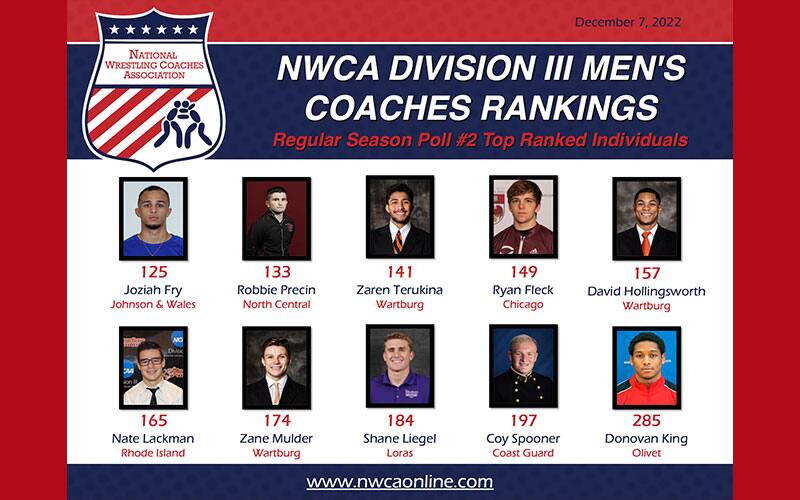 Manheim, PA - On Wednesday the National Wrestling Coaches Association (NWCA) released their Division III Men's Coaches Tournament and Dual Polls, as well as national and regional individual rankings.
Wartburg takes the top spot in each of the team polls and is joined in each by Augsburg, Stevens Institute, UW-La Crosse, and North Central.
INDIVIDUAL NATIONAL RANKINGS
INDIVIDUAL REGIONAL RANKINGS
The individual rankings saw quite of bit of change with four new top-ranked wrestlers, including 125 Joziah Fry (Johnson & Wales), 149 Ryan Fleck (Chicago), 184 Shane Siegel (Loras), and 197 Coy Spooner (Coast Guard). Warburg continues to lead the country with three top-ranked wrestlers at 141, 157, & 174. Other programs with a #1 ranked wrestler are Johnson & Wales, North Central, Chicago, Rhode Island, Loras, Coast Guard, and Olivet.
TOP RANKED INDIVIDUALS
125 - Josiah Fry, Johnson & Wales
133 - Robbie Precin, North Central
141 - Zaren Terukina, Wartburg
149 - Ryan Fleck, Chicago
157 - David Hollingsworth, Warburg
165 - Nate Lackman, Rhode Island
174 - Zane Mulder, Wartburg
184 - Shane Siegel, Loras
197 - Coy Spooner, Coast Guard
285 - Donovan King, Olivet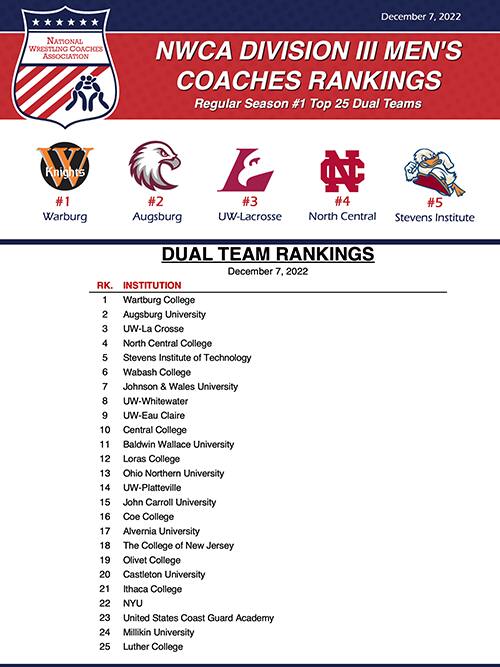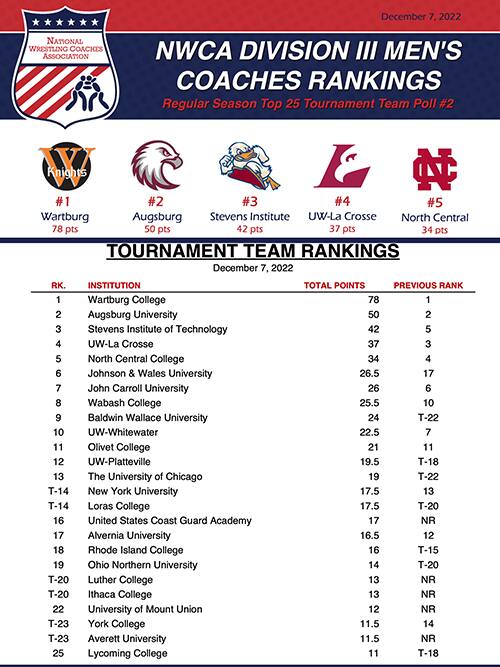 TOURNAMENT POLL METHODOLOGY: THIS IS A TOURNAMENT POWER INDEX RANKING; THE POLL IS NOT BASED ON A TEAM'S DUAL STRENGTH. TPI POINT TOTALS ARE BROKEN DOWN BY INDIVIDUAL RANKINGS: [1St - 16pts], [2ND - 12pts], [3RD - 10pts, [4TH - 9pts], [5TH -7pts], [6TH - 6pts], [7TH -4pts], [8TH - 3pts], [9TH - 2pts], [10TH - 1pt], [11TH-15TH - 1/2pt]. THE TPI POINT TOTALS WILL BE LOWER THAN THE FINAL ACTUAL NCAA TOURNAMENT POINTS BECAUSE IT DOES NOT INCLUDE BONUS POINTS.
The NWCA Division III ranking committee consists of:
UMW Tony Valek (Augsburg) and Dave Malecek (UW-La Crosse)
LMW Dave Mitchell (Luther) and Jon McGovern (Dubuque)
SE Jon Laudenslager (Wilkes) and Anthony Bonaventura (Stevens)
ME Justin Signorelli (Alfred State) and Joe Galante (TCNJ)
NE Scott Legacy (Castleton) and Corey Luce (NYU)
CENT Bill Schindel (Adrian) & Brandon Brissette (Olivet)