News
USA Wrestling
International
High School & Youth
USAW
USA Greco-Roman wraps up U20 World Championships in Bulgaria
by Taylor Gregorio, USA Wrestling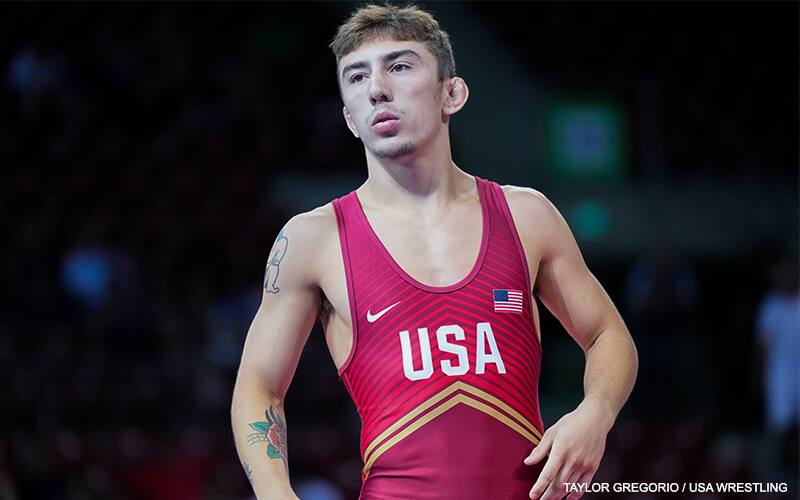 Photo of Max Black by Taylor Gregorio, USA Wrestling.
SOFIA, Bulgaria – Team USA completed its U20 World Championships on Sunday in Sofia, Bulgaria.
The squad earned a bronze medal from Aden Attao at heavyweight and 39 points for a 12th-place finish.
Max Black wrapped up competition for the Red, White and Blue in repechage competition at 60 kg. He faced Koto Gomi of Japan, who defeated the American, 9-0, to eliminate Black from the tournament.
Five new Greco-Roman U20 World champions were named Sunday evening, including Saeid Esmaeili Leivesi of Iran (60 kg), Kanan Abdullazade of Azerbaijan (67 kg), Gurban Gurbanov of Azerbaijan (72 kg), Alireza Mohmadipiani of Iran (82 kg) and Ali Abedidarzi of Iran (97 kg). Below is a list of all the U20 Greco-Roman World medalists.
Throughout the week, Team USA won 11 medals, four in men's freestyle (2 gold, 2 silver), six in women's freestyle (1 gold, 2 silver, 3 bronze) and one in Greco-Roman (1 bronze).
Find all of this week's coverage in the USA Wrestling Special Section.
U20 WORLD CHAMPIONSHIPS
Aug. 15-21, 2022 | Sofia, Bulgaria
U.S. Greco-Roman results
55 kg – Jonathan Gurule (Peralta, N.M./NMU-NTC) – 12TH

LOSS Nuristan Suiorkulov (Kyrgyzstan), 7-2
60 kg – Max Black (Castle Rock, Colo./NMU-NTC) – 18TH

LOSS Saeid Esmaeili Leivesi (Iran), 9-0

LOSS Koto Gomi (Japan), 9-0
63 kg – Haiden Drury (Yakima, Wash./Brunson UVRTC) – 15TH

LOSS Ziya Babashov (Azerbaijan), 8-0
67 kg – Robert Perez (Long Beach, Calif./Sunkist Kids/USOPTC) – SEVENTH

WIN Shon Nadorgin (Israel), 8-0

WIN Zsolt Takacs (Hungary), 8-0

LOSS Din Koshkar (Kazakhstan), 3-3
72 kg – Richard Fedalen (Laurel, Md./Warhawks WC) – 11TH

WIN Matthias Hauthaler (Austria), fall

LOSS Georgios Barbanos (Sweden), 13-4
77 kg – Payton Jacobson (Elkhorn, Wisc./Sunkist Kids/NMU-NTC) – EIGHTH

LOSS Yuksel Saricicek (Turkey), 9-1

WIN Diego Macias Torres (Mexico), 8-0

LOSS Khasay Hasanli (Azerbaijan), 3-1
82 kg - Adrian Artsisheuskiy (Brooklyn, N.Y./Elite Wrestling Academy) – SEVENTH

WIN Odysseas Roungeris (Greece), fall 3:36

LOSS Leon Rivalta (Italy), fall
77 kg – Payton Jacobson (Elkhorn, Wisc./Sunkist Kids/NMU-NTC) – EIGHTH

LOSS Yuksel Saricicek (Turkey), 9-1

WIN Diego Macias Torres (Mexico), 8-0

LOSS Khasay Hasanli (Azerbaijan), 3-1
97 kg – Christian Carroll (Elkhart, Ind./Midwest RTC) – 12TH

LOSS Nurmanbet Raimaly Uulu (Kyrgyzstan), 9-7
130 kg – Aden Attao (Boise, Idaho/Suples WC) – BRONZE

WIN Parvesh Parvesh (India), 12-4

WIN Adolf Bazso (Hungary), fall 3:00

LOSS Mykhailo Vyshnyvetskyi (Ukraine), 10-0

WIN Fekry Eissa (Egypt), 11-3
Team standings (top-10)
1. Iran - 174

2. Azerbaijan - 119

3. Ukraine - 93

4. Armenia - 83

5. Turkey - 81

6. Kazakhstan - 78

7. Georgia - 58

8. Moldova - 53

9. Kyrgyzstan - 50

10. Uzbekistan - 44
Medal match results
55 kg

GOLD – Nihad GULUZADE (AZE)

SILVER – Denis MIHAI (ROU)

BRONZE – Taiga ONISHI (JPN)

BRONZE – Nuristan SUIORKULOV (KGZ)
60 kg

GOLD – Saeid ESMAEILI LEIVESI (IRI)

SILVER – Suren AGHAJANYAN (ARM)

BRONZE – Nihat MAMMADLI (AZE)

BRONZE – Sumit SUMIT (IND)
63 kg

GOLD – Iman MOHAMMADI (IRI)

SILVER – Baiaman KARIMOV (KGZ)

BRONZE – Chiezo MARUYAMA (JPN)

BRONZE – Oleh KHALILOV (UKR)
67 kg

GOLD – Kanan ABDULLAZADE (AZE)

SILVER – Nika BROLADZE (GEO)

BRONZE – Din KOSHKAR (KAZ)

BRONZE – Seyed SOHRABI (IRI)
72 kg

GOLD – Gurban GURBANOV (AZE)

SILVER – Alexandru SOLOVEI (MDA)

BRONZE – Irfan MIRZOIEV (UKR)

BRONZE – Amir Ali ABDI (IRI)
77 kg

GOLD – Deni NAKAEV (GER)

SILVER – Yuksel SARICICEK (TUR)

BRONZE – Alexandrin GUTU (MDA)

BRONZE – Samandar BOBONAZAROV (UZB)
82 kg

GOLD - Alireza Azizkhoon MOHMADIPIANI (IRI)

SILVER - Achiko BOLKVADZE (GEO)

BRONZE - Rohit DAHIYA (IND)

BRONZE - Alperen BERBER (TUR)
87 kg

GOLD – Vigen NAZARYAN (ARM)

SILVER – Abolfazl CHOUBANI (IRI)

BRONZE – Maksat SAILAU (KAZ)

BRONZE – Lachin VALIYEV (AZE)
97 kg

GOLD – Ali Ramezanali ABEDIDARZI (IRI)

SILVER – Iussuf MATSIYEV (KAZ)

BRONZE – Richard KARELSON (EST)

BRONZE – Nurmanbet RAIMALY UULU (KGZ)
130 kg

GOLD – Mykhailo VYSHNYVETSKYI (UKR)

SILVER – Fardin HEDAYATI (IRI)

BRONZE – Aden ATTAO (USA)

BRONZE – Temurbek NASIM