News
USA Wrestling
International
High School & Youth
USAW
Volk, Mesenbrink and Kueter to wrestle for U20 World gold
by Taylor Gregorio, USA Wrestling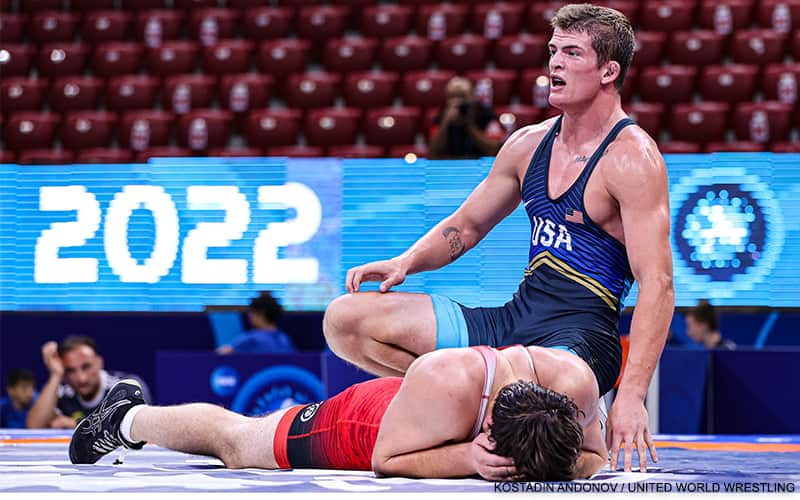 Photo of Ben Kueter by Kostadin Andonov/United World Wrestling.
SOFIA, Bulgaria – The USA sent three athletes to the men's freestyle finals of the 2022 U20 World Championships in Sofia, Bulgaria.
Jore Volk, Mitchell Mesenbrink and Ben Kueter will compete for gold medals on Tuesday at 6 p.m. local time (11 a.m. U.S. ET) live on FloWrestling.
Jore Volk has made the best of his international debut, cruising to the finals at 57 kg. Taking on U20 European bronze medalist Luka Gvinjilia from Georgia, Jore led on criteria at the break, 2-2. It was fireworks in the second period as Volk scored 11 points for an eventual 11-6 win.
57 kg: Another shuck for Volk. Gvinjilia hit with a caution-and-one for fleeing. Back to center and Volk starts on top. He scores two turns on a gut and picks up four points on a lift. Georgia challenges #WrestleSofia


— USA Wrestling (@USAWrestling) August 15, 2022
For gold, Volk will take on 2022 U20 Asian champion Merey Bazarbayev of Kazakhstan.
Mitchell Mesenbrink continued his incredible tournament at 70 kg with a comeback win against 2022 U20 European champion Hayk Papikyan of Armenia. Mesenbrink trailed 3-0 but used his pace to put up six unanswered points for a 6-3 win.
In the finals, the Mesenbrink will take on 2021 U20 European champion Kanan Heybatov from Azerbaijan.
In the 97 kg semifinal, Ben Kueter stunned Georgia's Luka Khutchua, a U20 European bronze medalist, in a 17-14 shootout. Khutchua stormed out to an 8-0 lead in the first minute but Kueter chipped away at the Georgian, holding a 9-9 lead on criteria at the break. In the second period, the two went back and forth but Kueter had the last say, keeping Khutchua on his back for the final 35 seconds of the bout.
For gold, Kueter will face 2021 U17 World champion Rifat Gidak of Turkey.
Vince Cornella's gold-medal run came to an end at 65 kg after falling to past U17 World champion Umidjon Jalolov of Uzbekistan in the semifinals, 6-0. Cornella advances to Tuesday night's bronze-medal match. His opponent will be determined during the repechage round.
At 79 kg, Brayden Thompson gets another shot at a medal as he was pulled into repechage, when his first-round victor, Sobhan Yari of Iran, advanced to the gold-medal match. Thompson will need to defeat Turkey's Bekir Ovec to advance to the bronze-medal match, where U20 European silver medalist Otari Adeishvili of Georgia will be waiting.
Five Americans will begin competition in men's freestyle on Tuesday, including Nic Bouzakis (61 kg), Alex Facundo (74 kg), Bennett Berge (86 kg), Jaxon Smith (92 kg) and Nicholas Feldman (125 kg).
The tournament continues Tuesday, starting at 11 a.m. local time (4 a.m. ET), with semifinals scheduled for 4:45 p.m. (9:45 a.m. ET) followed by medal matches at 6 p.m. (11 a.m. ET). Fans can watch all the action live on FloWrestling and get live updates on Twitter @USAWrestling.
U20 WORLD CHAMPIONSHIPS

Aug. 15-21, 2022 | Sofia, Bulgaria
U.S. men's freestyle results
57 kg – Jore Volk (Lakeville, Minn./Pinnacle WC.) – GOLD MATCH

WIN Ahmad Mohammadnezhadjavan (Iran), 7-5

WIN Azizbek Naimov (Uzbekistan), 7-2

WIN Luka Gvinjilia (Georgia), 13-6

vs. Merey Bazarbayev (Kazakhstan)
65 kg – Vince Cornella (Lafayette, Colo./Spartan Combat RTC) – BRONZE MATCH

WIN Olzhas Olzhakanov (Kazakhstan), 8-0

WIN Ismail Pomakov (Bulgaria), 10-0

WIN Mohammad Shakeri (Iran), 6-5

LOSS Umidjon Jalolov (Uzbekistan), 4-0
70 kg – Mitchell Mesenbrink (Hartland, Wisc./Askren Wrestling Academy) – GOLD MATCH

WIN Muhammad Abdurachmanov (Belgium), 12-0

WIN Kanat Kerimbekov (Kyrgyzstan), 10-0

WIN Hossein Mohammad Aghaei (Iran), 9-7

WIN Hayk Papikyan (Armenia), 6-3

vs. Kanan Heybatov (Azerbaijan)
79 kg – Brayden Thompson (Lockport, Ill./Izzy Style WC) – REPECHAGE

LOSS Sobhan Yari (Iran), 6-1

vs. Bekir Ovec (Turkey)
97 kg – Ben Kueter (Iowa City, Iowa/Sebolt Wrestling Academy) – GOLD MATCH

WIN Dmitri Duscov (Moldova), 10-0

WIN Niraj Niraj (India), 8-1

WIN Luka Khutchua (Georgia), 17-14

vs. Rifat Gidak (Turkey)