News
USA Wrestling
International
High School & Youth
USAW
Volk, Cornella and Mesenbrink defeat Iran in semifinals run at U20 World Championships
by Taylor Gregorio, USA Wrestling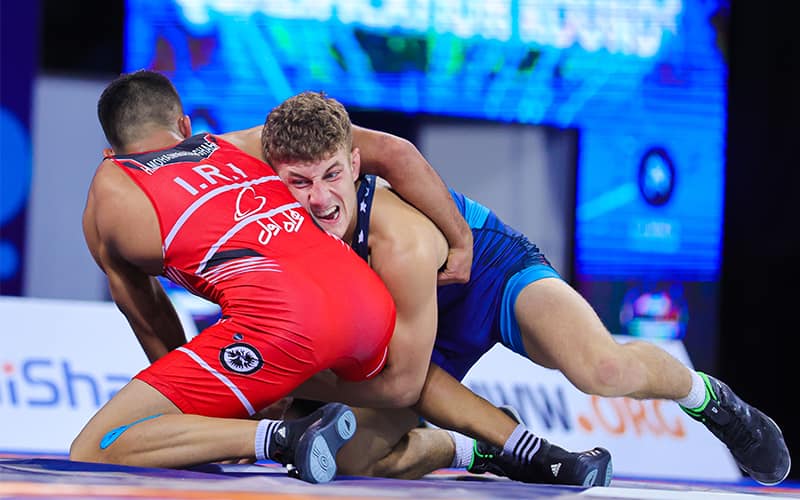 Photo of Mitchell Mesenbrink by Kadir Caliskan/United World Wrestling.
SOFIA, Bulgaria – Team USA won three out of four crucial matchups with Iran to ultimately send four Americans into the men's freestyle semifinals of the U20 World Championships in Sofia, Bulgaria.
The semifinals will take place Monday at 6 p.m. local time (11 a.m. ET) live on FloWrestling.
Representing the U.S. in the semifinals is Jore Volk at 57 kg, Vince Cornella at 65 kg, Mitchell Mesenbrink at 70 kg and Ben Kueter at 97 kg.
At 65 kg, Vince Cornella, a 2022 U20 Pan American champion, was the first American to secure his spot in the semifinals, turning in an impressive morning session. He opened his day with an 8-0 shutout over 2022 U20 Asian bronze medalist Olzhas Olzhakanov of Kazakhstan. Cornella downed host country's Ismail Pomakov, 10-0, in the following match. To get to the semifinals, he overcame a four-point deficit against 2021 U17 World fifth-place finisher Mohammad Shakeri of Iran with just two minutes left, scoring from a double leg and back-to-back throw-by takedowns to emerge with a 6-5 win.
Tonight, Cornella will take on 2019 U17 World champion and 2018 U17 World silver medalist Umidjon Jalolov of Uzbekistan.
Also defeating an Iranian in the quarterfinals was U20 Pan Am champion Mitchell Mesenbrink at 70 kg. Similar to Cornella, Mesenbrink trailed 5-1 at the break but put together a strong second period, which saw him rally for eight points and the ultimate 9-7 victory. Earlier in the session, Mesenbrink took less than a minute to win his tournament opener 12-0 over U20 European silver medalist Muhammad Abdurachmanov from Belgium, and he followed it up with a 10-0 tech fall over Kanat Kerimbekov from Kyrgyzstan.
Tonight, Mesenbrink will match up with this year's U20 European champion Hayk Papikyan of Armenia.
In his international debut, Jore Volk also had to go through Iran, facing Ahmad Mohammadnezhadjavan in his first match at 57 kg. Volk led for most of the bout, but his opponent took the lead on criteria, 5-5, with only 30 seconds left. The American stayed persistent in his attacks and with two ticks left on the clock, he got behind for a takedown and a 7-5 win. In his next bout, Volk overpowered Azizbek Naimov of Uzbekistan, 7-2.
In the semis, Volk will go against U20 European bronze medalist Luka Gvinjilia from Georgia.
U20 Pan Am champion Ben Kueter advanced to the 97 kg semis with two dominant wins this morning. The Iowa commit picked off Dmitri Duscov of Moldova, 10-0, to get his day going. In the quarters, Kueter brawled with Niraj from India and came out on top, 8-1.
In the semifinals, Kueter will go head-to-head with U20 European bronze medalist Luka Khutchua from Georgia.
At 79 kg, Brayden Thompson dropped his first bout to Iran's Sobhan Yari, the 2022 U20 Asian Championships. Should Yari win his semifinal tonight, it will pull Thompson into tomorrow's repechage competition.
Semifinals begins at 6 p.m. local time (11 a.m. ET) live on FloWrestling. Follow along for live updates on Twitter @USAWrestling.
For more information on the U20 World Championships, visit USA Wrestling's Special Section.
U20 WORLD CHAMPIONSHIPS

Aug. 15-21, 2022 | Sofia, Bulgaria
U.S. men's freestyle results
57 kg – Jore Volk (Lakeville, Minn./Pinnacle WC.) – SEMIFINALS

WIN Ahmad Mohammadnezhadjavan (Iran), 7-5

WIN Azizbek Naimov (Uzbekistan), 7-2

vs. Luka Gvinjilia (Georgia)
65 kg – Vince Cornella (Lafayette, Colo./Spartan Combat RTC) – SEMIFINALS

WIN Olzhas Olzhakanov (Kazakhstan), 8-0

WIN Ismail Pomakov (Bulgaria), 10-0

WIN Mohammad Shakeri (Iran), 6-5

vs. Umidjon Jalolov (Uzbekistan)
70 kg – Mitchell Mesenbrink (Hartland, Wisc./Askren Wrestling Academy) – SEMIFINALS

WIN Muhammad Abdurachmanov (Belgium), 12-0

WIN Kanat Kerimbekov (Kyrgyzstan), 10-0

WIN Hossein Mohammad Aghaei (Iran), 9-7

vs. Hayk Papikyan (Armenia)
79 kg – Brayden Thompson (Lockport, Ill./Izzy Style WC) – awaiting repechage

LOSS Sobhan Yari (Iran), 6-1
97 kg – Ben Kueter (Iowa City, Iowa/Sebolt Wrestling Academy) - SEMIFINALS

WIN Dmitri Duscov (Moldova), 10-0

WIN Niraj Niraj (India), 8-1

vs. Luka Khutchua (Georgia)
Schedule (local time 7 hours ahead of U.S. ET)
Monday, Aug. 15
11 a.m. – Qualification rounds (MFS 57, 65, 70, 79, 97 kg)

6 p.m. – Semifinals (MFS 57, 65, 70, 79, 97 kg)
Tuesday, Aug. 16
11 a.m. – Qualification rounds (MFS 61, 74, 86, 92, 125 kg)

11 a.m. – Repechage (MFS 57, 65, 70, 79, 97 kg)

4 p.m. – Opening ceremony

4:45 p.m. – Semifinals (MFS 61, 74, 86, 92, 125 kg)

6 p.m. – Medal matches (MFS 57, 65, 70, 79, 97 kg)
Wednesday, Aug. 17
11 a.m. – Qualification rounds (WFS 50, 55, 59, 68, 76 kg)

11 a.m. – Repechage (MFS 61, 74, 86, 92, 125 kg)

4:45 p.m. – Semifinals (WFS 50, 55, 59, 68, 76 kg)

6 p.m. – Medal matches (MFS 61, 74, 86, 92, 125 kg)
Thursday, Aug. 18
11 a.m. – Qualification rounds (WFS 53, 57, 62, 65, 72 kg)

11 a.m. – Repechage (WFS 50, 55, 59, 68, 76 kg)

4:45 p.m. – Semifinals (WFS 53, 57, 62, 65, 72 kg)

6 p.m. – Medal matches (WFS 50, 55, 59, 68, 76 kg)
Friday, Aug. 19
11 a.m. – Qualification rounds (GR 55, 63, 77, 87, 130 kg)

11 a.m. – Repechage (WFS 53, 57, 62, 65, 72 kg)

4:45 p.m. – Semifinals (GR 55, 63, 77, 87, 130 kg)

6 p.m. – Medal matches (WFS 53, 57, 62, 65, 72 kg)
Saturday, Aug. 20
11 a.m. – Qualification rounds (GR 60, 67, 72, 82, 97 kg)

11 a.m. – Repechage (GR 55, 63, 77, 87, 130 kg)

4:45 p.m. – Semifinals (GR 60, 67, 72, 82, 97 kg)

6 p.m. – Medal matches (GR 55, 63, 77, 87, 130 kg)
Sunday, Aug. 21
4 p.m. – Repechage (GR 60, 67, 72, 82, 97 kg)

6 p.m. – Medal matches (GR 60, 67, 72, 82, 97 kg)