News
USA Wrestling
International
College
USAW
Tyler Berger joins Pennsylvania Regional Training Center
by Pennsylvania Regional Training Center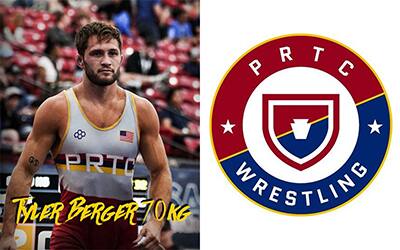 Tyler Berger photo by Levi Ventura.
Philadelphia, Pa. - Pennsylvania Regional Training Center Executive Director and Head Coach Brandon Slay has announced the addition of Senior Athlete Tyler Berger as a full-time resident athlete. Berger will compete at 70kg while representing the PRTC at domestic and international competitions.
"We are extremely thankful to be adding Tyler Berger to our PRTC family," said Slay. "He really fits our team culture because he believes and lives out our core values. At 70kg, he is an ideal addition for Joey, Jordan, Dave, and Mark. We look forward to helping Tyler reach his full potential on and off the mat."
Berger was a NCAA Finalist and 3-time All-American at the University of Nebraska. He placed 5th, 3rd, and 2nd while compiling a career record of 138-39 for the Cornhuskers. Upon graduation in 2019, Berger stayed in Lincoln as a Volunteer Assistant for the team. He is one of the most decorated wrestlers in Nebraska history. With his commitment to the PRTC he will be re-connecting with his mentor and former training partner, Jordan Burroughs.
"I got to watch Tyler grow from a young Husker recruit to one of the best wrestlers in the country," says Burroughs, a 2011 Nebraska grad who joined the PRTC in 2021. "He lives with an uncompromising standard of excellence and he's also committed to being not only a great wrestler but a great man. He's going to undoubtedly help expand upon our strong culture here, and I'm glad to be teammates with him once again!"
Berger is a current member of the USA National Freestyle team. He recently placed third at the World Team Trials Challenge Tournament in Coralville, Iowa this past May. On his way to taking the bronze medal match, he defeated a pair of NCAA National Champions in Anthony Ashnault and Ryan Deakin.
The PRTC's representative at 65kg, Joey McKenna is certainly looking forward to his new training partner. "Tyler and I have rubbed shoulders and competed against each other since our youth wrestling days at Tulsa Nationals," said McKenna. "He has proven to be a top competitor at the collegiate and senior levels. He's always competed with class. He's going to be a tremendous asset to our team in Philadelphia and I'm excited for the opportunity to sharpen each other on and off the mat."
Berger is planning to move east upon completion of the upcoming U.S. World Team Training Camp at the U.S> Olympic & Paralympic Training Center in Colorado Springs, Colorado. The camp runs from August 10th-20th and all of Berger's new teammates will be attending. He and his wife, Sydnee, will settle in Philadelphia after the camp.
"I feel extremely blessed about the opportunity to join the PRTC," said Berger. "I care about winning wrestling matches but I care even more about surrounding myself with men who are committed to their families, their friends, and their community. The PRTC embodies these values. My wife and I can't wait to join the team and start this next chapter of our lives.