News
USA Wrestling
International
High School & Youth
USAW
Three World champs highlight women's freestyle roster for U20 Worlds, Aug. 15-21
by Taylor Gregorio, USAWrestling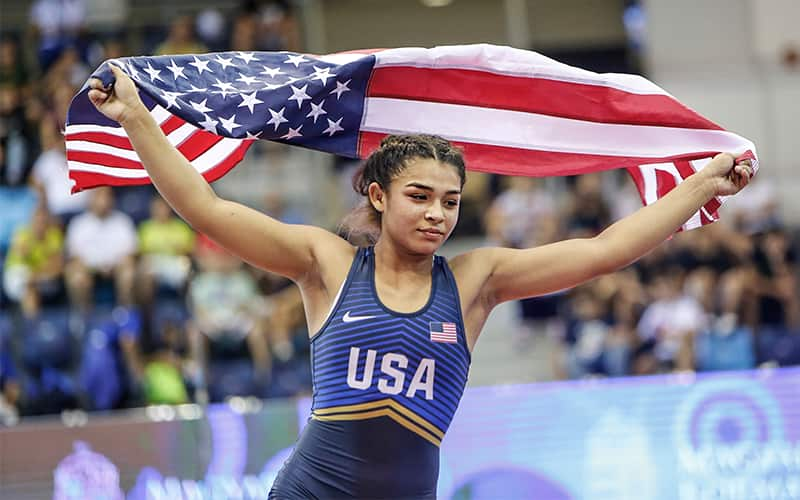 Photo of Katie Gomez by UWW.
USA Wrestling is sending a group of experienced women's freestyle wrestlers to the U20 World Championships in Sofia, Bulgaria. Women's freestyle competition is set for Aug. 17-19. Fans can watch all the action live on FloWrestling.
Headlining the lineup are World champions Katie Gomez at 53 kg, Destiny Rodriguez at 68 kg and Amit Elor at 72 kg.
Elor brings the most international experience to the group, winning U17 and U20 World gold medals last year as well as a 2019 U17 World bronze medal and 2018 U15 Pan American title. She seeks to become the first two-time U20 World champ in women's freestyle since Victoria Anthony in 2009-10. She will also be representing the United States at the Senior World Championships in September and U23 World Championships in October.
Gomez enters Bulgaria in search of her second-straight World gold medal after claiming a U17 World title in 2021. A U15 Pan Am champion, Gomez has impressed domestically, collecting National High School Recruiting Showcase and Who's Number One championships in addition to two All-American finishes at Fargo.
2019 U15 World champion Rodriguez returns to the world stage next week. Also a 2018 U15 Pan Am champion, Rodriguez was this year's National High School Recruiting Showcase champion and owns two Fargo national titles.
There are two other World medalists in the mix.
At 50 kg, Audrey Jimenez will compete in her second World Championships of the summer. In late July, Jimenez represented the U.S. at the U17 Worlds, where she went 0-1. However, she has already proved herself internationally as she earned a bronze medal at the 2021 U17 Worlds and has a U15 Pan Am gold medal to her name.
Reese Larramendy will suit up for the Red, White and Blue at 65 kg. In 2019, she made her first impression at the world level with a U15 World silver. Most recently, Larramendy, who will be a part of the historic University of Iowa women's wrestling team, grabbed a bronze medal at the Grand Prix of Spain in July.
Three athletes, Adriana Dorado Marin (55 kg), SaVannah Cosme (59 kg) and Tristan Kelly (76 kg), will compete at their second-career World Championships.
Dorado-Marin, an Army WCAP athlete, took 13th at the 2019 U17 Worlds. This year, she won the Senior division of the U.S. Open and added a bronze medal from the Grand Prix of Spain. Cosme competed at the 2021 U17 Worlds, where she finished 16th. A Colorado native, Cosme is a 2019 U15 Pan Am silver medalist and a 2022 Grand Prix of Spain bronze medalist. Kelly, also a WCAP wrestler, finished 16th at the U17 Worlds in 2018. Kelly has perhaps one of the strongest domestic resumes with two Fargo titles and two top-five Senior finishes. She is also a 2019 Pan Am champ and 2017 U17 Pan Am silver medalist.
Completing the lineup is Sofia Macaluso and Adaugo Nwachukwu, who will make their World Championships debuts in Bulgaria.
2022 Tricia Saunders High School Excellence Award winner Macaluso will wrestle at 57 kg. She is a two-time Folkstyle Nationals champion and 2021 Junior Fargo runner-up.
Wrestling at 62 kg, Nwachukwu has had a successful year, winning the NAIA Women's National Invitational for Iowa Wesleyan College and taking third at the U.S. Open in the Senior division.
The team will be led by a group of talented coaches, including U.S. Women's Freestyle Development Coach Jessica Medina Bunker and assigned coaches Emma Randall and Alli Ragan as well as several personal coaches.
Opening the tournament is Jimenez, Dorado-Marin, Cosme, Rodriguez and Kelly on Aug. 17 with Gomez, Macaluso, Nwachukwu, Larramendy and Elor beginning their competition on Aug. 18.
Fans can watch all the action live on FloWrestling and keep up with live updates on Twitter @USAWrestling.
U.S. women's freestyle roster
50 kg – Audrey Jimenez (Tucson, Ariz./Sunkist Kids)

53 kg – Katie Gomez (Van Nuys, Calif./Sunkist Kids)

55 kg – Adriana Dorado Marin (Denver, Colo./Army WCAP)

57 kg – Sofia Macaluso (Otisville, N.Y./Team New York)

59 kg – SaVannah Cosme (Denver, Colo./Sunkist Kids)

62 kg – Adaugo Nwachukwu (San Jose, Calif./Swamp Monsters WC)

65 kg – Reese Larramendy (Reno, Nev./Nevada Elite Wrestling/Hawkeye WC RTC)

68 kg – Destiny Rodriguez (West Linn, Ore./All-Phase WC)

72 kg – Amit Elor (Walnut Creek, Calif./NYC RTC/ Titan Mercury WC)

76 kg – Tristan Kelly (Eerie, Colo./Army WCAP)
National Women's Freestyle Development Coach – Jessica Medina Bunker

Assigned Coach – Emma Randall

Assigned Coach – Alli Ragan
Personal Coach – Jermaine Hodge

Personal Coach – Jacob Kadel

Personal Coach – Anthony Leon

Personal Coach – Heath Macaluso

Personal Coach – Izzy Martinez

Personal Coach – James Medeiros

Personal Coach – Forrest Molinari
Medical – Steve Poon

Medical – Bruce Ferratt
Official – Danny Blackshear

Official – Josh Grube

Official – Na Humma

Official – Leslie Tamayo
Communications – Taylor Gregorio
Schedule (local time 7 hours ahead of U.S. ET)
Monday, Aug. 15
11 a.m. – Qualification rounds (MFS 57, 65, 70, 79, 97 kg)

6 p.m. – Semifinals (MFS 57, 65, 70, 79, 97 kg)
Tuesday, Aug. 16
11 a.m. – Qualification rounds (MFS 61, 74, 86, 92, 125 kg)

11 a.m. – Repechage (MFS 57, 65, 70, 79, 97 kg)

4 p.m. – Opening ceremony

4:45 p.m. – Semifinals (MFS 61, 74, 86, 92, 125 kg)

6 p.m. – Medal matches (MFS 57, 65, 70, 79, 97 kg)
Wednesday, Aug. 17
11 a.m. – Qualification rounds (WFS 50, 55, 59, 68, 76 kg)

11 a.m. – Repechage (MFS 61, 74, 86, 92, 125 kg)

4:45 p.m. – Semifinals (WFS 50, 55, 59, 68, 76 kg)

6 p.m. – Medal matches (MFS 61, 74, 86, 92, 125 kg)
Thursday, Aug. 18
11 a.m. – Qualification rounds (WFS 53, 57, 62, 65, 72 kg)

11 a.m. – Repechage (WFS 50, 55, 59, 68, 76 kg)

4:45 p.m. – Semifinals (WFS 53, 57, 62, 65, 72 kg)

6 p.m. – Medal matches (WFS 50, 55, 59, 68, 76 kg)
Friday, Aug. 19
11 a.m. – Qualification rounds (GR 55, 63, 77, 87, 130 kg)

11 a.m. – Repechage (WFS 53, 57, 62, 65, 72 kg)

4:45 p.m. – Semifinals (GR 55, 63, 77, 87, 130 kg)

6 p.m. – Medal matches (WFS 53, 57, 62, 65, 72 kg)
Saturday, Aug. 20
11 a.m. – Qualification rounds (GR 60, 67, 72, 82, 97 kg)

11 a.m. – Repechage (GR 55, 63, 77, 87, 130 kg)

4:45 p.m. – Semifinals (GR 60, 67, 72, 82, 97 kg)

6 p.m. – Medal matches (GR 55, 63, 77, 87, 130 kg)
Sunday, Aug. 21
4 p.m. – Repechage (GR 60, 67, 72, 82, 97 kg)

6 p.m. – Medal matches (GR 60, 67, 72, 82, 97 kg)