News
USA Wrestling
High School & Youth
Women
USAW
Engel, Bouzakis, Turner, Ocampo earn U.S. team berths with victories in U15 Pan American Team Trials for girls
by Gary Abbott, USA Wrestling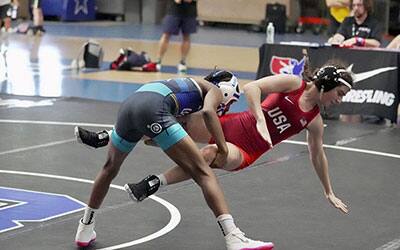 Morgan Turner (IL) takes down Lilly Breeden (MO) in the 42 kg finals series at the U15 Pan American Team Trials. Photo by Greg Kaup.
BOYS TOWN, Neb. – Four athletes earned spots on the U.S. U15 Pan American team with victories in women's freestyle on Friday at Boys Town High School.
Winners qualified for the U.S. team for the 2022 Pan American U15 Championships in Apartado, Colombia, November 4-6.
Three of the girls champions were determined in best-of-three Championships Series, all won in two straight matches.
At 39 kg, U15 National champion Jaclyn Bouzakis of Florida defeated Abigail Mendoza of Texas in the best-of-three series in two straight 10-0 technical falls. Bouzakis was scoring points on both her feet and down in par terre.
Morgan Turner of Illinois, who won 14U and U15 national titles earlier this year, powered through her championship series over Lilly Breeden of Missouri, with a pair of 10-0 technical falls. Turner also won her other round robin match by a 10-0 technical fall, outscoring her three opponents 30-0 for the day.
In the 46 kg round robin, Ysabelle Ocampo of Indiana swept her two Championship Series matches over Sandy Breeden of Missouri. Ocampo defeated Breeden by pin in their first match, then finished off the series with a 10-0 technical fall. In the round robin, three athletes had 1-1 records, so finalists Ocampo and Breeden were determined by criteria. Madison Nieuwenhuis of Michigan finished third.
Brynn Engel of Wisconsin, who won 14U and U15 National titles earlier this year, claimed the 33 kg weight class for girls uncontested. There were no entries in the 36 kg weight class for girls.
The final five girls weight classes will be contested on Saturday (50 kg, 54 kg, 58 kg, 62 kg, 66 kg). The event will be broadcast on FloWrestling. The first session is schedule for 10:00 a.m. CT.
U15 PAN AMERICAN TEAM TRIALS

At Boys Town, Neb., August 5


Girls freestyle final results
33 kg – 1st Place - Brynn Engel (WI)
39 kg - 1st Place - Jaclyn Bouzakis (FL) dec. Abigail Mendoza (TX), two matches to none
Bout One – Bouzakis tech fall Mendoza, 10-0
Bout Two – Bouzakis tech fall Mendoza, 10-0
3rd Place Match - Khyla Lipumano (AZ) dec. Katie Biscoglia (IA), 6-2
5th Place - Dilynn Albrecht (WI)
42 kg – 1st Place - Morgan Turner (IL) dec. Lilly Breeden (MO), two matches to none
Bout One – Turner tech fall Breeden, 10-0
Bout Two – Turner tech fall Breeden, 10-0
3rd Place - Angelica Serratos (CA)
Additional Round Robin matches
Lilly Breeden (MO) dec. Angelica Serratos (CA), 11-5
Morgan Turner (IL) tech. fall Angelica Serratos (CA), 10-0
46 kg – 1st Place - Ysabelle Ocampo (IN) dec. Sandy Breeden (MO), two matches to none
Bout One – Ocampo pin Breeden, 2:54
Bout Two – Ocampo tech fall Breeden, 10-0
3rd Place - Madison Nieuwenhuis (MI)
Additional Round Robin matches
Madison Nieuwenhuis (MI) won by decision over Ysabelle Ocampo (IN) (Dec 2-1,2-1)
Ysabelle Ocampo (IN) won by fall over Sandy Breeden (MO) (Fall 2:54)
Sandy Breeden (MO) won by decision over Madison Nieuwenhuis (MI) (Dec 4-0)