News
USA Wrestling
High School & Youth
USAW
Big throws on display as 10 Greco-Roman champions crowned at U15 Pan American Team Trials
by Gary Abbott, USA Wrestling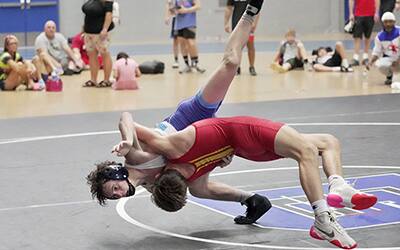 Nolan Fellers (IA) launches Blue Stiffler (SC) in the 62 kg Greco-Roman finals at the U15 Pan American Team Trials. Photo by Greg Kaup.
BOYS TOWN, Neb. – The first day of the U15 Pan American Team Trials for boys featured Greco-Roman competition, a day full of big throws and exciting action at Boys Town High School.
Ten champions were crowned in Greco-Roman on Friday. The U.S. U15 Pan American Team will not be determined until Saturday, after the boys freestyle competition is completed.
The boys who qualify for the U.S. U15 Pan American team will be determined by the highest point value (of both styles combined) from the tournament. Based upon the points earned, as set in the U15 Pan American Team Procedures, a team member is determined. The boy who makes the team in each weight class will wrestle both freestyle and Greco-Roman at the 2022 Pan American U15 Championships in Apartado, Colombia, November 4-6.
At 38 kg, Liam Collins of Minnesota, winner of the 14U Nationals and U15 Nationals in Greco-Roman this year defeated Cruzer Dominguez of Nebraska, a 14U Greco-Roman champion, in the finals with an 8-0 technical fall. Samuel Sanchez won a true-second match over Dominguez to secure second place.
Jensen Boyd of Indiana, a runner-up in the 14U Nationals in Greco-Roman, defeated a pair of national champions on the way to the 41 kg title. In the finals, he stopped 14U Greco-Roman nationals champion Daniel Green, 7-4. In the semifinals, Boyd upset 16U Nationals champion Caleb Noble of Wisconsin, 12-7. Boyd is younger brother of women's freestyle star Alara Boyd, who has won age-group World medals for Team USA.
Hudson Loges of Nebraska also had a great day on the way to the 48 kg title. In the finals, Loges scored a 10-0 technical fall over Lincoln Sledzianowski of Florida, who won U15 and 16U National titles this year. In the semifinals, Loges pinned U15 Nationals champion Michael Romero of California in 3:33. Loges was second at the 16U Nationals and the U17 Nationals this year in Greco-Roman.
At 52 kg, Josiah Boyden of Georgia beat a pair of 2022 national champion in a three-athlete round robin. He opened on Friday morning with a 9-4 win over U15 National champion Declan Koch of Wisconsin. He finished with an 11-9 win over 14U National champion Matthew Orbeta of California. Boyden made a big jump this season, as he was seventh in Greco-Roman at the 14U Nationals in June.
Thomas Verrette of Colorado, who won U15 and 16U national Greco-Roman titles this year, powered past Jacob Herm of Wisconsin in the 57 kg finals, by a 9-0 technical fall.
The 62 kg champion was Nolan Fellers of Iowa, who won a high scoring bout against U15 National champion Blue Stiffler of South Carolina, ultimately pinning Stiffler in 3:39. Fellers was third in the 16U Nationals in Fargo in Greco-Roman.
Mikel David Uyemura of California was the 68 kg champion with an 8-0 technical fall over Christopher Acuna of Montana in the finals. Uyemura was a U15 Nationals Greco-Roman runner-up this spring.
.At 75 kg, U15 National champion Terrell McFarland of Pennsylvania outpointed Miguel Rojas of Indiana, 5-1, to secure the championship.
15U Nationals Greco-Roman champion Dreshaun Ross of Iowa swept a best-of-three series against Adonis Bonar II of Nebraska with a pair of technical falls. Ross won 8-0 in bout one and 17-8 in bout two. They were the only two entries at this weight class.
Henry Aslikyan of California won the 44 kg title uncontested. Aslikyan was second at the 2022 U15 Nationals in freestyle at 41 kg.
The boys competition continues on Saturday, with freestyle contested in all 10 weight classes. The event will be broadcast on FloWrestling. The first session is scheduled for 10:00 a.m. CT.
U15 PAN AMERICAN TEAM TRIALS

At Boys Town, Neb., August 5


Greco-Roman final results
38 kg
1st Place Match - Liam Collins (MN) tech fall Cruzer Dominguez (NE), 8-0
2nd Place Match - Samuel Sanchez (CA) tech fall Cruzer Dominguez (NE), 18-8
3rd Place Match - Samuel Sanchez (CA) pin Tristan Pino (CO), 2:36
41 kg
1st Place Match - Jensen Boyd (IN) dec. Daniel Green (MT), 7-4
3rd Place Match - Caleb Noble (WI) dec. Cameron Sontz (NJ), 6-0
5th Place - Brighton Karvoski (CT)
44 kg
1st Place - Henry Aslikyan (CA)
48 kg
1st Place Match - Hudson Loges (NE) tech. fall Lincoln Sledzianowski (FL), 10-0
3rd Place Match - Michael Romero (CA) tech fall Will Detar (PA), 8-0
5th Place Match - Amari Vann (NJ) forfeit over Che Jenkins (AZ)
52 kg
1st Place - Josiah Boyden (GA)
2nd Place - Declan Koch (WI)
3rd Place - Matthew Orbeta (CA)
Josiah Boyden (GA) dec. Declan Koch (WI), 9-4
Declan Koch (WI) dec. Matthew Orbeta (CA), 7-5
Josiah Boyden (GA) dec. Matthew Orbeta (CA), 11-9
57 kg
1st Place Match - Thomas Verrette (CO) tech. fall Jacob Herm (WI), 9-0
3rd Place Match - Ned Kauffman (PA) dec. Maximus Riggins (IA), 5-4
5th Place Match - Jesse Grajeda (CA) tech. fall Travis Cardenas (AZ), 8-0
62 kg
1st Place Match - Nolan Fellers (IA) pin Blue Stiffler (SC), 3:39
3rd Place Match - Emmitt Sherlock (MD) dec. Joseph Schinder (NJ), 8-4
5th Place Match - Nathaniel Askew (GA) tech fall Zack Aquila (OH), 9-0
68 kg
1st Place Match - Mikel David Uyemura (CA) tech. fall Christopher Acuna (MT), 8-0
3rd Place Match - Owen McMullen (PA) dec. Victor MarksJenkins (MD), 6-1
5th Place Match - Liam Fox (WY)
75 kg
1st Place Match - Terrell McFarland (PA) dec. Miguel Rojas (IN), 5-1
3rd Place Match - Isai Fernandez (CA) dec. Daniel Patrick (OR), 12-6
85 kg
1st Place - Dreshaun Ross (IA)
2nd Place - Adonis Bonar II (NE)
Dreshaun Ross (IA) tech. fall Adonis Bonar II (NE), 8-0
Dreshaun Ross (IA) tech. fall Adonis Bonar II (NE), 17-8