News
USA Wrestling
High School & Youth
USAW
Adonis Lattimore, state champion born without legs, proves that anyBODY can wrestle
by Jay Lewey, special to TheMat.com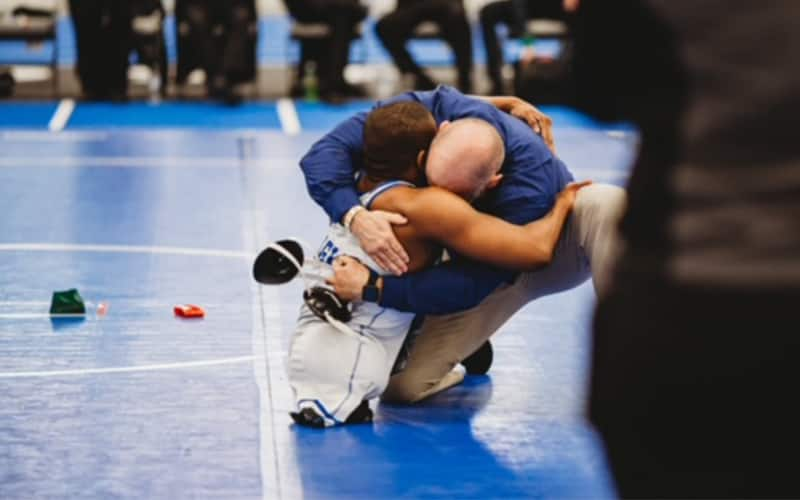 Photo provided by Jerrold Lattimore.
Born without legs, Adonis Lattimore captured national attention earlier this year, winning the 106-pound weight class of the Class 6 Virginia High School state tournament.
Lattimore's father, Jerrold, said it best: "the state title is a small part of it; the real story is that we never placed limitations on what can be accomplished!"
Entry into Wrestling - the early years through middle school
Adonis Lattimore, the youngest of four children, was born without legs and a majority of his fingers on one hand. His parents changed jobs shortly after he was born, working opposite shifts, in order to make sure they could provide their young son all the care he needed. Adonis' introduction to wrestling came mainly from play fighting with his father at home. While the rough housing may have been just a game, it is clear his parents raised him with the spirit of a grappler. Early in his elementary education, the Lattimores discovered well intentioned educators were doing things for Adonis at school that he could do for himself. After a brief parent-teacher conference where the Lattimores stressed the importance of Adonis being self-reliant, the school soon discovered how much he could do.
Shortly thereafter at the age of 7, Adonis brought home a flyer advertising a youth wrestling program. Jerrold knew his young son would be interested based on their daily play. Almost from the first practice, Jerrold and Adonis knew they had found a home. The Lattimores credit Pee Wee coach Chris Crawford and a young high school wrestler at the time Dalton Henderson with setting Adonis on the path to arrive at a state title. "From day one, they believed and were encouraging," Jerrold shared.
The early years of Pee Wee wrestling did what they were supposed to: teach Adonis the basics and build him for the next level. It also inspired his father to learn the sport and coach his son over many years, making wrestling a family affair. By fifth grade, Adonis skilled out of the Pee Wee division and needed a new challenge. Being a bit of a local wrestling celebrity, Adonis accepted an invitation to a local club's summer training camp. The tryout went well and that year Adonis made the transition to the next level. Rather quickly Adonis learned what many wrestlers do when they jump levels–the transition can be brutal. At one point, he went on a losing streak of more than a year that privately made Jerrold think about pulling the plug on the experiment. Ironically, when Adonis finally broke the losing streak, it was one of the few matches his father ever missed. However, when Adonis shared the good news, Jerrold quickly jumped on the opportunity thinking about how to build on the success and get better.
Adonis continued to progress through middle school, improving year over year. Virginia Beach has an interesting model where middle school students wrestle for their school and simultaneously wrestle on the weekends for club teams. This made sixth grade a confusing season as he would place in most weekend tournaments but did not start for his school team. Simply staying the course and continuing to train paid off as he placed in the city tournament as a seventh grader, took home the Coach's award and improved his place in the same tournament as an eighth grader.
High School years
As Jerrold and Adonis learned the sport together, they eventually developed Adonis' "secret sauce", his style of wrestling. His high school coach, James Sanderlin, had the privilege of working with Adonis his entire high school career, first at the JV level before taking over the varsity role at the same time Adonis progressed. Like so many kids, his high school career was severely inhibited by the pandemic, losing huge chunks of his sophomore and junior seasons. Adonis didn't start as a sophomore, but spent the whole offseason working on his craft and working out. Heading into his junior year even with an abbreviated season and limited participation due to the pandemic, expectations were high. Coach Sanderlin believed Adonis would have been in the hunt for a title as a junior. Unfortunately, the entire Landstown wrestling team had a COVID exposure right before the regional tournament that ended their season.
Senior Season
Following the disappointment of a lost junior season, Adonis returned with his sights set high for his final high school year. Like any ambitious athlete, he set out to be among the top-three wrestlers on the team in bonus points scored as well as going undefeated en route to a state title. Early in the season, his goals looked quite achievable as he roared out to an 18-0 start. Constantly hunting good competition, Landstown traveled out of state twice with Adonis beating some tough wrestlers in North Carolina. However, his perfect record was ruined on a trip to Pennsylvania. The low point of the season came at the Virginia Duals where he lost to the same wrestler twice, Colin Martin of Staunton River, who would go on to win the 3A state title. Despite the tough losses to Martin, Adonis got back on a roll making the regional finals. Unfortunately, in the championship match, an early mistake put him behind by a sizable margin. Particularly against good opponents, closing a big gap can be challenging and force you to take chances. Adonis was ultimately pinned by Ian Arnett of Kellum in the finals.
In the week between regionals and the state tournament, Adonis showed a maturity beyond his years. Worried Jerrold's emotions would distract him during the state tournament, he asked his father, who had been in his corner for years, to move to the sidelines for his final state tournament. As any good father would, Jerrold honored his son's request and became strictly a spectator for the first time in years.
At the state tournament the following weekend, Adonis started strong, outscoring his opponents 19-1 in his first two matches. In the semifinals, he faced a tough Caden Smith from perennial powerhouse Robinson High School. Entering the third period down 2-0, Adonis chose neutral and quickly got a takedown to tie the score. With about a minute to go Smith escaped to take the one-point lead. Down 3-2, Adonis knew he had to push the pace, which can be extra challenging without legs. Stalking his opponent and cutting off any escape path, Adonis secured a takedown out of bounds with seven seconds to go, taking the one point lead. Those last seven seconds were the "longest of his life" as he held on to secure his trip to the finals.
Sometimes in tournaments the brackets break your way, as things did for the Landstown senior on February 19. His opponent from the regional finals lost in the semis setting up a finals match against a new opponent, which Adonis and his coaches feel always gives him an advantage. After an afternoon nap and an emotionally stirring finals ceremony, Adonis led off the championship matches. Up 2-1 in the third with the choice, Coach Sanderlin wanted Adonis to choose neutral, often a strength. In the biggest moment of his young life, Adonis once again demonstrated his maturity and took control of his match against his coach's advice. Adonis believed that if he chose down and could stay out of trouble eventually his opponent would have to cut him free, giving up the escape. His strategy worked just as designed. With a minute to go, Lattimore went up 3-1 and did what every good wrestler should do - he stayed aggressive, kept wrestling and secured a takedown to seal the 5-1 victory late in the period. With five seconds to go, Adonis remembers just letting go knowing his dream had become reality.
Training
Having a special athlete like Adonis could be intimidating for any coach. For many it could raise a lot of questions: Do we have the right equipment? Should practices be modified? Should technique be taught multiple ways? Both Coach Sanderlin and Adonis' father, resoundingly stated that they changed very little working with him. When the team did sprints, Adonis sprinted on his hands just like he would in a match. When the team did laps on the track, Adonis rolled in his wheelchair, just like he does when he and his dad go running together. Refusing to be different from any other wrestler earned him the respect and admiration of his coaches and teammates, something I personally witnessed in Virginia Beach when his teammates would carry him on their backs up the bleachers to rest between matches. Adonis' desire to push himself even forced an intervention from his coaches when the wear and tear of repeated sprints took a toll on his wrists. Like any repetitive motion injury, a modified workout plan to let it heal was all that was necessary.
Adonis also credits his weight coach and strength work for contributing to his success. Postseason he set a new personal record on the bench at 235 and performed body-weight dips with an added 40 pounds. For some pulling work, he uses a standard lifting hook on one hand to help connect to the weight. While some lifts are a challenge, Adonis and his dad took the same approach to this as with his whole life - find a way. When pull-ups were a challenge, they used a Total Gym to get the work in. Recently joining a local fitness center and adding some different machines to his regimen allowed him to train muscle groups that were difficult with free weights.
Future
After winning the title and appearing on ESPN, the family and Coach Sanderlin have been busy with media requests. The exposure has helped generate additional college offers that the family is currently working through. Jerrold acknowledged that their family has to be deliberate in where Adonis will wrestle next as they have to think about additional factors beyond the usual, such as the terrain, weather, and accessibility. While continuing to train for college, Adonis has stepped into a new role, coaching Landstown's spring mat club. His final college decision should come in the spring of 2022.