News
USA Wrestling
International
USAW
Men's freestyle promises exciting competition for World Team Trials in Lincoln
by Taylor Miller, USA Wrestling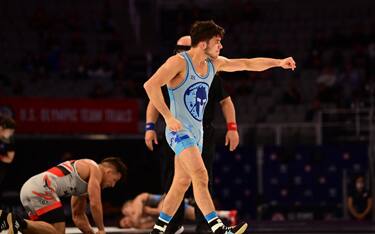 This weekend, USA Wrestling will host the 2021 Senior World Team Trials in Lincoln, Neb. Winners of each weight class in all three international styles will go on to compete at the 2021 World Championships in Oslo, Norway, Oct. 2-10.
FREE TICKETS FOR MILITARY AND FIRST RESPONDERS
Based on performances at the Tokyo Olympic Games earlier this year, Olympic medalists earned an automatic bid to Norway, should they choose to accept it. In men's freestyle, Thomas Gilman (bronze, 57 kg), Kyle Dake (bronze, 74 kg), David Taylor (gold, 86 kg), Kyle Snyder (silver, 97 kg) and Gable Steveson (gold, 125 kg) picked up medals.
All but Steveson accepted their automatic bids to the 2021 World Championships, leaving only six weights to be contested at this weekend's World Team Trials: 61 kg, 65 kg, 70 kg, 79 kg, 92 kg and 125 kg.
The field, though small, is loaded with talent, including five Senior World medalists among the six weight classes. Seeds for the men's freestyle division were released earlier today.
61 kg
This is a competitive weight classes with many athletes moving up from 57 kg as well as some coming down from the Olympic category 65 kg. Highlighting the bracket is 2018 World bronze medalist Joe Colon, who last competed at the Olympic Trials at 57 kg, where he advanced to the semifinals before falling to Gilman.
In addition to Colon, there are a few other past Senior World Team members expected to wrestle such as Daton Fix (2019, 57 kg) and Tyler Graff (2019, 61 kg) as well as 2018 World Team Trials champion Nahshon Garrett, who suffered an injury prior to the World Championships.
Other names to watch out for include World No. 4 Shelton Mack, who is a 2021 Pan American Champion, as well as Nick Suriano and many others.
65 kg
Despite only six athletes being registered for this bracket, there are a few tough competitors vying for the spot. Some of the front-runners at the weight are Olympic alternate Joey McKenna and 2019 World alternate Yianni Diakomihalis. McKenna is a 2017 U23 World bronze medalist and has become more competitive on the Senior-level over the past couple of years, including an impressive finals run to the Olympic Trials finals. Diakomihalis is a two-time NCAA champion as well as two-time Cadet World champion, who spent the summer as Dake's Olympic training partner.
2020 Senior Nationals runner-up Evan Henderson and college standouts Dean Heil and Luke Pletcher will be in the mix as well.
70 kg
Some exciting names are registered at this weight, including two-time World medalist James Green, who won a World bronze in 2015 and a World silver in 2017. Green has represented the USA at each World Championships since 2015, and he aims to continue that streak.
Looking to knock off Green is World No. 1 Alec Pantaleo, who won the Matteo Pellicone International earlier this year followed by gold-medal performances at the 2021 Senior Pan American Championships and the Poland Open. Green and Pantaleo split matches at the Poland Open with Green taking the win in pool play, 8-0, but Pantaleo emerging victorious in the finals over Green, 5-3.
Bumping up to 70 kg is Olympic Trials champion at 65 kg Jordan Oliver and two-time World Team member at 65 kg Zain Retherford, who represented the U.S. at the 2017 and 2019 World Championships.
79 kg
There is a lot of buzz around 79 kg as 2012 Olympic champion and four-time World champion Jordan Burroughs bumps up from 74 kg to seek his 10th Olympic/World Team bid. There's no doubt that Burroughs is one of the best wrestlers in the world, so it will be exciting to see how he fares at a new weight class, which also includes Alex Dieringer, who has medaled at every international event he's competed in since 2016. Additionally, Dieringer has four gold medals from UWW Ranking Series events at 79 kg.
Joining Burroughs in bumping up from 74 kg is two-time Final X runner-up Isaiah Martinez, who owns a win over Burroughs from the 2019 Final X series.
Other names to look out for include 2020 Pan American champion Jason Nolf as well as 2021 Pan American champion and World No. 4 Tommy Gantt. The 79 kg field is seeded 13 deep.
92 kg
The favorite at this weight is two-time World champion and 2016 Olympic bronze medalist J'den Cox, who won both of his World titles at 92 kg. Coming in as the No. 1 seed, this weekend will mark Cox's first domestic tournament since 2019 Final X.
Hot on his heels is Nate Jackson, who will be the 2-seed in Lincoln. Jackson has had a heavy competition schedule domestically and internationally, earning him the No. 1 ranking in the world at 92 kg. Recently, Jackson and Cox have both been training at the NJRTC in New Jersey.
Kollin Moore, the Tokyo Olympic alternate at 97 kg, will move down a weight in an attempt to make his first Senior World Team. Moore is a 2017 Junior World silver medalist and 2018 U23 World silver medalist. Other names registered at the weight include past National Team members Kyven Gadson and Mike Macchiavello. Though, according to Gadson's twitter, he may move up to 125 kg for the tournament.
125 kg
With Olympic champion Steveson declining his bid to the World Championships, someone else will get the chance to represent the USA at 125 kg in Oslo. Coming in as the top-two seeds are two-time Senior World bronze medalist and Olympic alternate Nick Gwiazdowski and 2019 Junior World champion Mason Parris, who was third at the Olympic Trials. The two split matches at the 2020 RTC Cup with Parris winning 10-7, while Gwiazdowski won the other matchup 18-8.
Multiple-time National Team member Dom Bradley and 2018 U23 World bronze medalist Ty Walz round out the top-4 seeds. There are 11 athletes registered for the weight as of now.