News
USA Wrestling
College
USAW
Mike Grey elevated to head coach for Cornell wrestling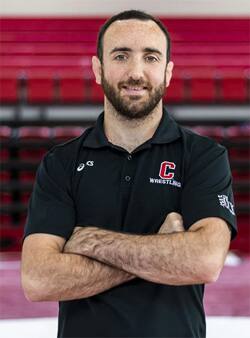 Mike Grey photo by Eldon Lindsay, Cornell University.
ITHACA, N.Y. – Former Big Red All-American Mike Grey '11 has been named the David R. Dunlop '59 Head Coach of Wrestling it was announced today by Andy Noel, the Meakem*Smith Director of Athletics and Physical Education at Cornell. Change comes to the Big Red wrestling program following the departure of long-time head coach Rob Koll to Stanford.
Grey has served the Cornell wrestling program as an assistant coach for the past 11 years, starting as a volunteer assistant in 2011 before earning a full-time assistant coaching position in 2013. In 2019, Grey was promoted to associate head coach and has long been considered one of the nation's top head coaching targets.
"Mike has been an instrumental part of the Big Red's success since his time as an undergraduate, and more than a decade of Cornell wrestlers have grown into All-Americans and national champions under his tutelage," Noel said. "The program is in great hands and will remain in position to build on its successes on and off the mat. I'm excited that Mike has the full endorsement of Coach Koll and Big Red legend Kyle Dake '13, who will continue to commit time to the program as he trains for the upcoming Olympics, as well as the alumni and current student-athletes."
During his tenure, Grey has been instrumental in working with Cornell's lightweights, helping mold the careers of Yianni Diakomihalis, Vito Arujau and Nahshon Garrett. With Grey on staff, Cornell has gone 111-27 in dual meets with a 44-1 record in Ivy League matches. He has helped the program to eight Ivy League titles, six EIWA titles and eight NCAA top 10 team finishes. Big Red athletes have won nine NCAA titles, 31 All-America honors, 31 EIWA titles and 41 first-team All-Ivy honors over that span.
Prior to his time on the coaching staff, Grey helped lead the Big Red to consecutive second-place finishes at the 2010 and 2011 NCAA Championships as a student-athlete. A two-time All-American, Grey capped his collegiate career with a 117-30 record and four All-Ivy first team selections.
Grey graduated from Cornell in 2011 with a B.A. in Development Sociology, and currently resides in Ithaca with his wife, Kaille, and his two children Declan and Delaney.
"While we are all disappointed to lose Rob as our head coach, we wish him and his family much success at Stanford," Noel said. "Rob advanced Cornell wrestling from a regional contender to a national power through his tenacity, creativity and ability to connect with recruits, student-athletes and alumni. The incredible investment in thousands of young men during his illustrious time at Cornell and the deep friendships he cultivated among our supportive alumni established a reputation of best-in-class within the NCAA."
Koll will be remembered as one of the all-time great Cornell coaches after guiding the Big Red to 20 Ivy League and 11 EIWA titles, crowning 16 NCAA champions and achieving 71 All-Americans, 177 NCAA qualifiers and 66 individual EIWA champions. Koll is not only Cornell's all-time wins leader, but also is the standard-bearer in Ivy League history with his 317-101-5 (.755) career record. His 125-9-1 record (.929) in Ivy League dual meets is also unmatched.
During his tenure, the Big Red won 17 consecutive Ivy crowns – the longest streak by any school in any sport in conference history - and ended the streak during the 2019-20 season having won 92 straight Ivy matches. Koll's teams also captured 12 New York State Intercollegiate titles during his tenure. He had a string of 17 consecutive seasons coaching at least three Big Red wrestlers onto the All-America podium and qualified at least one wrestler to the NCAA championships in each of his 27 seasons, including sending a school-record nine to the national meet in 2005, 2009, 2011, 2012, 2015 and 2016.