News
USA Wrestling
College
USAW
Rob Koll named new head coach for Stanford wrestling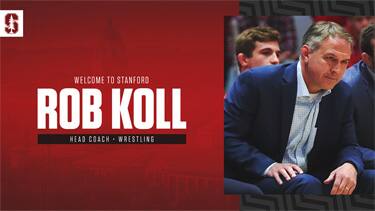 STANFORD, Calif. – Rob Koll has been appointed the 31st head coach in Stanford wrestling history, as announced today by Jaquish & Kenniger Director of Athletics Bernard Muir.
Koll comes to The Farm after spending 28 seasons as the head coach at Cornell, where he turned the Big Red into one of the elite programs in college wrestling. Koll compiled a 317-101-5 record while in Ithaca, including a 125-9-1 mark in the Ivy League. Koll's hiring is contingent on a pending background check.
"I am thrilled to welcome Coach Koll to Stanford," said Muir. "His long track record of success speaks for itself, and I believe he can propel Cardinal wrestling to even greater heights."
With Koll at the helm, Cornell won 20 Ivy League and 11 EIWA titles, crowned 16 NCAA champions and produced 71 All-Americans, 177 NCAA qualifiers and 66 individual EIWA champions.
"My wife, Rachel, and I are looking forward to this new adventure," said Koll. "I want to thank Bernard and Jamie [Breslin] for the opportunity. Everything Stanford was asking for seemed to be right in my wheelhouse and I am looking forward to getting to work on The Farm.
"The hardest part of the decision was to leave Cornell after 32 years. I am so grateful to all the wonderful people I have worked with and was surrounded by. I can't thank everyone enough - the guys in the room, my staff, the alumni, program supporters and fans."
Cornell's all-time wins leader, Koll has helped the Big Red crown at least one individual NCAA champion in 10 of the last 12 years (prior to 2020-21) and had a finalist every year during that span. Cornell twice finished as team runner-up at NCAAs and has eight top 5 finishes. Cornell and Iowa are the only school in the country to finish in the top 10 nationally every year since 2008 (Ivy League school did not participate in 2020-21 due to the COVID-19 pandemic).
For 17 consecutive seasons, at least three Big Red wrestlers reached the All-America podium. Koll qualified at least one wrestler to the NCAA championships in each of the 27 seasons the team competed, including sending a school-record nine to the national tournament six times.
"Rob Koll is one of the great coach CEOs in our sport," said Executive Director of USA Wrestling Rich Bender. "Coach Koll has built an incredible foundation for wrestling at Cornell University. Congratulations goes out to Stanford University and the entire wrestling family there as they move forward with one of our sport's best."
Prior to being named the head coach at Cornell, Koll spent four seasons as an assistant with the Big Red from 1989-93.
Koll graduated in 1989 from North Carolina with a degree in communications. He set the standard for excellence in Chapel Hill, winning a national title at 158 pounds in 1988. He finished his collegiate career as the winningest wrestler in school and ACC history with a 150-20-1 record. He was the Tar Heels's first four-time All-American and second wrestler in program history to win a national championship.
Continuing his competitive career following graduation, Koll wrestled in the 1990 and 1993 World Cup, winning his weight class on both occasions. He also served as an alternate on the 1992 U.S. Olympic Team. A 1992 World Cup Grand Prix champion, he finished fifth at the 1991 World Championships in Tokyo and was the 1989 Pan Am Games champion. He won national freestyle titles in 1990 and 1991, and was the runner-up at the 1989 Olympic Festival in Oklahoma City.
Koll and his wife, Rachel, have two sons, William and Daniel, who both have wrestled for the Big Red.
Honors & Accomplishments
NWCA National Coach of the Year (2005)
Dan Gable National Coach of the Year (2005)
EIWA Coach of the Year (2007, 2010, 2011, 2017)
Ivy League Coach of the Year (2015, 2016, 2017, 2018, 2019)
New York State Coach of the Year (1995, 1999, 2003, 2005, 2006, 2010, 2012)
Cornell and Ivy League's all-time winningest wrestling coach (317-101-5)
Most Ivy League dual meet wins in conference history (125-9-1)
Longest conference winning streak in team sports history (92 matches)
By The Numbers
1 Hodge Award Winner
1 NCAA Tournament Most Outstanding Wrestler
9 EIWA Freshmen of the Year
11 EIWA Wrestlers of the Year
11 EIWA championships
12 New York State Intercollegiate Championships
13 Ivy League Rookies of the Year
15 top 10 NCAA team finishes
15 Ivy League Wrestlers of the Year
16 individual NCAA champions
20 Ivy League titles
23 individual NCAA finalists
66 individual EIWA champions
71 NCAA All-Americans
70 individual New York State Intercollegiate champions
113 first-team All-Ivy League selections
177 individual NCAA qualifiers