News
USA Wrestling
High School & Youth
USAW
USA Wrestling leader Rick Tucci elected as Vice-President of UWW Americas
by Gary Abbott, USA Wrestling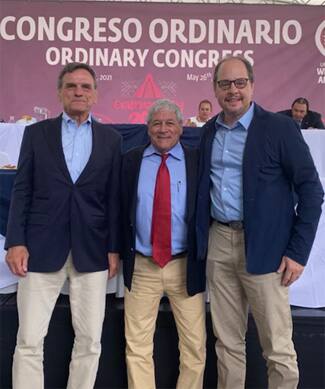 Rick Tucci (center) with UWW Vice President Stan Dziedzic and USA Wrestling Executive Director Rich Bender during the UWW Americas Congress today in Guatemala.
GUATEMALA CITY, Guatemala - Rick Tucci of Pembroke Pines, Fla., the president of the U.S. Wrestling Officials Association and a long-time leader within USA Wrestling, was elected as Vice-President of United World Wrestling Americas today during their Congress today.
UWW Americas is the governing council for the Pan American wrestling nations, which includes countries from North, South and Central America. Tucci previously served as a member of the UWW Americas Board, but was elected to the officer position of Vice President by his peers during today's elections.
"I am in it to help wrestling, and to do everything I can to promote the sport in our hemisphere, for the officials and the athletes. I am glad that USA Wrestling and the UWW Americas community believe that I can do the job," said Tucci.
Tucci is considered one the greatest wrestling officials in history, having officiated at eight Olympic Games and as many as 100 World Championship events. In his role as an official, international instructor and leader, Tucci has travelled to nearly all of the nations that have wrestling programs in this hemisphere.
"With all of the different countries represented in UWW Americas, I am the only one with a refereeing background. I will give the referees a bigger voice around the world. The Pan American nations only have about 15% of the officials worldwide. We need to get more officials to the highest level. Everything is in the hands of the federation presidents. The officials represent their nations, and we want them to do a great job," said Tucci.
Tucci was elected into the UWW International Hall of Fame in 2016, and as a Distinguished Member of the National Wrestling Hall of Fame in 2001. He also named as the National Wrestling Hall of Fame Meritorious Official in 1994. He was the 1992 USA Wrestling Official of the Year. He was also elected into the National High School Hall of Fame in 2011, based upon his national leadership as a referee at the high school level for decades.
Among his honors as a referee was the Golden Whistle at the 1988 Olympic Games, and the Outstanding Official at the 1977 World Championships.
A native of Toms River, N.J., Tucci competed for the Univ. of West Virginia. He was a successful college coach at Miami Dade Junior College for a decade. Tucci has served on USA Wrestling's Board of Directors, its Executive Committee, and on numerous other standing committees of the organization.