News
USA Wrestling
International
College
High School & Youth
Beach
USAW
Check out the age-group results from 2021 U.S. Beach Nationals in Jacksonville, Fla.
by Gary Abbott, USA Wrestling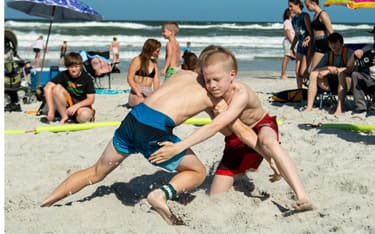 Youth wrestling action at the 2021 U.S. Beach Nationals. Photo by Robbert Wijtman
On Thursday, at Atlantic Beach in the Jacksonville, Fla. community, champions and medalists were crowned at the U.S. Beach National Championships.
The results from the Senior level competition was posted Thursday. Below are the results from the age-group divisions for boys and girls (8U, 10U 12U 14U, 16U and Junior), plus the Masters division.
At the age-group level, results from this event will be used when USA Wrestling opens up the opportunity for UWW Junior and UWW Cadet athletes to compete at the 2021 Beach World Championships in Constanta, Romania (September 23-24), as well as the 2021 Pan American Beach Championships in Bridgetown, Barbados (November 6-8).
This was the largest U.S. Beach Wrestling Nationals in history, with over 300 entries covering numerous age groups, with both a men's and women's division.
U.S. BEACH NATIONALS
At Jacksonville, Fla., May 23

Boys 8U

43-53
1 Mateo Pena (South Carolina)
2 Connor Morrow (Ohio)
3 Caige Morrow (Ohio)
56
1 Oliver Gliem (Iowa)
2 Joseph Distano (New Jersey)
Girls 8U
50
1 Blakely Garner (Troup Wrestling)
2 Brylie Garner (Troup Wrestling)
Boys 10U
63
1 Beau Abbott (Roundtree Wrestling Academy)
2 Kaleb Seals (Alabama)
67-71
1 Mateo Montanaro (Woburn Youth Wrestling)
2 Jayden Matter-Badillo (Bison Wrestling Club)
3 Luca Ray (South Georgia Athletic Cl
77
1 Bruno Hernandez (Scottsbluff Wrestling Club)
2 Aj Holmes (Patriot Wrestling Club)
3 Jax Eiland (Alabama)
Girls 10U
75-80
1 Kara-Lynn Dover (Roundtree Wrestling Academy)
2 Kamilla Philippus (Iowa)
Boys 12U
63-77
1 Flynn Arnestad (Ranger Wrestling Club)
2 Lucas Forman (Nevada Elite Wrestling)
82
1 Jack Silfies (New Hampshire)
2 Jonathan Graham (Tennessee)
86
1 Walker Woodard (Troup Youth Wrestling (TYW))
2 Evan Brothers (Massachusetts)
3 Colbin Gadbois-Cates (Maine Trappers)
4 Sawyer Rees (Florida)
98
1Josiah Puller (Ohio)
2Vincent Bravo (Scottsbluff Wrestling Club)
108
1 Rosco Lewis (Prodigy Wrestling)
2 Oren Russell (Live Oak Wrestling Clu
160
1 Alan Garcia (US Territory)
Girls 12U
70-75
1 Ryleigh Sturgill (Tennessee Outlaws Wrestling Club)
2 Calliope Willman (unattached)
3 Reana Spangler (Maize Wrestling Club)
4 Zoe Roddis (Cleveland Warrior Mat Club)
80-85
1 Sophia Holmes (Patriot Wrestling Club)
2 Kara McKeel (RPA Wrestling)
100
1Juliana Eldridge (Alabama)
Boys 14U
92-97
1 Nathaniel Boger (Tennessee)
2 Charlie DeSena (Riptide Wrestling Club)
3 William Phillips (unattached)
102
1 Elias Koonce (Illinois)
2 Stone Phillips (Iron Clad)
106
1 Ricardo Saenz (Michigan)
2 Tyler Turzinski (IsleStyle Wrestling Club)
110
1 David Perez (Mayo Quanchi Wrestling Club)
2 Brody Kelly (Illinois)
114
1 William Leischner (Mayo Quanchi Wrestling Club)
2 Jordan Smith (Powerhouse)
3 Jason Downs (Peer Pressure)
119
1 Sammy Spaulding (American Dream Wrestling Club)
2 Casey Snowden (Social Circle USA Takedown)
Girls 14U
85-95
1 Sara McLaughlin (Riptide Wrestling Club)
2 Lillian Bradshaw (RPA Wrestling)
3 June Treser-Pyles (Dayton Eagles WC)
105-110
1 Avaeh Smith (Iowa)
2 Ava Brothers (Massachusetts)
185
1 Maia Edwards (Ohio)
2 Makayla Harrison (RPA Wrestling)
Boys 16U
106
1 Dominic Gumtow (Michigan)
2 Tyson Roach (Bronco Wrestling Club)
3 Ethan Rivera (Central Florida Wrestling Academy @LHP (Lake Highland Prep))
4 James Hanley (HeadHunters Wrestling)
113
1 Donny Almeyda (Edge Wrestling)
2 Ethan Vugman (Florida)
3 Cecilia Williams (Michigan)
4 Elijah Johnson (Effingham County WC)
120
1 Stone Farnsworth (Mayo Quanchi Wrestling Club)
2 Cole O'Brien (Black Hive)
3 Jackzen Rairdon (Bear Cave)
126
1 Timothy Murabito (Bay Area Dragons Wrestling Center)
2 Jack DeSena (Riptide Wrestling Club)
3 Hunter Sturgill (Tennessee Outlaws Wrestling Club)
4 Tristan Preece (Florida)
132
1 Gabriel Bouyssou (Mayo Quanchi Wrestling Club)
2 Rafael Garcia (US Territory)
3 Kaden Fratus (Mayo Quanchi Wrestling Club)
4 Nicholas LaMorte (VHW)
138
1 Nolan Liess (New York)
2 Sergio Sweet Saenz (Virginia)
3 Brandon Cody (Seminole County Wrestling Club)
4 Kristian Seals (Alabama)
145
1 Duncan Christensen (Virginia)
2 Zechariah Osburne (unattached)
3 Nathan McKee (Heritage Outlaws Wrestling Club)
152-160
1 Victor Soto-Rivera (US Territory)
2 Khalil Dorsey (Georgia)
170-182
1 Hoke Poe Hogan (Morris Fitness)
2 Zion Smith (Georgia)
3 James Humphrey (Missouri)
220-285
1 Willie Cox (Alabama)
2 Owen Castro (unattached)
Girls 16U
100-110
1 Cecilia Williams (Michigan)
2 Angie Dill (Curby 3 Style Wrestling Club)
117-122
1 Gennaveve Matt (Dayton Eagles Wrestling CLub)
2 Gwenivere Matt (Dayton Eagles Wrestling CLub)
3 Alison Calhoun (Dayton Eagles Wrestling Club)
127-132
1 Mia Furman (Suples Wrestling Club)
2 Loriana Reed (Georgia)
3 Ciara Riner (West Virginia)
4 Adelaide Castleberry (Florida)
138-148
1 Isabell Carrington (Dayton Eagles Wrestling CLub)
2 Aubrianna Apple (RPA Wrestling)
180-190
1 Sophie Pollack (New York)
2J ayla Harrison (RPA Wrestling)
Boys Junior
106
1 Keith Moreno (California)
2 Allen Calderon (unattached)
3 Mason Moody (Compound Wrestling)
120
1 Dominic Ditomasso (South Georgia Athletic Club)
2 Isaiah Graves (UTB Wrestling)
3 Amadou Diallo (Georgia)
126
1st Luke Citarelli (Hurricanes) DEC Tony Serrano GA (Georgia)
3rd Brandon Olsen (unattached) DEC Brian Nero CA (UTB Wrestling)
132
1st Reese Jones GA (Compound Wrestling) DEC Jaden Williams CO (Cry Wolf Wrestling)
3rd Conner Nevin GA (Effingham County Wrestling Club) DEC Conner Kimbrough GA (Compound Wrestling)
138
1st Hunter Price GA (Georgia) DEC Andrew Lusby LA (Live Oak Wrestling Club)
3rd Charlie Dill NY (New York) DEC Andrew Chaney CA (California)
145
1 Samuel Harris (Compound Wrestling)
2 Ruben Rodriguez (UTB Wrestling)
152
1st Jamal Everette MD (Ground Up USA) DEC Michael Colligan TN (Tennessee Outlaws Wrestling Club)
3rd Marc Kleyman NY (Beat the Streets New York City) FOR Liam Gil swiger (NOVA Wrestling Club)
160
1 Isaiah Fagg (Tennessee)
2 Canyon Hebb (South Georgia Athletic Club)
3 Michael Hamel-Patrick (New Hampshire)
4 Paul Ortiz (Imperial Jr. Wrestling Club)
170
1 Rodrick Love (Illinois)
2 Riley Orr (Florida)
182
1 Gavin Funk (Colorado)
2 Josh Bean (New Hampshire)
195
1 John Lovett (Georgia)
2 Thomas Stadel (unatta)
3 Connor Milhorn (Tennessee)
285
1 Matthew Moore (Colorado)
Girls Junior
106-112
1 Alexis Dobson (New Hampshire)
2 Dej-ann Angus (Georgia)
3 Gracie Bradshaw (RPA Wrestling)
4 Caitlyn Beasley (Ground Up USA)
122
1 Hannah Dupay (Idaho)
2 Emma Smith (Pin N Win Wrestling Club)
127-132
1 Kailey Rees (Freedom High School Wrestling)
2 Piper Cadden (Thorobred Wrestling Club)
3 Isabella Hoffman (Fort Mill High School Wrestling)
4 Madisyn Blackburn (RPA Wrestling)
5 Alisha Narvaez (California)
152
1 Zoe Hussar (Ohio)
2 Isabell Carrington (Dayton Eagles Wrestling CLub)
Masters
Group 1
1 David Yi (Mad Dawg Wrestling Club)
2 Gary Cook (Cnypin2win)
3 Jason Goldman (New York)
4 Carson Gainey (Ohio)
5 Jeffrey Mallett (Maryland)
6 Roger Stewart-Frederick (New York Athletic Club)
Group 2
1 Josh Calhoun (unattached)
2 Rory Roderick (Florida)
Group 3
1 Steve Horton (NB Elite)
2 Shawn Noppert (Nj Scorpions Wrestling School ,llc)
7J ordin Humphrey (Titan Mercury Wre
Group 5
1 Khalil Abdushakur (unattached)
2 Alvin Riggs (Lowell Wrestling)
3 Rich Catalano (Ohio)
Missing results
Boys 14U 71-77
Boyd 14U 130-136
Masters 4
Masters 6
Masters 7
Masters 8
Note:
People with information on these weight classes are encouraged to send it to gabbott@usawrestling.org