News
USA Wrestling
International
Beach
High School & Youth
College
USAW
2022 USA Beach Worlds Week Blog: Monday, September 5 – Heading home, and dreaming of a Beach World Series event in the USA
by Rusty Davidson, Special to TheMat.com
Note: This week, Beach Wrestling leader Rusty Davidson will provide blog posts from the 2022 U17 and U20 Beach World Championships and the Beach World Series Final in Constanta, Romania.

MONDAY, 5 SEPTEMBER…
I know many of our American delegation left the Celebration Cook Out on Mamaia Beach after the Beach World Series final early last night. We went out of two hotels, in waves, to catch earl morning flights in Bucharest.
"Pack before you party" is what I was taught in my early travel experiences. I gently passed that on to our young (and not-so-young) Americans. I think we were successful for the most part. Our group left the Bavaria Blu lobby at straight up midnight.
The remainder of our group leaves Constanta Tuesday, with a couple staying an extra day in the capital. Ed Duncan is one. Ed represents the Pan American interest on the UWW Beach Wrestling Committee. That group schedules its annual meeting to coincide with the World Championship.
I know Ed is going into this meeting with a few meaty agenda concerns. His primary… and arguably our most critical… is preparing, bidding, and budgeting for the United States to host one of the early World Series events in 2023.
Three factors add urgency to this goal. Most importantly, our country and individuals are at a tough deficit in earning points to qualify weight classes into the ANOC Beach Games next August. While European federations budget to send their best athletes to four European events, Americans simply cannot.
Our athletes are currently self-funded. But, even with that aside, plane tickets from North America to anywhere in Europe can run $1,500 a pop.
The second factor is really quite flattering. Athletes and leaders from ALL countries represented at the Constanta championship are approaching us, begging us to host a World Series event. It's important to note, they want an early event not the final.
While most federations would never be able to send large delegations of Cadets and Juniors to America, sending their top eight for the Seniors is doable. It does feel good knowing that foreigners still crave the American adventure.
The third drives some very important components of USA's planning for LA 28. Think and say what you will, but the discussion about potentially including Beach Wrestling in the Olympic menu is simply one among some crazy old guys, up too late, in a hotel lobby.
If the IOC (who sent evaluators to Constanta) should pull that trigger, doesn't it stand to reason that America would want to build in EVERY home court advantage? Testing facilities and technology, identifying and magnetizing U.S. competitors, building Coach and Referee pools, identifying logistical plusses and deltas… All of these will take every minute of the six years prior to LA.
So, I'm cheering "Go Get 'Em, Ed!" Use that soft grin and country boy charm to get us a foot in the door. If we're successful, I want to be the first "Little People" out there to commit my all to making an American World Series event everything it should be.
I know I'm not the only "Little People" willing to commit. But, here's a "Little People" problem… We're all broke!
So… If anybody has a 'Sugar-Daddy / Mama" out there, coach 'em up! Beach Wrestling is a really good 'table to put chips on.' If pure philanthropy is not your deal, we can satisfy your corporate or entrepreneurial instincts. Trust me, the potential return on investment here could be life-changing.
Romania has hosted three World Beach Championships: 2015, 2021, 2022. My insider information hints that they spend about $100k.
Sugar Persons… Ring us up!
Ciao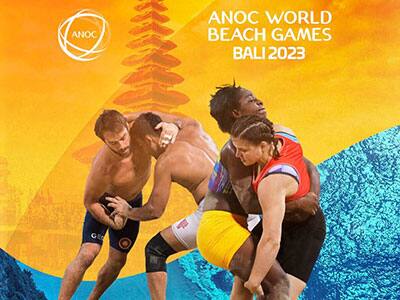 The 2023 ANOC World Beach Games, Bali, Indonesia, August 5 – 15, 2023 (Courtesy ANOC)

Sunday, September 4: Gorgeous day at Mamaia Beach, as World Series Final ends with great wrestling


Today was absolutely gorgeous at Mamaia Beach. Mark Bonilla beat the World Champion today. Kane Foley traded for an Azerbaijan Team warm up. These top the long list of today's accomplishments and highlights.
After yesterday's storm, none of us really knew what to expect. We all showed up for the morning session, donning full winter attire. It didn't take long to start peeling clothes. Today was everything a day at the beach should be… bright; warm; the Black Sea like a sheet of glass. And there was Beach Wrestling.
I'm not gonna' sugar coat the reality that the United States had a tough day. We did. But, I assure you, we did not get out-talented and we did not get out-hustled. If anything, we got out-resourced.
Take a look at the individual and team placements. Ukraine, with all their troubles, fielded a powerful women's team. Georgia and Azerbaijan had their usual dominant performances. Turkey's star is on the rise (pun intended)
Not only is Beach Wrestling growing, both in nations and individuals entered, but it is being legitimized by quality training sites with full-time coaches. India, Spain, and France all brought sizeable delegations.
We were proud to have our twenty-one person U.S. delegation. Every athlete poured their heart into preparation and poured it out in the ring. What most of the other national delegations fail to realize about us, first, is that we come from a huge landmass. It is rare that our athletes can get together and train in adequate sand.
The 2022 Beach Wrestling Tour of America has helped our top athletes spend more time together. Many in this delegation have been wrestling in sand all summer. Trust me, it was easy to see the improvement, team wide.
Other nations stare in disbelief, to find out that our athletes are self-funded. They don't realize that USA Wrestling can't simply send a memo to the government, saying we need to send twenty-one athletes to a World Championship.
This situation is bound to improve over the next few years. As USA Wrestling leadership sees a more clear road-map of Beach Wrestling's future, I believe budget allocation could shift.
The American athletes immersed in Beach Wrestling, for the most part, are not big names. With a couple of exceptions (Jamal Morris, Jabari Irons, Mia Macaluso), these kids are going to small colleges or working to pay the rent.
That being true, they embody the spirit of wrestling that got us all hooked in the first place. They are honest, hard-working, self-sacrificing, young Americans with a passion for the sport and a sense of adventure. And… they're fun to be around! Love You Guys.
Ciao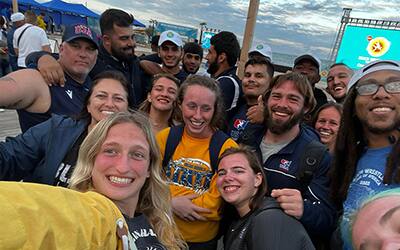 PHOTO: Members of the U.S. and Azerbaijani delegations mix it up before Sunday's finals. (Courtesy of Mia Macaluso)

Saturday, September 3 – Rain? So what? Wrestling starts, with U.S. soldiers cheering for Team USA


Tenacity, resilience, perseverance, determination, grit. We often use these to describe the wrestling mindset. They all came to the surface today at the Beach World Series Finale.
And I literally mean, 'Came to the surface'. We had expected rain late Friday and we got it. We woke up Saturday morning to flooded streets and parking lots. Seagulls enjoyed a newly formed lake, in a low spot just behind our competition area. Sheets of rain continued, pushed by heavy wind. What could we do?
Easy! Get on the busses and go weigh in. Organizers handed out boxes full of plastic rain ponchos. Most removed shoes and sandals to walk, ankle deep, the 200 meters to our busses.
And nobody flinched. The show must go on and we will find a way. All wrestlers are adept at handling tough situations… always have been. Yet, indoor wrestling is relatively warm and dry, once you get to the arena.
The Beach Wrestling mindset goes beyond what even most wrestlers cope with. You have the beach scheduled and set up for a certain few days or hours. In a World Championship, you have participants with plane tickets who came for medals. You gotta' find a way.
So, we did. Organizers pushed the morning session back, due to lightning. Rain let up in the afternoon, but the wind persisted as temperatures plummeted. We bundled up and managed to get a full first round in.
Tomorrow (Sunday) looks less severe, so we can lengthen our morning session and get done on time. The closing celebration and cookout is scheduled on the beach, next to the competition area, in the evening.
We had a special treat today. A contingent of U.S. Soldiers, deployed near Constanta (not far from the Ukrainian border) showed up to watch. These young guys added more fun and support for our American athletes.
It's nice to feel appreciated, especially by your countrymen. Our athletes drew strength for this unexpected cheering section. Several of the Soldiers spent time with Ed Duncan, asking about how to get started in Beach Wrestling. Ed's always got answers!
Cia
o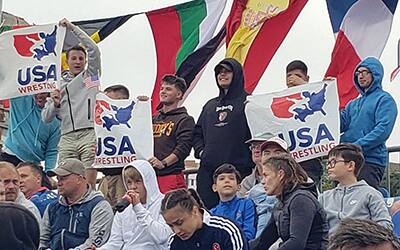 PHOTO: U.S. soldiers stationed near Constanta cheer on American Athletes (Courtesy Ed Duncan)

Friday, September 2: Good day for Washington guys Russell and Michaelson brothers


About midway through the morning session, I was leaning on the railing that surrounds the competition circles. I heard Ed Duncan from behind me in the bleachers. "Rusty, do you know this guy?" It was Dan Russell.
Dan was a standout Greco-Roman athlete for the United States, around the turn of the century. He was Ivan Podubny Champion in 1995.
Dan and I were on several tours together. We could always count on his wacky sense of humor to keep the group from taking ourselves too seriously. There's a time for that.
Dan and his wife continue to champion for wrestling. They spearhead USA Wrestling's WRESTLING4PEACE initiative, working with youth in many of the world's troubled areas. Currently, the Russells are living and working in Aman, Jordan.
With meetings, next, week, in Istanbul, they decided to catch a short flight to Romania and, "Check out this Beach Wrestling thing." It was pretty validating to hear some of Dan's comments.
He started with a biggy, "I think this might be the future of wrestling". Wow ! Growing up in Gresham, Oregon, and later coaching in nearby Battleground, Washington, Dan speculated on how Beach Wrestling may have he and his brother, Joe, build a more solid skill set.
Dan complimented Ed for his tireless work in building the Beach Wrestling Tour of America. The three of us discussed the potential Beach Wrestling holds for the kids and regions WRESTLING4PEACE serves.
Then we watched a Washington boy, Thor Michaelson win a silver medal. Thor's brother, Lars was a Bronze medalist yesterday, in the U17's.
It was a good day for Washington guys. It was a good day for Wrestling. It was just a good day.
Oh, UWW President Nenad Lalovic was there today, too.
Ciao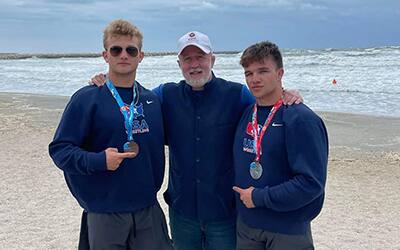 Three Washington Guys (Courtesy Ed Duncan)

Thursday, September 1: Three U17 medals, and a great day for referee Watkins
Gary has already does his usual great job, letting you know U.S. athlete results from the U17 Beach Worlds. Three out of four on the podium is a fantastic day, any style, any age group!
Another American had a great day in Constanta yesterday, too. Jay Watkins of Southern California made a lot of people say "Wow" with his refereeing poise and skill.
Referees are often the unsung heroes of any delegation overseas. American referees have a reputation, the world over for being fair-minded and keeping athletes first. Jay did that today
You should know that I have a pretty critical eye when it comes to positioning and presence, whether it be on the mat or in the sand. Jay put on a clinic today. As former instructor for UWW Beach Referees, I still have dinner with the current instructors. They said "Wow" watching Jay.
Jay Watkins is one of those who have taken risk and bought into Beach Wrestling. He volunteered at several local, state, and national events over the summer. Then, when health issues sidelined a referee colleague, Jay was quick to step into this assignment.
That comes at considerable personal expense. Like many of us, Jay is a public school teacher. Often, it's a trick convincing administrators how volunteering to referee World Championship events is positive modeling for students. Kudos to Jay's school building and district leadership.
So, congratulations and thank you to California's Jay Watkins. You're making USA Wrestling and the USWOA look good… noticed and appreciated.
Friday, the Juniors (U20).
Ciao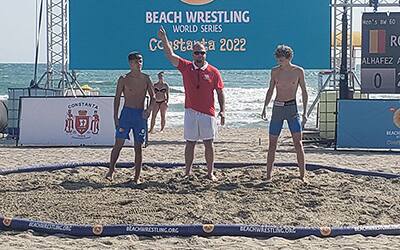 Referee Jay Watkins is representing the U.S. at the 2022 Beach World Championship. (Photo courtesy Rusty Davidson)

Wednesday, August 31 – Competition starts Thursday, plus qualifying for 2023 World Beach Games


Our U17 group weighs in tomorrow morning at 8:00. They will be competing for the title "World Champion".
On Friday, our U20 team will follow the same routine.
Both Cadets and Juniors will be taking on a field of talented and experienced opponents, the majority of which hail from the European continent. Getting on the podium is no small feat. But, from the little I've seen, these young Americans are confident and well-prepared. Hats off to Parents, Coaches and Training Partners!
Saturday and Sunday, the Seniors step into the ring. Arguably, they have more chips on the table. In addition to being named World Champion and knocking down some decent prize money, our Seniors will be working to secure a spot for the United States in the 2023 Beach World Games.
Scheduled in Bali, Indonesia next August, the ANOC Games are in their second appearance. ANOC is Association of National Olympic Committees. The 2019 Games took place in Doha, Qatar, where Shauna Kemp earned a Bronze Medal.
Athletes accumulate World Series points via participation and performance. This summer's events in Spain, France, and Greece offered qualifying points, as do two early events late next spring. The Finale this weekend includes a multiplier. There were four World Series events prior to this one, so the Finale earns FOUR TIMES the points.
There are eight spots per weight/ gender offered in the World Beach Games. That's a total of eighty spots.
To qualify weights, we simply HAVE TO get American athletes to those first two World Series events next spring.
Collectively, we have no choice but to Plan Early and Commit to the plan!
Ciao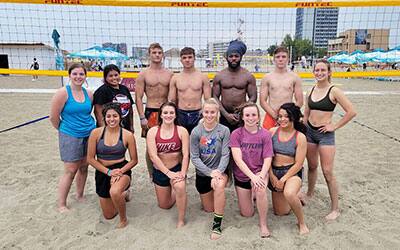 Members of USA Wrestling's Beach Delegation after their first workout on Mamaia Beach (Courtesy Richard Hoffman)

Tuesday, August 30: International travel, and mom's lessons about empathy


It's been a tough night logistically. I'm conjuring up the lessons my mother taught about empathy. If you're over 30, you have been encouraged by your own mom to, "Walk a mile in their shoes."
It's helping. We have athletes stuck in the Bucharest airport overnight. We have transportation people waiting for flights that never existed. UWW froze and published incomplete arrival times… a month ago… while I'm learning about arrival times less than 24 hours out. Everyone is upset with everyone.
Walking that mile reminds me just how exciting it is for most of these youngsters (Yes, that includes young adults) to be doing this. We have several who are traveling outside U.S. borders for the very first time. And, they're on an American World Team!
If that combination isn't exciting enough, every single one of these young people, and their families, are bold enough to do this on their own dime. USA Wrestling's World Team members in the Associated Styles are self-funded.
There are so many demands in traveling internationally. Fortunately, there's also a long list of 'Tricks' used in answering those demands.
During my own seven-hour drive into Constanta today, I drifted into memories of my own first flight overseas. It was to Seoul for the 1988 Olympic Games. I learned to Read Signs… read ALL the words. I learned to ask people in Uniform… even a custodian uniform.
I learned to calculate exchange rates in my head… and then to haggle over price. I learned to eat what's served, drink what's poured, and laugh if my hosts think it's funny.
I have to say "Thank You" to American athlete Jabari Irons, who learned some travel tricks today, and was generous to share his story with me.
So, I'm going to sleep a couple of hours, get up and look for a solution to whatever the next problem will be. I promise I will work at studying the Shoe Size of anyone's I might borrow for a mile. Thanks for that lesson in empathy, Mom!
Ciao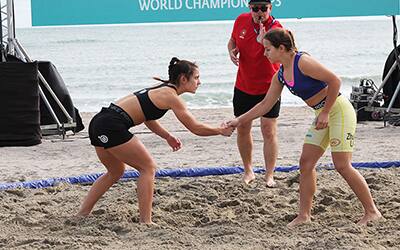 Pre-match handshake at the 2021 Beach World Championships in Constanta, Romania. Photo by Wendy Luft.
Monday, August 29: More U.S. Beach Heroes, who are successful on and off the sand


More Heroes. The United States has been represented well, throughout Beach Wrestling's first 20 years. There are, however, a few names that stand out.
Now, as soon as I say that, I'm gonna' leave someone out. So, here's the disclaimer. It is not my intent to over-glorify one athlete at the expense of others. I simply want to give you some historical context that may help you latch onto our current crop of Heroes.
USA Beach Wrestling has been traditionally strong in the Senior Men's 70kg class. Three names jump out: Timmy Box, Michael Peters, Reece Humphrey.
Box and Humphrey are both coaching now. Reece is with the New Jersey RTC, while Tim is at Palomar College.
Humphrey opened the 2019 Beach season for Team USA with a Bronze Medal performance in Rio de Janeiro, the first stop in the Beach World Series. Box closed out that same season, earning Silver at the World Series Finale in Zagreb.
Peters is finishing his Master's Degree at Maryville, in St Louis. Michael won his Bronze Medal at the 2018 World Championship in Dalyan, Turkey. Recovering from surgery sidelined Michael in 2022, but he is expected to make a strong run at representing Team USA in the '23 ANOC Beach Games.
Ike Okoli and Gabe Beauperthuy are two of the best Big Guys in the world ! Only part of that comment relates to their achievements on the mat and in the sand. These two gentle giants are champions of humanity.
Gabe Beauperthuy has competed in pretty much every style of wrestling. He jumped right in, at the beginning of the Beach era, and charmed the world with his big personality. Gabe also helped polish the athlete who would become his most consistent opponent domestically.
And that would be Ike Okoli. Ike, to date, holds a World Bronze Medal and a Pan American Championship. Ike comes off a little quieter than Gabe, but makes friends effortlessly. Both of these big men make us all proud to be wrestlers !
Ashley Sword and Shauna Kemp are two women that represent a long list of Beach Wrestling heroes in the United States. Both have been head coaches of powerful university programs (Sword continues at Life, Kemp was coach at Jamestown before leaving after last season).
Both represented the United States in Doha, Qatar, for the 2019 ANOC Beach World Games. Both continue to inspire developing athletes, female and male. Much of that inspiration shows in Ashley's and Shauna's open-minded view of incorporating experience in Beach Wrestling while building University champions.
I said earlier, and must reiterate: The seven names I mentioned here are glaring positive examples of the type of humans that U.S. Beach Wrestling, and wrestling in general, prizes. There are countless others who deserve to be considered Heroes !
And that leads me to purpose. I hope all of you can find time and tune into the 2022 Beach Wrestling World Championship for U17 and U20 athletes. That event runs Thursday and Friday and will be carried by FloWrestling in the United States. Constanta, Romania is seven hours ahead of U.S. eastern time.
Saturday and Sunday, watch the Finale of the 2022 Beach Wrestling World Series for Senior athletes. I give you my promise… Heroes will be made !
Ciao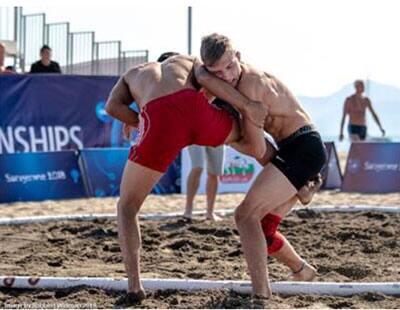 Michael Peters is one of America's most prolific athletes in Beach Wrestling (Courtesy UWW)
Sunday, August 28: Heroes for Beach Wrestling in the USA


Wrestlers do love their heroes! The term itself instantly spawns images of JB, or Gable (the 1972 Gable), or Chun, or Gray, or…
There is another branch of hero in the wrestling world. It's the person who appreciates a vision and is willing to take risk to promote what that vision might give to our sport. I'm gonna' tell you about two of Beach Wrestling's heroes.
They are Gary Abbott, USA Wrestling's Director of Communication, and North Carolina Wrestling State chairperson, Ed Duncan. Both of these visionaries have gone way above and beyond to develop America's presence in this developing style.
It's not easy to watch, and feel, mankind's oldest sport when it encounters growing pains. The gut reaction, for many, is to protect what is viewed as tradition. For us in the States, that means looking out for Scholastic Wrestling and the Olympic Styles.
As we all celebrate the "Arrival" of Women's Wrestling, think about the time and the struggle involved in that journey. I clearly remember lots of well-positioned closed minds snickering anytime a girl stepped on the mat.
Beach Wrestling has experienced a similar evolution. Gary Abbott has a pretty keen internal radar. In his coverage of all wrestling, Gary saw this outdoor version as opportunity. And, he saw it early.
Gary was instrumental in helping New Mexico host the first U.S. National Championship in 2004. Hosted near Carlsbad Caverns National Park, I remember joking with participants about New Mexico's lack of water. "The Beach is not the water", I reminded folks. "It's the sand! New Mexico has plenty of 'Beach'. "
Gary helped put together USA Wrestling's first World Team, competing in Antalya, Turkey in 2006. Even though Developing Style athletes and coaches travel self-funded (still true today), Gary has always been there. He advocates, every way he can, to help with equipment, logistics, preparation and planning.
Of course, Gary's strong suit is media coverage. It's his profession and his gift to the sport that has loved him. Gary has never been shy in putting worthy efforts into public view. Following his 'gut,' Gary helped the U.S. wrestling community discover, follow and appreciate Beach Wrestling.
Ed Duncan lives in a state with beautiful beaches… North Carolina. Even though Ed lives in the mountainous, western part of the state, he was quick to realize what the blend of Wrestling and Beach could do to grow all Wrestling.
In the early 20-teens, USA Wrestling's Beach National Championship left Rochester, NY. As State Chair, Ed worked with his NC Chapter to offer the event a new home. The annual Beach Wrestling National Championship remains a fixture in Carolina Beach every May.
When United World Wrestling put together their Beach Wrestling Commission, Ed was USA Wrestling's logical choice. Ed represents the interests of all North America on that Commission.
Ed's most recent brain-child is USA Wrestling's Beach Tour of America. In this, its first year, the BTOA has seen over 10 events, scattered coast to coast and across the heartland. One giant leap was the inclusion of a Beach event during our notorious 'Fargo.'
In addition to his role on the UWW Commission, Ed has served as Team Leader for U.S. delegations to World Series Finals and the 2019 ANOC Beach World Games. As we approach the 2023 edition of that prominent event, Ed's work with BTOA helps American athletes claim precious spots on that team.
United World Wrestling serves the world, but lives in Europe. The European discussion, over the last three years, includes a strong hint that Beach Wrestling may make its Olympic debut… as early as LA '28.
Think what you will of that. Protect tradition or invest in the future. But, I'll tell you this for sure: Whatever the future holds for Beach Wrestling, American athletes will have far greater opportunity and success because Ed Duncan and Gary Abbott demonstrated the courage to give it a chance. Heroes!
Ciao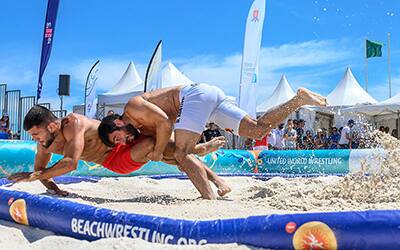 2022 Beach World Series Action Image courtesy of United World Wrestling
Editor's Note:
Please add Rusty Davidson to the list of Beach heroes.