News
USA Wrestling
High School & Youth
USAW
Strong turnout for inaugural Spartan Nationals Folkstyle Championships on Saturday
by Gary Abbott, USA Wrestling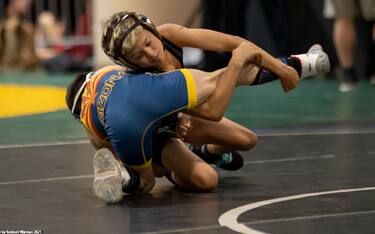 Youth wrestling action from the Spartan Nationals Folkstyle Championships. Photo by Robbert Wijtman.
JACKSONVILLE, Fla. – On day three of the four-day wrestling extravaganza in Jacksonville this weekend, the inaugural Spartan Nationals individual folkstyle championships were held for youth age-groups 8U through Junior, with both a boys and girls division.
With the event being held alongside the USA Wrestling Southeast Regionals, which was holding its freestyle competition today, many of the participants were able to compete in both styles for a full day of high-level competition.
In the Junior competition (grades 9-12), champions came from across the nation. Tyler Washburn of Garage Boyz Wrestling (106), Matthew Velasco of Florida (113), Darrell Rochester of the South Georgia Athletic Club (120), Chase Llardl of New York (126), Aiden Poe of Florida (132), James Dalrymple of Christian Brothers High School (138), Tyler Lamon of The Storm Wrestling Center (145), Isaiah Rios of Colorado (152) , David Varner of North Carolina (160), Koen Hoffman of Florida (170), Khalil Mitchell of Florida (182), Joshua McCutchen of South Georgia Athletic Club (195), Alex Semenenko of New York (220) and Matthew Jimenez of (Florida (286).
The Girls Junior division champions were Arianna Sarrett of Arizona (100-106), Alexis Dobson of New Hampshire (112), Brielle Bibla of Florida (117), Emma Smith of Pin N Win WC (122) and Kailey Rees of Florida (127-132).
The Spartan Nationals conclude on Sunday with high-level dual meet action for both high school and middle school teams, with competition for both boys and girls.

SPARTAN NATIONALS
At Jacksonville, Fla.,

Folkstyle Individual results

BOYS 8U Folkstyle

49
1st Kaiden Galindez MI (Michigan) MD Landon Walker GA (Georgia), 16-6
3rd Antonio Woodall MA (Massachusetts) DEC Blakely Garner GA (Georgia), 8-4
53
1 Joseph Distano (New Jersey)
2 Nicholas Woodall (Massachusetts)
3 Croix Garcia (Naples Wrestling Club)
4 Mateo Davila (Top Brother USA)
56
1 Oliver Gliem (Iowa)
62
1 Caio Sainz (Florida)
2 Travis Butenewicz (Pride WC)
3 Oliver Gliem (Iowa)
4 Dayton Gage (Savannah Wrestling
85
1 Ivan Eder (Florida)
2 Raymond Brown (Georgia)

GIRLS 8U Folkstyle
45-50
1 Paulette Perez (Florida)
2 Blakely Garner (Troup Wrestling)
3 Meagan Hill (Florida)
4 Joey Anderson (West Virginia)
55
1 Alaina Gilbert (Alabama)
2 Brylie Garner (Troup Wrestling)
3 Azalea Herring (Wrestle Like a Girl)
4 Savannah Phelan (Florida)
BOYS 10U Folkstyle
49-56
1 Kanoa Saferite (Virginia)
2 Jaxon Martin (Georgia)
3 Alexander Icaza (Georgia)
59
1 Levi Stanley (South Georgia Athletic Club)
2 Dante Rossi (Florida)
3 Asher Boutwell (Effingham County W
63
1st Beau Abbott GA (Roundtree Wrestling Academy) DEC Julian Smith NJ (New Jersey), 4-2
3rd Jett Johnson FL (Florida) DEC Preston Van hoven VA (Legacy Wrestling), 4-0
67
1st Mateo Montanaro MA (Woburn Youth Wrestling) DEC Jayden Matter-badillo MN (Bison Wrestling Club), 4-0
3rd Leonydes Peraza FL (Gladiator Wrestling) DEC Alessandro Vitello jr. GA (Georgia), 9-2
71
1st Lucas Layne FL (North Brevard Wrestling Association) MD Granger Barrett AL (Alabama), 12-0
3rd Anthony Riotto NJ (New Jersey) DEC Benjamin Milam LA (Scorpion Wrestling Club), 12-6
77
1st Ilias Delarosa GA (Georgia) F Jhase St. amant LA (Louisiana), 0:26
3rd Jax Eiland AL (Alabama) F Luke Litten GA (TitleTown Wrestling Academy), 1:27
84-105
1 Rosco Lewis (Prodigy Wrestling)
2 Kara-Lynn Dover (Roundtree Wrestling Academy)
3 Bennett Becnel (Scorpion Wrestling)
120
1 Nicolas Hunter-Anon (New York)
GIRLS 10U Folkstyle

55
1 Azalea Herring (Wrestle Like a Girl)
2 Kellibelle Bono (Florida)
65
1 Paola Perez (Florida)
2 Emma Moya (Bears Wrestling Club, Inc.)
3 Gabriela Davila (Florida)
80-90
1 Kara-Lynn Dover (Roundtree Wrestling Academy)
2 Kara McKeel (RPA Wrestling)
BOYS 12U Folkstyle
63-67
1 Lucas Forman (Nevada Elite Wrestling)
2 Jack Thrush (Sunnyside Wrestling Club)
3 Greyson McDonald (Bears Wrestling Club, Inc.)
4 Elijah Merritt (Georgia)
70-74
1st Ryan Totten MI (Michigan Revolution) DEC Alister Martin GA (Georgia), 4-2
3rd Nathan Morales MA (Massachusetts) F Logan Barry RI (Mayo Quanchi Wrestling Club), 2:00
78
1 John D. Woodall (Massachusetts)
2 Josh Waufle (Kentucky)
3 Braiden Bartlett (Texas)
82
1st Caden Woodall AZ (Black Cat Wrestling Club) F Scott Cole RI (Mayo Quanchi Wrestling Club), 2:46
3rd Jack Silfies NH (New Hampshire) DEC Thomas Perez iii SC (South Carolina), 7-0
86
1st Walker Woodard GA (Troup Youth Wrestling (TYW)) F Evan Brothers MA (Massachusetts), 2:41
3rd Colton Bell FL (Central Florida Wrestling Academy @LHP (Lake Highland Prep)) F Justice Harding FL (Florida), 1:18
92-98
1st Josiah Puller OH (Ohio) F Vincent Bravo NE (Nebraska), 2:25
3rd Matheo Cisneros FL (Top Brother USA) F Matthew Braddock FL (Florida), 0:20
108-117
1 Mario DiBella (Florida)
2 Nicholas Florio (SWAT (Sheldon Wrestling Academy Training))
3 Oren Russell (Live Oak Wrestling Club)
4 Jack Litten (TitleTown Wrestling Aca
130-160
1 Peter Mocco (ATT/Mocco Wrestling Academy)
2 Alan Garcia (US Territory)
3 Dominic Canchola (Pin N Win Wrestling)

GIRLS 12U Folkstyle
70-75
1 Ellen Anderson (Tennessee)
2 Calliope Willman (Ohio)
3 Zoe Roddis (Cleveland Warrior Mat Club)
4 Reana Spangler (Maize Wrestling Club)
80-85
1 Chloe Ross (Mayo Quanchi Wrestling Club)
2 Sophia Holmes (New Jersey)
3 Anabella Junco (Florida)
4 Ariana Davila (Florida)
90
1 Sophia Perez (South Carolina)
110
1 Juliana Eldridge (Alabama)
2 Makayla Hinchey (South Carolina)
3 Maya Alvarado (Panda Wrestling All
145
1 Makayla Harrison (RPA Wrestling)
BOYS 14U Folkstyle
71
1 Everett Stephens (Florida)
2 Rj Phelan (Florida)
3 Hudson Chittum (Tennessee)
77
1st Shamus Regan NC (Darkhorse Wrestling) F Nathan Reilly TX (512 Outlaw Wrestling), 1:08
3rd Drew Dawson OR (Ground Up USA) DEC Peyton Van hoven VA (Legacy Wrestling), 4-2
87
1st Domenic Munaretto IL (Toss Em Up Wrestling Academy) F Colton Lewis NC (Greenville Wrestling Club), 2:04
3rd Bobby Duffy NJ (New Jersey) DEC Darius Ambs MI (Simmons Academy Of Wrestling), 3-0
92-97
1st Charlie Desena MA (Riptide Wrestling Club) DEC Jack Mulnix WI (Ringers Wrestling Club), 7-1
3rd Michael Morris MA (Haverhill Hammers Youth Wrestling) F Weston Neutz TN (Wave Wrestling Club), 0:45
102
1st Elias Koonce IL (Illinois) F Kiano Torres AZ (Black Cat Wrestling Club), 4:23
3rd Brady Kaupp CT (Connecticut) F Austin King GA (Georgia), 1:41
106
1st Zeno Moore NC (CFWA@LHP) TF Dustin Kohn FL (Seminole County Wrestling Club), 18-2 3:00
3rd Ricardo Saenz MI (Michigan Revolution) F Matthew Spignardo SC (South Carolina), 2:25
110
1David Perez (Mayo Quanchi Wrestling Club)
2Brody Kelly (Illinois)
3Findley Smout (Wave Wrestling Club)
4Bryan Davis, Jr. (Florida)
114
1st Aaron Stewart IL (Toss Em Up Wrestling Academy) MD Mason Ketcham NY (New York), 9-0
3rd Koray kage Jones NJ (New Jersey) DEC William Leischner CT (Mayo Quanchi Wrestling Club), 10-5
119
1st Jimmy Mastny IL (Alber Athletics Wrestling Club) MD Sammy Spaulding NJ (American Dream Wrestling Club), 10-2
3rd Nathaniel Williams FL (Florida) F David Pento NH (New Hampshire), 1:00
125
1 Tristan Sainz (Florida)
2 Billy Tyler (Virginia)
3Cole Gros (Ascension Wrestling Club)
4Caleb Wilson (SC Elite WC)
130
1st Dylan Granger MI (Simmons Academy Of Wrestling) F Yandro Soto-rivera UST (US Territory), 1:14
3rd Steel Meyers TX (Whitted Trained Wrestling Club) MD Layronz Fraser CA (UTB Wrestling), 12-0
136
1 Blue Stiffler (Roundtree Wrestling Academy)
2 Camden Arbogast (New Hampshire)
3 Casey Liess (New York)
149
1 Preston Marchesseault (Mayo Quanchi Wrestling Club)
2 Bear Bryant Siegal (Florida)
3 Daniel Perez (Florida)
165
1 Michael Mocco (ATT/Mocco Wrestling Academy)
2 Xander Dossett (Compound Wrestling)
3 Cooper Hill (Florida)
4 Walter Poe (Florida)
187
1 Alexander Smith (Florida)
GIRLS 14U Folkstyle
92-97
1 Sara McLaughlin (Riptide Wrestling Club)
2 Lillian Bradshaw (RPA Wrestling)
3 Laila Roach (Bronco Wrestling Club)
4 Kameron Easter (Florida)
101-105
1 Evelyn Holmes-Smith (Alabama)
2 Mary Manis (Florida)
3 Ava Brothers (Massachusetts)
4 Kiera Partello (Florida)
110
1 Gianna Slusser (North Carolina)
2 Kylie Gerber (RPA Wrestling)
3 Erin Rizzuto (North Carolina)
4 Emily McIntosh (Garage Boyz Wrestling)
119
1 Corynne McNulty (Massachusetts)
136-145
1 Greta Garbuzovas (706 Wrestling)
2 Kailani Barrientos (Florida)
3 Reianna Madden (Mayo Quanchi Wrestling Club)
4 Makayla Harrison (RPA Wrestling)
185
1 Jayla Harrison (RPA Wrestling)
BOYS 16U Folkstyle
88-94
1 Antonio Mills (Roundtree Wrestling Academy)
2 Charles Lussier (Massachusetts)
3 Angel Rodriguez (Florida)
4 Eli Jolicoeur (Florida)
100 LBS
1st Vincent Paino (Apex Wrestling School) DEC Dominic Gumtow MI (Michigan Revolution), 5-0
3rd Zachary Beadling NJ (New Jersey) F Charles Lussier MA (Massachusetts), 0:32
106 LBS
1st Breck Williams AZ (Arizona) F Jack Anderson TN (Tennessee), 1:16
3rd Matthew Newman FL (Florida) MD James Chambers iii SC (South Carolina), 14-0
113
1st Roman Lermer FL (Florida) DEC Shane Duhaylungsod FL (Florida), 5-0
3rd Ethan Vugman FL (Florida) F Alex Ropski TN (Wave Wrestling Club), 0:14
120
1st Hayden Myers RI (Mayo Quanchi Wrestling Club) F Noah Torres AZ (Black Cat Wrestling Club), 4:11
3rd Ethan Boudreaux LA (Rebel Wrestling Club) DEC Isaiah Wysong SC (South Carolina), 7-0
126
1st Nicholas La morte NY (New York) F Frankie Florio CA (SWAT (Sheldon Wrestling Academy Training)), 2:53
3rd William Chambers GA (Rockmart Takedown Club) MD Garrett Marschka FL (Florida), 9-0
132
1st Gavin Balmeceda FL (Gladiator Wrestling) F Kevin Concepcion FL (Somerset Academy High School Wrestling), 3:10
3rd Conner Nevin GA (Georgia) DEC Shawn Mccallister FL (Florida), 6-5
138
1st Tyler Hood VA (Virginia) DEC John Provencio AZ (Arizona), 5-0
3rd Marley Washington GA (Morris Fitness) DEC Gage Wiggins FL (Florida), 1-0
145
1st Trevor Kantor GA (Level Up Wrestling Center) DEC Conner Roberts FL (Florida), 2-0
3rd M Sadeek FL (Florida) F Fred Bradley (Villains of Voldosta), 0:36
152
1 Robert De Haven (Woodward Academy High School Wrestling)
2 Tyler Nelson (Morris Fitness)
3 Matthew Kotler (Florida)
4 Jared Walker (Georgia)
160 LBS
1st Roman Garcia FL (Garage Boyz Wrestling) MD Toby Maddux GA (Georgia), 12-4
3rd Michael Sainz FL (Florida) DEC Brandon Burchett KY (Derby City Legends, LLC), 8-6
170
1 Hoke Poe Hogan (Morris Fitness)
2 Kaleb Valdez-Lemos (Black Fox Wrestling Academy)
3 James Humphrey (Missouri)
4 Malik Wilson (Florida)
182-195
1st Kingsley Menifee VA (Birds of Prey) DEC Nicolas Jenkins TN (Tennessee), 6-0
3rd Logan Eller GA (Trion Mat Dogs Wrestling Club) F Karl Rosip (Villains of Voldosta), 0:16
220
1 Xavier Williams (Virginia)
2 Dayli Simms (Villains of Voldosta)
3 Michael DiOrio (Rhode Island)
4 Albert Butler (The Wrestling Center)
285
1 Cane Fernandez (Empowered Ocala Wrestling)
2 Willie Cox (Alabama)
3 Demauree Bennett (Villains of Voldosta)
GIRLS 16U Folkstyle
100-106
1 Evelyn Holmes-Smith (Alabama)
2 Samantha Gray (Virginia)
3 Hayle Peck (Garage Boyz Wrestling)
112-117
1 Cecilia Williams (Michigan)
2 Gennaveve Matt (Dayton Eagles Wrestling CLub)
3 Charlize Shuler (Grizzly Wrestling
122
1 Reagan Riddick (North Carolina)
2 Gwenivere Matt (Dayton Eagles Wrestling CLub)
3 Alison Calhoun (Dayton Eagles Wrestling Club)
132
1 Mia Furman (Suples Wrestling Club)
2 Ciara Riner (West Virginia)
3 Loriana Reed (Georgia)
4 Kendall Bibla (Florida)
138
1Selina Moore (New York)
2Stella Steigler (Hornet Wrestling Club)
3Aubrianna Apple (RPA Wrestling)
220
1 Ella Murphey (Tennessee Outlaws Wrestling Club)
2 Sophie Pollack (New York)
3 Jayla Harrison (RPA Wrestling)
4 Cheyenne Cruce (RPA Wrestling)
BOYS JUNIOR Folkstyle
106
1 Tyler Washburn (Garage Boyz Wrestling)
2 Keith Moreno (California)
3 Malaquias Santiago (Effingham County Wrestling Club)
4 John Nelson (Villains of Voldosta)
113
1 Matthew Velasco (Florida)
2 Aidan Carmody (Wrestling Club of Livingston)
3 Raider Morelli (Mayo Quanchi Wrestling)
120 LBS
1st Darrell Rochester GA (South Georgia Athletic Club) DEC Peyton Vargas FL (Florida), 6-3
3rd Ty Gentry GA (Georgia) F Jacob Witt FL (Bulldogs Of Jacksonville), 0:32
126
1st Chase Liardi NY (New York) DEC Isham Peace KY (Kentucky), 7-0
3rd Kaleb Davis (Villains of Voldosta) DEC Raymond ?blaine? Taranto FL (Florida), 6-2
132 LBS
1st Aiden Poe FL (Florida) MD Lucas Giles FL (Florida), 12-0
3rd Jayden Harrison NC (North Carolina) DEC Sean-michael Gonzalez FL (Florida), 10-6
138 LBS
1st James Dalrymple TN (Christian Brothers High School Wrestling) F Brandon Lewis FL (Florida), 1:11
3rd Andrew Chaney CA (California) F Jamal Walker (Villains of Voldosta), 0:37
145 LBS
1st Tyler Lamon GA (The Storm Wrestling Center) DEC John Mcnichols FL (Florida), 6-0
3rd Calan Staub NC (North Carolina) DEC Tyson Musgrove FL (Florida), 6-0
152 LBS
1st Isaiah Rios CO (Colorado) DEC Tate Geiser OH (Samurai Wrestling Club), 11-4
3rd Austin Bowlden GA (Georgia) DEC Joseph Tully MA (Riptide Wrestling Club), 6-5
160
1st David Varner NC (North Carolina) F Avery Wills IN (Indiana), 4:16
3rd Vincent Donatelle FL (Florida) F Daniel Shoaf NC (North Carolina), 1:59
170
1st Koen Hoffman FL (Florida) DEC Cale Hoskinson FL (Florida), 3-1
3rd Aiden Bowers TN (Christian Brothers High School Wrestling) DEC Claude Moates OK (Oklahoma), 3-2
182
1st Khalil Mitchell FL (Florida) DEC Jackson Wakeland GA (Georgia), 7-2
3rd Gervacio Gonzalez TN (Wave Wrestling Club) F Joshua Oyeneye FL (Florida), 2:00
195
1st Joshua Mccutchen GA (South Georgia Athletic Club) DEC Kanenan Barriner NC (North Carolina JETS), 7-2
3rd Jerry Simpson KY (Kentucky) DEC Joseph Rice (Columbia), 7-0
220 LBS
1st Alex Semenenko NY (New York) MD Nelson Toro FL (Team Kombat), 11-2
3rd Ralph Sanchez FL (Florida) F D'avion Davis (Villains of Voldosta), 0:55
286
1 Matthew Jimenez (Florida)
2 Emmanuel Bell (North Carolina JET
GIRLS JUNIOR Folkstyle
100-106
1st Arianna Sarrett AZ (Arizona) F Avy Perez CA (San Fernando Tigers Wrestling Club), 3:19
3rd Hassana Colon AZ (Thorobred Wrestling Club) MD Gracie Bradshaw FL (RPA Wrestling), 8-0
112
1 Alexis Dobson (New Hampshire)
2 Victoria Orender (Massachusetts)
117
1 Brielle Bibla (Florida)
2 Cameron Galvin (Florida)
3 Reagan Riddick (North Carolina)
4 Emily Gervais (Riptide Wrestling Clu
122
1 Emma Smith (Pin N Win Wrestling Club)
2 Hannah Dupay (Idaho)
127-132
1 Kailey Rees (Florida)
2 Madisyn Blackburn (RPA Wrestling)
3 Isabella Hoffman (Fort Mill High School Wrestling)
4 Kaylee Easter (Florida)