News
USA Wrestling
High School & Youth
USAW
Valiant Prep goes 4-0 to win Spartan Nationals Greco-Roman Duals
by Gary Abbott, USA Wrestling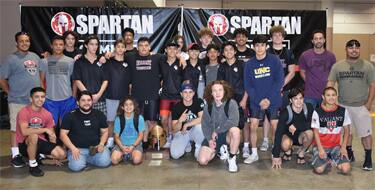 Valiant Prep Greco-Roman team poses with their Spartan Nationals trophy.
In the first of the dual meet competitions as part of the inaugural Spartan Nationals, Valiant Prep, a team from Arizona, won the Greco-Roman team title on Saturday. Valiant Prep won four dual meets in a five-team round-robin tournament, and did not have a close dual meet.
Valiant Prep opened with a 42-2 win over Ground Up USA, winning all of their matches by technical fall or pin.
Their next victory came over Sheldon Wrestling Duals, 43-21. Winning by pin in their matches were Emilio Ysaguirre (152) and Markell Rivera (170), with technical falls from Kyler Larkin (126) and Kaleb Larkin (145).
In their third match, Valiant Prep stopped Team New York, 45-16. Valiant Prep won 11 matches in a row starting from the lightest weight, which included a pin by Ysaguirre, nine technical falls and one decision.
The final round ended without a single match, as Compound did not compete, giving Valiant Prep a 1-0 victory.
Team New York was second with a 3-1 record, with Compound in third at 2-2. (Compound won its first two bouts, but did not compete in the last two). Sheldon Wrestling Duals was fourth at 1-3, and Ground Up USA 1 placed fifth at 0-5.
Competition continues on Saturday, with the men's freestyle competition at the USA Wrestling Southeast Regionals and Veterans Nationals, as well as the Spartan National individual folkstyle competition. Sunday is the Spartan Nationals Dual Team Championships in both freestyle and folkstyle.
All of the action is live on FloWrestling.
SPARTAN NATIONALS GRECO-ROMAN DUALS

At Jacksonville, Fla.


Greco-Roman Duals standings
1. Valiant Prep, 4-0 record
2. Team New York, 3-1 record
3. Compound, 2-2 record
4. Sheldon Wrestling Duals, 1-3 record
5. Ground Up USA 1, 0-4 record
Dual Meet scores
Valiant Prep 42, Ground Up USA 1 2
Team New York 39, Sheldon Wrestling Duals 30
Compound 48, Ground Up USA 1 21
Valiant Prep 43, Sheldon Wrestling Duals 17
Compound 36, Sheldon Wrestling Duals 24
Valiant Prep 45, Team New York 16
Team New York 1, Compound 0
Sheldon Wrestling Duals 29, Ground Up USA 1 25
Valiant Prep 1, Compound 0
Team New York 58, Ground Up USA 1 4
Complete results of Spartan Nationals Greco-Roman Duals