News
USA Wrestling
College
Women
USAW
NCAA Div. II Minot State in North Dakota will add women's wrestling for 2021-22 season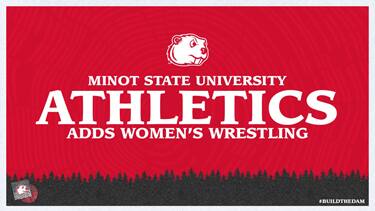 MINOT, N.D. – MSU Director of Athletics, Andy Carter announced today, "I am proud to represent Minot State University Athletics. It is with tremendous excitement and anticipation to announce MSU will be adding Women's Wrestling as an intercollegiate varsity sport within Beaver Athletics."
We will lead the state's public higher education landscape with this addition as MSU will become the first among the 11 North Dakota University System campuses to have a Women's Wrestling team. The timing is also perfect as the North Dakota High School Activities Association just a few weeks ago announced that girls wrestling would be added as an officially sanctioned sport for the first time beginning with the 2021-22 academic year."
Minot State University Department of Athletics has been working with external consultants during the past year in a comprehensive and rigorous review of the Athletic Department's overall Title IX compliance. The federal Title IX Act of 1972 impacts all aspects of higher education, but specifically within Athletics it requires that institutions provide equitable treatment of student-athletes in three specific areas: athletic participation opportunities, proportional availability of athletic scholarships for males, and females, and equal treatment of male and female student-athletes.
MSU is committed to ensuring equitable treatment of student-athletes and within our athletic programs. Many directives and proactive decisions have already taken place to aid in equity development.
Further, and more specifically within the overall area of Athletics participation and opportunity, it is incumbent upon MSU to demonstrate a history and continuing practice of program expansion for the underrepresented gender.
President Steven Shirley stated, "Athletics has been an important part of the culture at Minot State University since our founding days over a century ago. Today's announcement with the addition of Women's Wrestling is yet another step along that journey at MSU, and I am excited for the new opportunities it will create in the years ahead for future female student-athletes on our campus."
Women's Wrestling is recognized by the NCAA as an emerging sport for women. The designation is intended to help schools provide more athletics opportunities for women and more sport-sponsorship options for the institutions, and also help that sport achieve NCAA championship status.
North Dakota will be the 30th state in the nation to have sanctioned high school girls wrestling – joining neighboring states, Montana and South Dakota. The addition of Women's Wrestling also fits well within the Department's existing athletic infrastructure used by Men's Wrestling. A national search for the inaugural Women's Wrestling head coach will commence immediately and plan to begin competing with an inaugural season in the 2022-23 year.
What others are saying about Minot State University adding Women's Wrestling:
Evan Forde, MSU Men's Wrestling Coach:
"The rapid rise and advancement of women's and girls' wrestling in recent years have made a tremendous impact on our sport. The addition of a women's program here at Minot State University is very exciting. I am proud of our administration and University for their decision to make this addition. This program will support the continued growth of the wrestling culture on campus and in the community of Minot."
Mike Moyer, Executive Director, National Wrestling Coaches Association,

Wrestlers in Business Network:
"We are forever grateful for the Minot State Administration's extraordinary leadership and pioneering efforts to add women's wrestling. Countless young aspiring women will now have the chance to pursue their academic and athletic dreams at Minot State University."
Terry Steiner, USA Wrestling Women's National Team Coach:
"As USA Wrestling's Women's Freestyle National Team Coach and a North Dakota native, I am very excited to see the opportunities for females in the sport expanding. Earlier in the year, the North Dakota State High School Activities Association added the sport of Girls Wrestling as a Sanctioned High School Sport and now Minot State University Adds Women's Wrestling as a varsity sport. These are great milestones not just for the young females in the state of North Dakota but for Women's Wrestling as a sport. What really excites me is that the people see the value of the sport on our younger generation. Education comes from many places, in the classroom, on the field of competition, and on the wrestling mats. Obviously, I believe that the sport of wrestling is a great teacher of life skills that will long outlast these athletes' competitive careers. This is a win-win-win situation for Minot State University, the State of North Dakota, and the women's wrestling community".
About Minot State
Minot State University is a member of the Northern Sun Intercollegiate Conference (NSIC) and NCAA Division II offering 14 men's and women's varsity intercollegiate athletics programs. The NSIC is a premier NCAA DII, 16-member conference featuring teams in North Dakota, South Dakota, Minnesota, Nebraska, and Iowa. The Beavers are the only public NCAA Division II institution in the state of North Dakota.