News
USA Wrestling
International
College
USAW
U23 Nationals in men's freestyle and Greco-Roman set for Lincoln, Neb., May 27-29, which sets 2021 U23 World Teams
by Gary Abbott, USA Wrestling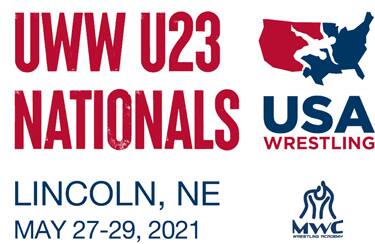 USA Wrestling has announced that the U23 National Championships for men will be held at the Bob Devaney Sports Center on the campus of the University of Nebraska – Lincoln in Lincoln, Neb., from Thursday, May 27 through Saturday, May 29.
The champions in men's freestyle and in Greco-Roman will qualify to represent USA Wrestling at the UWW U23 World Championships in Belgrade, Serbia on November 1-7.
Please contact Cody Bickley at: cbickley@usawrestling.org with any questions regarding selection procedures.
This also serves as the annual national championships in men's freestyle and Greco-Roman for athletes who are 23 years old and younger. National champions and All-Americans will be determined in each weight class. The field will feature many of the nation's best college wrestlers, as well as a number of stars who have completed their college careers or wrestle for the nation's military wrestling programs.
A registration discount is available for this event. To receive the registration discount, athletes need to book their room first through the USA Wrestling hotel block before registering for the event.
Accommodations will be available tomorrow
, Thursday May 6, by visiting the official event website.
Pre-registration closes Monday, May 24th at 7:00pm CT – Athletes must register by this deadline for seeding:
• Early Entry Fee - $60.00 PER STYLE WITH REGISTRATION CODE
• Early Entry Fee - $90.00 PER STYLE WITHOUT REGISTRATION CODE
The late Online Registration closes Wednesday, May 26th at 7:00pm CT.
• Late Entry Fee - $100.00
Registration for the U23 Nationals will be made available
on Monday, May 10
.
Complete Event Schedule
USA Wrestling is very excited to partner with the MWC Wrestling Academy, University of Nebraska – Lincoln and the Lincoln Convention and Visitors Bureau for another major national event. Among the competitions which have been hosted by these local organizers were the 2017 World Team Trials, as well as both 2018 and 2019 Final X, also at the Bob Devaney Center.
The event will be broadcast live by FloWrestling.
Additional Event information
* Coaches Bands Information:
All coaches that wish to purchase a coach's band to gain access to the competition floor to coach athletes must have a USA Wrestling Leader Membership Card and Bronze Certification.
Bronze Coaches Band - $20.00.
Coaches Bands will be made available to purchase
on Monday, May 10th* Ticketing Information will be available later.
* COVID-19 Screening:
The UWW U23 Nationals will be conducted following the requirements of the state and local health authorities, as well as using the safety provisions of the USA Wrestling Return to Events Guidelines. USA Wrestling and the local organizers will monitor data and local trends closely leading up to the event.
Official Event Website