News
USA Wrestling
International
USAW
World Olympic Qualifier 65 kg FS Preview – Oliver takes on tough field with Olympic berth on the line
by Gary Abbott, USA Wrestling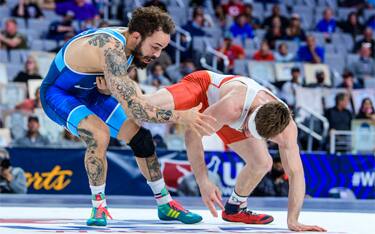 Jordan Oliver scores a takedown in the U.S. Olympic Team Trials finals. Photo by Tony Rotundo, Wrestlers Are Warriors.
After winning the U.S. Olympic Team Trials – Wrestling, April 2-3, veteran star Jordan Oliver of the USA knew that he still had one more huge hurdle ahead of him in order to achieve his dream of competing in the Olympic Games.
The U.S. has not qualified to compete at the Tokyo Olympics at 65 kg in men's freestyle yet, and Oliver must place in the top two at the World Olympic Qualifier in Sofia, Bulgaria in order to punch his ticket to Tokyo.
The time for preparation is over. Oliver competes on Thursday and must go undefeated on the day to become an Olympian. The Thursday competition will run through the semifinal matches. Only the two semifinal winners will go to Tokyo, and everybody else in the bracket will have to focus on their next wrestling goals.
Oliver, in spite of a long history of success on the Senior level, has never been on a U.S. Senior World or Olympic Team, He has wrestled many of the world's best in international tournaments during the years, and based upon those results, would be a legitimate medal hopeful if he qualifies for the Olympics. Oliver won a Junior World bronze medal back in 2009, while still a student at Oklahoma State, more than a decade ago. His road to this Olympic opportunity has had many twists and turns, and he has the skill and experience to get this job done.
The field that Oliver must beat is strong. There are 35 entries announced by UWW, which means having to win between four and five matches to make the finals.
The big drama this week was the online reports that 2016 Olympic and 2015 World champion Vladimer Khinchegashvili of Georgia, one of the favorites, would not compete due to a positive COVID test. UWW listed the Georgian entry as TBA. Online reports today have 2019 World champion and multiple World medalist Beka Lomtadze as the Georgian entry. Even if it is Lomtadze, if Oliver draws a Georgian prior to the finals, he will need to have a great match to advance.
There are a couple of former Russians who star for other nations who will also be expected to battle for spots in the finals. Magomedmurad Gadziev of Poland, a 2017 World silver medalist and 2019 World bronze medalist is one of those Russian transplants that could win this event. Gadziev was a 2016 Olympian and has beaten many of the top stars in this weight class.
2020 Asian champion Ilyas Bekbulatov of Uzbekistan also has Russian roots, having won a 2017 European title and a 2018 Ivan Yarygin Grand Prix title for Russia before switching nations. He did not get the job done at the Asian Olympic Qualifier, but has the ability to win at this level.
There are two names in the bracket that are quite familiar to U.S. fans, as they were stars on the American college scene. David Habat of Slovenia, who was an NCAA runner-up for Edinboro, is a four-time World Team member for Slovenia and placed third in the 2017 European Championships. Habat just missed qualifying for the 2016 Olympics, taking third and fifth in the final World qualifiers prior to the Rio Games.
Sebastian Rivera, the four-time NCAA All-American who wrestled first at Northwestern and this season for Rutgers, is the entry for Puerto Rico in this weight class. Rivera competed in a few domestic international events, the Bill Farrell and the Dave Schultz a few years ago, but does not have much high-level freestyle background.
There are other talents in the field to watch out for. Selahattin Kilicsallayan of Turkey won a 2013 Junior World title and 2014 University World title and has been tough at the Senior level for years. Niurgin Skriabin of Belarus was second in the 2020 European Championships and ninth in the 2018 Senior Worlds. Hor Ohannesian of Ukraine was a 2019 European Games bronze medalist and a two-time Ukrainian World Team member.
Junsik Yun of Korea competed in the 2016 Olympics and was third in the 2014 Asian Games. Alexander Semisorow of Germany was second in the 2018 Military Worlds and eighth in the 2019 World Championships. Nicolai Grhmez of Moldova was a Junior World bronze medalist in 2018 when he wrestled for Bulgaria. Perman Hommadov of Turkmenistan was fifth in the 2021 Asian Championships.
Because of the blind draw, Oliver could face a number of these opponents, and could have the toughest ones right off the bat. While draw is important in this event, the only thing that matters is getting the win in every match, regardless of who the opponent is. Based upon how he competed at Olympic Trials, Oliver was not giving up points and was getting to his offense, things that are going to be necessary to get through the tough field and reach the finals.
Note: This event qualifies the nation to compete in the Tokyo Olympics, not the individual. However, since the USA has already had its Olympic Trials, if Oliver makes the finals, he is heading to the Tokyo Games.
Fans will be able to see all of the action live on FloWrestling. A schedule for Oliver (based upon U.S. time zone) is listed at the end of this article.
World Olympic Games Qualifier 65 kg men's freestyle field
Vilson NDREGJONI (ALB) – 3x Senior World Team member
Gabriel JANATSCH (AUT) – 1x Senior World Team member, also U23 and Junior World Team member
Niurgun SKRIABIN (BLR) – 2nd in 2020 Europeans, 9th in 2018 Senior Worlds
Marcos Wesley DE BRITO SIQUEIRA (BRA) – 2nd in 2019 South American Championships
Ruhan Hyusnyu RASIM (BUL) – 8th in 2021 Europeans
Dillon Emmanuel WILLIAMS (CAN), 3rd in 2017 Pan Am Championships, 2x Senior World Team member
Wber Euclides CUERO MUNOZ (COL), 2nd in 2016 Pan Am Championships, 3rd in 207 Pan Am Championships
Albaro RUDECINDO CAMACHO (DOM) – 2nd in 2013 Cadet Pan Am Championships
Fathi Tarek Fathi Attia ISMAIL (EGY) – 3rd in 2020 African Championships, 3x African Junior champion
Juan Pablo GONZALEZ CRESPO (ESP) – 5th in 2018 Henri Deglane Challenge
Ilman MUKHTAROV (FRA) – 5th in 2019 U23 Worlds, 3rd in 2018 Military Worlds
George Anthony RAMM (GBR) – 5th in 2018 Commonwealth Games
Mbunde CUMBA MBALI (GBS) – 2019 and 2020 African champion, 2x Senior World Team member
**Beka LOMTADZE (GEO) – 2019 World champion, 2nd in 2016 Worlds, 5th in 2018 Worlds, 2x European silver medalist
Alexander SEMISOROW (GER) – 8th in 2019 Worlds, 2nd in 2018 Military Worlds
Georgios PILIDIS (GRE) – 3rd in 2017 Cadet Worlds, 5th in 2020 Europeans
Abdellatif MANSOUR (ITA) – 9th in 2019 European Games
Gilbert Mbevoni KABOCHE (KEN) – no information available
Junsik YUN (KOR) – 2016 Olympian, 3rd in 2014 Asian Games, 2x Senior World Team member
Mohammed J M Th A ABDULKAREEM (KUW) – 10th in 2021 Asian Championships
Nicolai GRAHMEZ (MDA) – 3rd in 2018 Junior Worlds for Bulgaria
Fati VEJSELI (MKD) – 5th in 2018 Junior Worlds, 2019 Senior World Team member
Sixto Miguel AUCCAPINA PEDRAGAS (PER) – 3rd in 2021 Pan Am Championships, 2017 World Team member
Magomedmurad GADZHIEV (POL) – 2017 World silver medalist, 2019 World bronze medalist, 2016 Olympian
Sebastian C RIVERA (PUR) -7th in 2016 Bill Farrell, 9th in 2017 Dave Schultz Memorial
Nikolai OKHLOPKOV (ROU) – 7th in 2021 European Championships
David HABAT (SLO) – 3rd in 2017 Europeans, 4x Senior World Team member
Chamara Milinda Perera WEERASINGHEGE (SRI) – 5th in 2017 Asian Championships
Mustafo AKHMEDOV (TJK) – 2109 Asian Cadet silver medalist
Perman HOMMADOV (TKM) – 5th in 2021 Asian Championships
Selahattin KILICSALLAYAN (TUR) – 2013 Junior World champion, 2014 University World champion
Hor OHANNESIAN (UKR) – 3rd in 2019 European Games, 2x World Team member
Jordan Michael OLIVER (USA) – 3rd in 2009 Junior Worlds, 2nd in 2020 Matteo Pellicone (Italy)
Ilyas BEKBULATOV (UZB) – 2020 Asian champion, 2017 European champion for Russia, 2018 Yarygin champ
Hussein Abdullah Hussein Abdullah AL AZZANI (YEM) – 7th in Asian U23 Championships
** UWW had TBA for Georgia in its roster listing. Media reports indicated Lomtadze will be the entry.
Jordan Oliver schedule

(local time in Sofia is seven hours ahead of U.S. Eastern time zone)
Thursday, May 6
Qualification rounds (10 am local time/3 am U.S. Eastern Time)
Semifinals (7 pm local/12:00 noon U.S. Eastern Time)
Friday, May 7
Repechage (10 am local time/3 am U.S. Eastern Time)
Medal matches (4:45 pm local/9:45 am U.S. Eastern Time)