News
USA Wrestling
International
College
High School & Youth
USAW
U.S. Junior World Team set as Amos wins double title, O'Toole repeats as champion at UWW Junior Nationals in men's freestyle
by Gary Abbott, USA Wrestling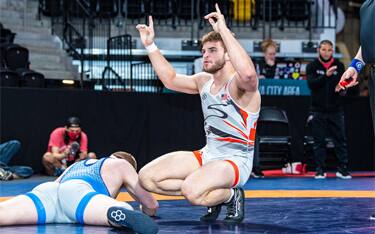 Braxton Amos celebrates after winning the 97 kg freestyle title, and claiming both styles at the 2021 UWW Junior Nationals. Photo by Sam Janicki.
CORALVILLE, Iowa. – Braxton Amos of the Wisconsin RTC powered to a victory at 97 kg in men's freestyle at the UWW Junior Nationals on Sunday, giving him a double title for the weekend after winning the championship in Greco-Roman on Friday.
Amos has been competing in both styles at a high level in recent weeks. He won both styles at the Last Chance Olympic Qualifier in Fort Worth, Texas in late March. At the U.S. Olympic Team Trials – Wrestling in Fort Worth on the first weekend of April, he placed second in Greco-Roman and also competed in the freestyle division.
Amos scored a pair of technical falls over Christian Carroll of the Midwest RTC in the finals series, winning 10-0 and 14-5. He also had defeated Carroll in the finals series in Greco-Roman on Friday. In the second match today, Carroll hit a four-point move to start the match, but Amos powered back to dominate the match and win by technical fall. Hips
Amos will compete in both styles at the Junior World Championships in Ufa, Russia, August 16-22. The 10 winners of today's Championship Series in men's freestyle have punched their ticket for the Junior World Championships.
Claiming a UWW Junior Nationals freestyle title for the second straight year was Keegan O'Toole of Tiger Style WC at 74 kg.
O'Toole, who was third at the NCAA Championships as a freshman this year for Missouri, swept the best-of-three series over South Dakota State wrestler Cade Devos of the Jackrabbit WC. In the first match, O'Toole won by an 11-1 technical fall, and he scored an 8-0 shutout in the second match.
Although O'Toole won a UWW Junior Nationals title in late 2020, there was no Junior World Championships that year due to the COVID-19 pandemic.
Three of the champions were young Missouri student-athletes from the Tiger Style WC: O'Toole, plus Colton Hawks at 86 kg and Rocky Elam at 92 kg.
Hawks swept his finals series over Oklahoma wrestler Darren Roberts of the Oklahoma RTC. Hawks edged Roberts, 6-5 in the first match, but was able to secure a pin in 4:00 in the second match.
Elam, who was fifth in the NCAA Championships as a Mizzou freshman this year, stopped Iowa wrestler Zach Glazier of the Hawkeye WC in two straight. He won the first match by a 10-0 technical fall, then won a tight 3-2 decision in the second match.
Only one of the weight classes went a full three bouts, where Air Force wrestler Wyatt Hendrickson came from behind to defeat returning UWW Junior Nationals champion Joshua Heindselman, an OU wrestler from the Oklahoma RTC, two matches to one.
Heindselman won the first match 17-8, and was leading by criteria in the second match late in the second period, when Hendrickson scored a takedown to win 10-8. In the third match, it was Hendrickson who dominated, scoring a pair of takedowns, then two gut wrench turns to go up 8-0, then closing it out with a takedown for the win.
The team includes both college athletes and a few very talented high school wrestlers.
Winning the Outstanding Wrestler award was Indiana high school star Jesse Mendez of Region Wrestling Academy, who won the 61 kg weight class with a two-match sweep over Oklahoma high school star and Northwestern recruit Carter Young of the Cowboy WC. Mendez hit a big throw to pin Young in the first match, then secured a 10-3 victory in match two.
The 57 kg champion was California high school star Richard Figueroa II, who stopped Penn wrestler Ryan Miller of the Pennsylvania RTC in two straight. Figueroa got his offense untracked in a 10-1 first-match win, followed by a 10-0 technical fall in 1:24 in bout two. Figueroa won a Cadet World silver medal in 2018. His sister Gracie Figueroa won a Senior National women's freestyle title here on Friday,
Other individual champions were Penn State wrestler Beau Bartlett of the Nittany Lion WC at 65 kg, Virginia Tech wrestler Bryce Andonian of the Southeast RTC at 70 kg and Indiana wrestler Donnell Washington of the Indiana RTC at 79 kg.
Bartlett stopped Oregon high school star Chance Lamer of Mat Sense Wrestling, with an 11-3 win in bout one and a tight 3-2 victory in bout two.
Andonian won his first match over NC State wrestler Edward Scott of the Wolfpack WC with a throw to a pin in 1:01, then closed out the win with a 12-9 victory in bout two.
Washington swept his series over Lehigh wrestler Jacob Logan of the Lehigh Valley WC, opening with an 8-5 win, then getting his offense going in a 10-4 victory in match two.
UWW JUNIOR NATIONALS
At Coralville, Iowa

Men's Freestyle Results
57 kg
1st - Richard Figueroa II (CA) dec. Ryan Miller (Pennsylvania RTC), 2 matches to none
Bout One – Figueroa dec. Miller 10-1
Bout Two –Figueroa tech fall Miller, 10-0, 1:24
3rd Matthew Ramos (Gopher Wrestling Club - RTC) dec. Cooper Flynn (Tennessee), 9-4
5th Drake Ayala (Sebolt Wrestling Academy) tech. fall Sheldon Seymour (Lehigh Valley Wrestling Club), 12-2 3:21
7th Noah Surtin (Tiger Style Wrestling Club) dec. Hunter Adrian (Massachusetts), 11-9
61 kg
1st -Jesse Mendez (Region Wrestling Academy) dec. Carter Young (Cowboy Wrestling Club), two matches to none
Bout One –Mendez pin Young, 1:32
Bout Two –Mendez dec. Young, 10-3
3rd Dominick Serrano (Nebraska Wrestling Training Center) dec. Cullan Schriever (Hawkeye Wrestling Club), 12-8
5th Cleveland Belton (Sunkist Kids Wrestling Club) forfeit Benjamin Alanis (Thorobred Wrestling Club)
7th Mason Clarke (New York City RTC) tech fall Jaxon Maroney (Pennsylvania RTC), 12-0 1:32
65 kg
1st -Beau Bartlett (Nittany Lion Wrestling Club) dec. Chance Lamer (Mat Sense Wrestling), two matches to none
Bout One – Bartlett dec. Lamer, 11-3
Bout Two –Bartlett dec. Lamer 3-2
3rd Joshua Edmond (Tiger Style Wrestling Club) tech. fall Caleb Rathjen (Sebolt Wrestling Academy), 10-0 1:02
5th Tagen Jamison (Texas Pride Wrestling Club) inj dft. Kaleb Larkin (Thorobred Wrestling Club)
7th Joshua Saunders (Spartan Combat RTC) tech. fall Shannon Hanna (Buies Creek Wrestling Club), 10-0 0:23
70 kg
1st -Bryce Andonian (Southeast Regional Training Center, Inc) dec. Edward Scott (Wolfpack Wrestling Club), two matches to none
Bout One – Andonian pin Scott, 1:01
Bout Two – Andronian dec. Scott, 12-9
3rd Lucas Revano (Pennsylvania RTC) tech fall Jack Thomsen (Jackrabbit Wrestling Club), 13-3 5:47
5th Caleb Henson (Georgia) tech. fall Joey Bianchi (Arkansas Regional Training Center), 14-4 1:35
7th Evan Yant (Panther Wrestling Club RTC) tech. fall Trevor Chumbley (Wildcat Wrestling Club), 10-0 1:23
74 kg
1st -Keegan O'Toole (Tiger Style Wrestling Club) dec. Cade Devos (Jackrabbit Wrestling Club), two matches to none
Bout One –O'Toole tech. fall Devos, 11-1 4:43
Bout Two –O"Toole dec. Devos, 8-0
3rd Alex Facundo (Team Donahoe) dec. Julian Ramirez (Spartan Combat RTC), 9-4
5th Derek Fields (Arsenal Wrestling Club) pin Clayton Ulrey (Southeast Regional Training Center, Inc), 4:50
7th Joshua Ogunsanya (New York City RTC) tech fall AJ Kovacs (Wolfpack Wrestling Club), 11-1 2:51
79 kg
1st - Donnell Washington (Indiana RTC) dec. Jacob Logan (Lehigh Valley Wrestling Club), two matches to none
Bout One –Washington dec. Logan, 8-5
Bout Two –Washington dec. Logan, 10-4
3rd Trent Munoz (California) dec. Brayden Thompson (Izzy Style Wrestling), 8-3
5th Manuel Rojas (Michigan) pin Peyton Craft (Blair Wrestling Club), 8-5 1:39
7th Matthew Singleton (Compound Wrestling) dec. Cade King (Jackrabbit Wrestling Club), 10-6
86 kg
1st - Colton Hawks (Tiger Style Wrestling Club) dec. Darrien Roberts (Oklahoma Regional Training Center), two matches to none
Bout One – Hawks dec. Roberts, 6-5
Bout Two –Hnaks pin Roberts, 4:00
3rd Christopher Foca (Spartan Combat RTC) VFA Jaxon Smith (Georgia), 15-7 5:49
5th Sam Wolf (Colorado) VPO1 Kyle Haas (Kansas City Wrestling Club), 12-4
7th Ethan Hatcher (Spartan Combat RTC) VFA Kodiak Stephens (Ebbetts Pass Wrestling), 2-2 0:24
92 kg
1st -Rocky Elam (Tiger Style Wrestling Club) dec. Zach Glazier (Hawkeye Wrestling Club), two matches to none
Bout One – Elam tech. fall Glazier, 10-0 5:25
Bout Two –Elam dec. Glazier, 3-2
3rd Luke Surber (Cowboy RTC) tech fall Max Shaw (Tar Heel Wrestling Club), 11-0 5:29
5th Isiah Pettigrew (Team Poeta) forfeit Isaac Trumble (Wolfpack Wrestling Club)
7th John Gunderson (Baraboo Wrestling Club) tech. fall Trevor Tinker (Central Coast Regional Training Center), 10-0 3:36
97 kg
1st - Braxton Amos (Wisconsin Regional Training Center) dec. Christian Carroll (Midwest Regional Training Center), two matches to none
Bout One –Amos tech fall Carroll, 10-0, 0:45
Bout Two –Amos tech. fall Carroll, 14-5, 1:54
3rd Gage Linahon (Iowa) pin Kalob Runyon (Iron Rams Wrestling Club), 5-2 2:54
5th Seth Nitzel (RTC Tiger Style Wrestling Club) tech fall Austin Lane (Indiana), 13-2 2:41
7th Peter Ming (California Regional Training Center (CA RTC)) pin Deandre Rucker (Spartan Mat Club), 1:47
125 kg
1st -. Wyatt Hendrickson (Air Force Regional Training Center) dec. Joshua Heindselman (Oklahoma Regional Training Center), two matches to one
Bout One –Heindselman dec. Hendrickson, 17-8
Bout Two –Hendrickson dec. Heindselman, 10-8
Bout Three – Hendrickson tech fall Heindselman, 11-0
3rd Matthew Cover (Princeton Wrestling Club) VSU Lewis Fernandes (Spartan Combat RTC), 11-0 2:22
5th Konner Doucet (Cowboy) VIN Steven Kolcheff (Tiger Style Wrestling Club), 8-0 3:00
7th Jacob Bullock (Indiana) VFA Colby Whitehill (Mat Town USA), 11-0 1:55