News
USA Wrestling
International
College
USAW
Two-time World medalists Green, Gwiazdowski reach Senior Nationals men's freestyle finals
by Gary Abbott, USA Wrestling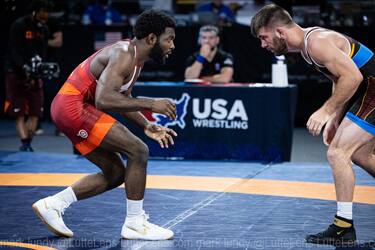 James Green of Titan Mercury WC (left) battles Brayton Lee of the Gopher WC RTC at 70 kg at the Senior Nationals. Photo by Mark Lundy, Lutte Lens.
CORALVILLE, Iowa – Two-time World medalists James Green of the Titan Mercury WC/SERTC (70 kg) and Nick Gwiazdowski of the Titan Mercury WC/Wolfpack RTC (125 kg) were among the men's freestyle stars to advance to the finals at the Senior Nationals on Saturday morning.
Green, who boasts a World silver medal and a World bronze medal, will face Alec Pantaleo of Titan Mercury WC/ CKWC in the championship finals.
Gwiazdowski, a two-time World bronze medalist, has drawn Iowa star and No. 10 seed Anthony Cassioppi of Titan Mercury WC/HWC in the finals. Gwiazdowski was second in the U.S. Olympic Team Trials – Wrestling a few weeks ago in Fort Worth, Texas.
Cassioppi beat the No. 7 seed Derek White of Titan Mercury WC, No. 2 seed Dom Bradley of the Sunkist Kids and No. 3 seed Ty Walz of the Titan Mercury WC in order, with support of his home fans. Bradley is a three-time Senior Nationals champion.
The top five place winners in each weight class qualify for the 2021 World Team Trials, which will be held in September. The four Senior Nationals champions The four U.S. Open champions, at the non-Olympic/World weights (61kg, 70kg, 79kg, and 92kg), will qualify to compete in the 2021 UWW Senior Men's Freestyle Pan-American Championships in May.
Two-time Senior Nationals champion Kyven Gadson of the Sunkist Kids has dropped from 97 kg to 92 kg in an attempt to make the Pan American team at that weight. He has reached the finals, where he will battle Nate Jackson of the New York AC, who has moved up from his normal 86 kg.
2018 Senior Nationals champion Austin Schaefer of the New York AC has reached the 97 kg finals, where he will face Nathan Rotert of the Jackrabbit WC.
The session had its share of great wrestling and a few dramatic surprises.
At 79 kg, No. 1 seed and two-time Senior Nationals champion Isaiah Martinez fell behind Devin Skatzka of the Gopher WC RTC, 9-0, but was able to come out on top and pin Skatzka in 3:25. Martinez will face Taylor Lujan of the Panther WC RTC in the finals. Lujan, who dropped down from 86 kg, won a battle of 2019 U23 National champions in the semifinals in an 11-4 decision over David McFadden of the Titan Mercury WC/Pennsylvania RTC.
In an upset at 61 kg, Josh Kramer of the Sunkist Kids won a back-and-fourth 13-13 criteria over No. 1 seed and past National Team member Nahshon Garrett of the Titan Mercury WC. Kramer, who competed for Arizona State, trained with Garrett when he was based with the Sunkist Kids. Kramer will face No. 2 seed Shelton Mack of the Titan Mercury WC/NYC RTC in the finals.
The consolation and medal rounds of the Senior Nationals begin at 4:30 p.m., with the gold-medal finals set for 7:00 p.m., live on FloWrestling.
USA WRESTLING SENIOR NATIONALS
At Coralville, Iowa, May 1

Men's Freestyle Finals pairings
57 kg - Ethan Rotondo (Wisconsin Regional Training Center) vs. Jakob Camacho (TMWC/Wolfpack Wrestling Club)
61 kg - Josh Kramer (Sunkist Kids Wrestling Club) vs. Shelton Mack (TMWC/ New York City RTC)
65 kg - Jaydin Eierman (TMWC/ Hawkeye Wrestling Club) vs. Domonick Demas (Oklahoma Regional Training Center)
70 kg - James Green (TMWC/ SERTC) vs. Alec Pantaleo (TMWC/ CKWC)
74 kg - Hayden Hidlay (TMWC/ Wolfpack Wrestling Club) vs. Joey Lavallee (TMWC/ LVWC)
79 kg - Isaiah Martinez (TMWC/ Beaver Dam RTC) vs. Taylor Lujan (Panther Wrestling Club RTC)
86 kg - Mark Hall (TMWC/ Pennsylvania RTC) vs. Trent Hidlay (TMWC/ Wolfpack Wrestling Club)
92 kg - Nathan Jackson (New York Athletic Club) vs. Kyven Gadson (Sunkist Kids Wrestling Club)
97 kg - Austin Schafer (New York Athletic Club) vs. Nathan Rotert (Jackrabbit Wrestling Club)
125 kg - Nick Gwiazdowski (TMWC/ Wolfpack Wrestling Club) vs. Anthony Cassioppi (TMWC/ Hawkeye Wrestling Club)
Senior Men's Freestyle Semifinal results
57 kg
Ethan Rotondo (Wisconsin Regional Training Center) dec. Brady Kyner (Burg Training Center), 12-7
Jakob Camacho (TMWC/ Wolfpack Wrestling Club) tech. fall Dane Durlacher (Illinois Regional Training Center/Illini WC), 12-0 5:03
61 kg
Josh Kramer (Sunkist Kids Wrestling Club) dec. Nahshon Garrett (TMWC/ SERTC), 13-13
Shelton Mack (TMWC/ New York City RTC) dec/ Sean Fausz (TMWC/ SOCAL RTC), 8-3
65 kg
Jaydin Eierman (TMWC/ Hawkeye Wrestling Club) dec. Luke Pletcher (TMWC/ Pittsburgh Wrestling Club), 9-5
Domonick Demas (Oklahoma Regional Training Center) dec. Patricio Lugo (TMWC/ Hawkeye Wrestling Club), 4-1
70 kg
James Green (TMWC/ SERTC) dec. Brayton Lee (Gopher Wrestling Club - RTC), 4-2
Alec Pantaleo (TMWC/ CKWC) dec. Tyler Berger (Sunkist Kids Wrestling Club), 6-2
74 kg
Hayden Hidlay (TMWC/ Wolfpack Wrestling Club) tech fall Joshua Shields (Sunkist Kids Wrestling Club), 14-2 2:44
Joey Lavallee (TMWC/ LVWC) dec. Jacori Teemer (Sunkist Kids Wrestling Club), 6-5
79 kg
Isaiah Martinez (TMWC/ BEAVER DAM RTC) pin Devin Skatzka (Gopher Wrestling Club - RTC), 3:25
Taylor Lujan (Panther Wrestling Club RTC) dec. David McFadden (TMWC/ PENN RTC), 11-4
86 kg
Mark Hall (TMWC/ Pennsylvania RTC) tech. fall Michael Battista (Cavalier Wrestling Club), 10-0 4:02
Trent Hidlay (TMWC/ Wolfpack Wrestling Club) dec. Drew Foster (Panther Wrestling Club RTC), 6-4
92 kg
Nathan Jackson (New York Athletic Club) tech. fall Scottie Boykin (TMWC/ Spartan Combat RTC), 12-1 2:48
Kyven Gadson (Sunkist Kids Wrestling Club) tech. fall Timothy Dudley (Sunkist Kids Wrestling Club), 11-1 3:56
97 kg
Austin Schafer (New York Athletic Club) tech fall Samuel Mitchell (Bulls Wrestling Club), 14-4 2:07
Nathan Rotert (Jackrabbit Wrestling Club) tech. fall Isaac Trumble (TMWC/ Wolfpack Wrestling Club), 10-6
125 kg
Nick Gwiazdowski (TMWC/ Wolfpack Wrestling Club) dec Christian Lance (Nebraska Wrestling Training Center), 9-0
Anthony Cassioppi (TMWC/ Hawkeye Wrestling Club) tech. fall Ty Walz (TMWC/ SERTC), 11-1 3:44
Quarterfinal results
57 kg
Ethan Rotondo (Wisconsin Regional Training Center) VSU1 Austin Macias IL (Illinois), 14-3 2:44
Brady Kyner IA (Burg Training Center) VSU1 Troy Dolan PA (Pennsylvania), 12-2 3:00
Jakob Camacho NC (TMWC/ Wolfpack Wrestling Club) VSU1 Christian Chavez OH (Catalyst Wrestling Club), 12-1 2:11
Dane Durlacher IL (Illinois Regional Training Center/Illini WC) VSU Gabriel Gray TX (Texas Panhandle Wrestling Club), 10-0 3:39
61 kg
Nahshon Garrett TN (TMWC/ SERTC) VSU Ethan Lizak PA (New York Athletic Club), 10-0 4:05
Josh Kramer AZ (Sunkist Kids Wrestling Club) VPO1 Chris Cannon NJ (New Jersey), 9-8
Sean Fausz CA (TMWC/ SOCAL RTC) VSU Micky Phillippi PA (Pittsburgh Wrestling Club), 11-0 4:03
Shelton Mack NJ (TMWC/ New York City RTC) VPO1 Daniel Deshazer KS (Gopher Wrestling Club - RTC), 3-1
65 kg
Jaydin Eierman MO (TMWC/ Hawkeye Wrestling Club) VFA Noah Hermosillo CO (Cool Sunshine Wrestling), 10-4 3:48
Luke Pletcher PA (TMWC/ Pittsburgh Wrestling Club) VSU Ben Freeman MI (Bulls Wrestling Club), 11-0 4:19
Domonick Demas OK (Oklahoma Regional Training Center) VSU Henry Pohlmeyer IA (Wisconsin Regional Training Center), 10-0 2:10
Patricio Lugo FL (TMWC/ Hawkeye Wrestling Club) VSU Scott Kiyono CA (California), 10-0 1:55
70 kg
James Green VA (TMWC/ SERTC) VSU1 Elroy Perkin WI (Gopher Wrestling Club - RTC), 12-2 2:32
Brayton Lee IN (Gopher Wrestling Club - RTC) VSU Jake Keating VA (Cavalier Wrestling Club), 11-0 4:39
Tyler Berger NE (Sunkist Kids Wrestling Club) VPO1 Yahya Thomas IL (TMWC/ Wildcat Wrestling Club), 7-3
Alec Pantaleo MI (TMWC/ CKWC) VSU Parker Kropman PA (Pennsylvania RTC), 10-0 0:32
74 kg
Hayden Hidlay NC (TMWC/ Wolfpack Wrestling Club) VSU1 Philip Conigliaro MA (New England Regional Training Center), 13-1 5:08
Joshua Shields AZ (Sunkist Kids Wrestling Club) VSU Justin Mccoy PA (Cavalier Wrestling Club), 10-0 5:06
Jacori Teemer NY (Sunkist Kids Wrestling Club) VPO1 Quentin Perez MD (Navy-Marine Corps Mat Club), 11-2
Joey Lavallee MO (TMWC/ LVWC) VPO1 Jared Franek ND (Bison Wrestling Club), 7-4
79 kg
Isaiah Martinez OR (TMWC/ BEAVER DAM RTC) VPO1 Travis Wittlake jr. OR (TMWC/ Cowboy RTC), 9-3
Devin Skatzka MI (Gopher Wrestling Club - RTC) VSU Joshua Kim CA (New England Regional Training Center), 10-0 2:38
Taylor Lujan GA (Panther Wrestling Club RTC) VFA Ryan Epps MN (Gopher Wrestling Club - RTC), 8-0 3:42
David Mcfadden VA (TMWC/ PENN RTC) VSU Dylan Lydy IN (Indiana), 10-0 1:42
86 kg
Mark Hall PA (TMWC/ PENN RTC) VSU Nick Reenan NC (Wolfpack Wrestling Club), 11-0 4:35
Michael Battista VA (Cavalier Wrestling Club) VPO1 Max Lyon IA (Boilermaker RTC), 10-6
Drew Foster IA (Panther Wrestling Club RTC) VSU Kenneth Prince SC (Nebraska Golden Eagles Wrestling Club), 10-0 1:10
Trent Hidlay NC (TMWC/ Wolfpack Wrestling Club) VSU Calvin Sund MN (Air Force Regional Training Center), 10-0 1:54
92 kg
Nathan Jackson NJ (New York Athletic Club) VSU Chris Droege OH (Compound Wrestling- Great Lakes Regional Training Center), 10-0 1:16
Scottie Boykin TN (TMWC/ Spartan Combat RTC) VPO1 Cameron Caffey IL (Michigan Wrestling CLub), 6-6
Timothy Dudley SC (Sunkist Kids Wrestling Club) VPO1 Willie Miklus MI (Michigan Wrestling CLub), 10-3
Kyven Gadson IA (Sunkist Kids Wrestling Club) VSU Beau Yineman WI (Wisconsin), 11-0 1:08
97 kg
Samuel Mitchell WI (Bulls Wrestling Club) VSU1 Ben Bergen IL (Beat the Streets-Chicago), 12-2 2:40
Austin Schafer NJ (New York Athletic Club) VPO1 Christopher Smith VA (Southeast Regional Training Center, Inc), 9-4
Isaac Trumble NC (TMWC/ Wolfpack Wrestling Club) VSU Morgan Smith WA (TMWC/ Ohio Regional Training Center), 10-0 2:53
Nathan Rotert SD (Jackrabbit Wrestling Club) VSU Ben Hughes OR (Southern Oregon Regional Training Center), 10-0 1:24
125 kg
Nick Gwiazdowski NC (TMWC/ Wolfpack Wrestling Club) VSU Matt Stencel OH (Central Michigan Wrestling Club), 10-0 5:11
Christian Lance MO (Nebraska Wrestling Training Center) VPO1 Lucas Davison IL (TMWC/ Wildcat Wrestling Club), 6-2
Ty Walz VA (TMWC/ SERTC) VPO1 Demertius Thomas MO (Pittsburgh Wrestling Club), 5-2
Anthony Cassioppi IL (TMWC/ Hawkeye Wrestling Club) VPO1 Dominique Bradley MO (Sunkist Kids Wrestling Club), 5-1