News
USA Wrestling
International
College
USAW
U.S. Olympic Team Trials Greco-Roman upperweight previews: 87 kg, 97 kg, 130 kg
by Mike Willis, USA Wrestling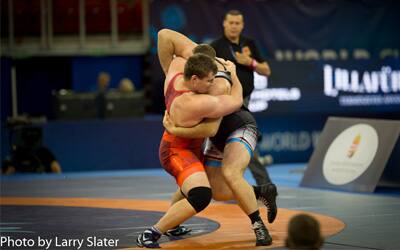 Adam Coon locks up an opponent at the 2018 World Championships. Photo by Larry Slater
The 2021 Olympic Team Trials are just around the corner, set for April 2-3 at Dickies Arena in Fort Worth, Texas.
Fans can watch all of this weekend's action live on
NBC and its platforms.
Below is a short preview of each of the final three weight classes.
87 kg
Joe Rau won the Pan American Olympic qualifier last March, and sits in the best-of-three finals at 87 kg. Rau won the 2016 Olympic Team Trials at 98 kg but did not qualify the weight class for the Rio Games. Rau is the returning World Team member at this weight class and also made the 2014 World Team at 80 kg.
One of the most dangerous wrestlers in the bracket is Last Chance Qualifier champion Alan Vera. An immigrant from Cuba, Vera was recently declared eligible to compete for the United States in Olympic competition. Vera has bested Rau twice, once in the finals of the 2019 Dave Schultz Memorial and once in the 2020 Senior Nationals finals.
2019 82 kg World Team member John Stefanowicz moved up to 87 kg for the Olympic year. At his new weight class, Stefanowicz finished seventh at the Matteo Pellicone in March and fifth at the Henri Deglane Grand Prix in France this January. Three-time World Team member Pat Martinez should be in the hunt as well. Martinez was a 2018 World Team member at 87 kg and the 80 kg World Team member in 2015 and 2016.
2014 World Military Championships silver medalist Jon Anderson is another wrestler who can't be overlooked. Anderson is the 2019 Senior Nationals champion. Others to watch are No. 5 seed Barrett Stanghill, No. 6 seed Terrence Zaleski and past Senior Nationals runner-up Spencer Woods.


87 kg seeds
Joe Rau (Titan Mercury) – sitting to the best-of-three finals
1. Alan Vera (NYAC)
2. Jonathan Anderson (U.S. Army WCAP)
3. Pat Martinez (NYAC)
4. John Stefanowicz (U.S. Marines)
5. Barrett Stanghill (Minnesota Storm)
6. Terrence Zaleski (U.S. Marines)
7. Spencer Woods (U.S. Army WCAP)
8. Christian Dulaney
97 kg
G'Angelo Hancock has been the most dominant wrestler domestically this quad, representing the U.S. at the 2017, 2018 and 2019 World Championships. He qualified the weight class with a silver-medal performance at the Pan Am Olympic Qualifier. He is a 2016 Junior World bronze medalist and a four-time age-group World Team member.
One of the best rivalries in U.S. Greco-Roman is between military wrestlers Daniel Miller of the Marines and Lucas Sheridan of the Army. The pair wrestled seven times in 2019, and while Sheridan holds the 4-3 edge in the rivalry, Miller won their last battle in the 2019 Senior Nationals finals, 3-3. Miller is a 2011 Junior World Team member, while Sheridan is a two-time Junior World Team member (2012, 2013) and a 2010 Youth Olympic Games fourth-place finisher.
Braxton Amos, a can't-miss up-and-comer, is the only wrestler registered to compete in both styles, snagging the No. 6 seed in Greco-Roman. Amos, a 2020 Senior Nationals third-place finisher, won the Last Chance Qualifier in Greco-Roman and finished runner-up in freestyle. On the other side of the spectrum, Jake Clark finished runner-up at the Last Chance Qualifier, earning a berth to his sixth-straight Olympic Team Trials. Clark is a two-time Senior World Team member (2006, 2010) and a two-time Olympic Team Trials runner-up (2004, 2016).
Among the others seeded are No. 3 seed Eric Twohey, No. 4 seed Nick Boykin and No. 5 seed Khymba Johnson, all who have Senior national level achievements.
97 kg seeds
G'Angelo Hancock (Sunkist Kids) – sitting to the best-of-three finals
1. Daniel Miller (U.S. Marines)
2. Lucas Sheridan (U.S. Army WCAP)
3. Eric Twohey (Minnesota Storm)
4. Nick Boykin (Sunkist Kids)
5. Khymba Johnson (NYAC)
6. Braxton Amos (Wisconsin RTC)
7. Jacob Clark (Minnesota Storm)
8. Diante Cooper (505 WC)
130 kg
The winner of this weight class will need to go to the World Olympic Games Qualifier in Bulgaria to qualifier the weight class, and thus, nobody sits out at here. Adam Coon is the favorite at 130 kg, and is the only Senior World medalist competing in the trials. He took silver at the 2018 World Champions and also made the 2019 World Team. Coon is a two-time age-group World Team member in both Greco-Roman and men's freestyle, earning a Cadet World gold in 2011 and a Junior World bronze in 2014 in freestyle and a Junior World bronze in Greco-Roman in 2014.
Cohlton Schultz just capped his redshirt freshman season at Arizona State with All-American honors and now has his sights set on making an Olympic Team. While young, Schultz has a wealth of international experience, competing on six age-group World teams. He earned Cadet gold in 2014, Junior World bronze in 2018 and Junior World bronze in 2019. Schultz is the 2019 and 2020 Senior Nationals champion and finished runner up to Coon in the 2019 World Team Trials finals. The pair also wrestled in the first round of the Matteo Pellicone with Coon notching a 10-5 victory over Schultz.
Jacob Mitchell, the 2019 U.S. Open champion and 2019 December Senior Nationals runner-up is seeded third. Toby Erickson, a 2011 Junior World bronze medalist, is seeded third. Both have the experience and abilities to power their way into the finals.
Tanner Farmer is the potential dark horse in the bracket. Farmer was a member of the University of Nebraska football team before winning an NAIA title as a graduate transfer at Concordia University. He is the 2020 Senior Nationals fourth-place finisher and the Last Chance Qualifier champion. Others who have achieved high seeds are No. 5 West Cathcart and No. 7 Donny Longendyke.
130 kg seeds
1. Adam Coon (Cliff Keen WC)
2. Cohlton Schultz (Sunkist Kids)
3. Jacob Mitchell (U.S. Army WCAP)
4. Toby Erickson (U.S. Army WCAP)
5. West Cathcart (NYAC)
6. Tanner Farmer (NYAC)
7. Donny Longendyke (Minnesota Storm)
8. Thomas Helton (Southern Illinois RTC)