News
USA Wrestling
College
USAW
Spencer Lee, Gable Steveson are co-winners of 2021 Dan Hodge Trophy
by Bryan Van Kley, WIN Magazine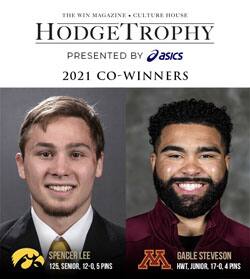 For the first time since 2001, there are co-winners of the WIN Magazine/Culture House Dan Hodge Trophy, presented by ASICS Wrestling.
Last season's winner Spencer Lee of Iowa and Gable Steveson of Minnesota wound up in a virtual tie, with Lee winning the Fan Vote (25,712 to Steveson's 5,202 votes), but multiple members of the formal Hodge Trophy Voting Committee voting for co-winners with both Steveson and Lee having such similar Hodge Trophy voting criteria stats.
The Hodge Voting Committee is made up of all past winners of the award, several retired college coaches from each region of the country, and select national wrestling media.
"We have had fairly tight races before but nothing like this year," said Mike Chapman, creator of the award back in 1995. "It's an amazing year in so many respects. When you look at what COVID did, cutting the season at least in half and causing such chaos, it was a very difficult season for everyone."
And that was especially true for Lee, who was wrestling in the NCAA tournament with two torn ACLs. In winning the trophy for the second straight time, the Hawkeye junior posted a 12-0 record with five pins, three tech falls and four majors. Lee got bonus points in 91.7% of his matches. Only one wrestler, Brandon Courtney of Arizona State, managed to go the distance, and Lee defeated him in the NCAA finals, 7-0.
"It was a tough weekend for me," he said. "I couldn't defend myself in certain positions and got taken down a couple of times. I always felt I was a good scrambler but a couple of times I just got taken down (when the opponent gripped his leg) because I couldn't move."
He admitted that sometimes doubt creeps in when facing such a difficult path, but he wasn't about to be deterred.
"I knew it was going to be hard but I've been through it before, and I was going to do it for my team. Even after hurting it in the Big Ten, I just thought about what was next, getting through it day by day. Just keep going."
Coach Tom Brands led Iowa to its fourth team title during his 15 years at the helm, and was very proud of the manner in which his prize pupil overcame the obstacles he faced.
"This is a very important honor for our program, and Spencer has embodied what it stands for since day one," said Brands. "His two Hodge Trophies reflect who he is. He's been a ferocious competitor and a man of great character. He blew his ACL out in the final match of the Big Ten tournament and said he was wrestling in the NCAA, no matter what. There was never any self-pity, just total determination and defiance.
"Spencer earned his two Hodge Trophies with pure domination, character and guts," said Brands. "And he's a student of history. He knows who Dan Hodge is and it really means something for him to win it again. He's our first two-time winner at Iowa."
Lee is the third Hawkeye to win the trophy, following in the footsteps of Mark Ironside (1998), and Brent Metcalf (2008). And he and Steveson have great respect for each other.
"I'm absolutely proud to be sharing this award with Gable," said Spencer. "I think he's the best wrestler in the world. I think he's going to be Olympic champion and then go on to be successful in whatever he chooses to do."
For his part, the Minnesota star is proud to be sharing the award with the talented Hawkeye.
"It was a bit of a surprise when I got the news because Spencer Lee is such a great wrestler," said Steveson. "But winning the Hodge Trophy is something I thought about all year. Winning the NCAA was first but then I wanted to win the Hodge, too. It was a childhood dream and now it's crazy to see that it's happened."
Steveson is part of a tradition of great Gopher heavyweights, dating all the way back to Leonard Levy in 1941 and Verne Gagne in 1949. Other NCAA champions at the weight include Brock Lesnar, Tony Nelson, and Cole Konrad.
"This is such an amazing award and a great honor for Gable and for our program," said Brandon Eggum, now in his fifth year as head coach, and 20th year overall with the staff. "We're very excited about it. We knew it was going to be a tough race, with Spencer Lee, who is an outstanding champion too."
"Gable is special," said Eggum. "He's very hard to wrestle because he is always on offense, always ready to change levels, and has a variety of moves from the feet. He does all the little things right in his training, with his nutrition and weight training and things like that."
The ultra-talented heavyweight, who punctuated his finals victory over Mason Paris of Michigan with a standing back flip, was 17-0 this season with four pins, seven tech falls, and three majors, getting bonus points in 88.2 percent of his bouts. One pin came in just 13 seconds while another took 35 seconds. He gave up just one takedown all season.
His pure athletic skills had television commentators and fans speculating as to whether he would return for another season or move on to other opportunities, such as MMA, pro wrestling or even the NFL. But first up are the Olympic Trials in Texas.
"There are so many options but I'll take things one at a time and just wait to see what happens," he said quietly on March 27, when notified he had won the Dan Hodge Trophy. "I feel really good about things right now."
Eggum said Steveson is a great team leader and has the respect of his teammates and coaches. He said the heavyweight champion has taken the time to talk to younger members of the team prior to matches to give them confidence.
With an athlete as large and talented as Steveson, it can be difficult to find good workout partners, but he has several in the Gopher room, including Tony Nelson, a two-time NCAA heavyweight champion who is still working for a spot on the Olympic team, and assistant coach Trevor Brandvold, a two-time All-American at 197.
The trophy is named for the late Dan Hodge, the undefeated three-time NCAA champion for the University of Oklahoma who was known for his aggressiveness and pinning prowess. Hodge, who graduated in 1957, never lost in college and was never taken down, pinning 36 of his 46 foes. He is also the only college wrestler to ever appear on the cover of Sports Illustrated, on April 1, 1957.
It is co-sponsored by WIN and Culture House, a company owned by Chapman that publishes books and posters, and is presented annually by ASICS.
Others receiving first-place votes were David Carr, Iowa State, with two votes, while Austin O'Connor of North Carolina and Aaron Brooks of Penn State had one each. Carr won the NCAA title at 157, while O'Connor is the champion at 149 and Brooks at 184. The other undefeated Hodge finalist was Penn State's Roman Bravo-Young, who went 14-0 at 133.
Eggum is hopeful the award can create extra attention for a program that has enjoyed a strong base of support for years.
"The Dan Hodge Trophy will bring more positivity to our program, and is something that will spark even more interest," he said. "It's the greatest award in wresting and will cause people outside of the sport to realize this guy is special, and we should go see him wrestle."
Minnesota is building a new wrestling facility and Eggum said he plans to have a special case near the front, showcasing the two Hodge trophies.
Gable is the fourth heavyweight to win the Hodge Trophy, joining Kerry McCoy of Penn State (1997), Stephen Neal of Cal State-Bakersfield (1999) and Steve Mocco of Oklahoma State (2005). The trophy is usually given at the team's wrestling banquet in the spring and again at a football game during the fall, but both events are uncertain due to the pandemic restrictions.
Visit www.WIN-magazine.com for more information on the award and a list of past winners.