News
USA Wrestling
College
USAW
2021 Mat Talk Online NCAA Div. I Wrestling Fan Guide, with 200 pages, still available for $19.99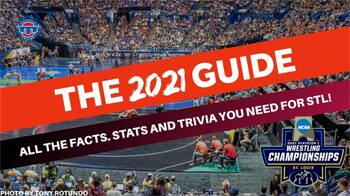 2021 Mat Talk Online NCAA Div. I Wrestling Fan Guide, with 200 pages, still available for $19.99
With over 200 pages, the Mat Talk Online NCAA Division I Wrestling Fan Guide is the ultimate digital resource for the wrestling fan looking for information on the current tournament, historical news and notes, qualifier breakdowns, data, and interactive content from the Mat Talk Podcast Network.
All this will make the guide THE clear choice to have to prepare yourself for the 2021 NCAA Division I Wrestling Championships in St. Louis.
The Guide cost $19.99 and will be digitally delivered upon successful purchase. Your bill will see a charge from "Gumroad" or "GUM CO"
THIS IS A DIGITAL PRODUCT! Disregard the part of the order form that says "mailed."
There still time to receive this and enjoy it as you watch the championships starting Thursday.
Order this today at
Mat Talk Online NCAA Div. I Wrestling Fan Guide