News
USA Wrestling
College
USAW
Luke Weber of NDSU and A.J. Ferrari of OSU make big jumps in new TrackWrestling Div. I rankings
by Andy Hamilton, TrackWrestling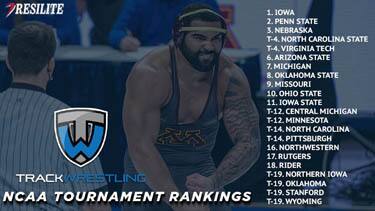 Iowa flexed on the Big Ten with a runaway performance that solidified the Hawkeyes' status as the No. 1 team in the country.
The Big 12 Championships turned into a Bedlam battle that went down to the wire with the league title hanging in the balance.
College wrestling's powerhouse-packed conferences staged their championship tournaments over the weekend, and though the two team races took divergent paths, the individual results triggered this season's best set of changes yet in the Trackwrestling Division I Rankings presented by Resilite.
Iowa collected four individual Big Ten titles and cruised to its second straight Big Ten title, while Oklahoma and Oklahoma State produced a dramatic two-day team battle that ended with the two schools locked in a tie.
In the Big Ten, nine No. 1 seeds won individual championships. The lone exception was Michigan three-time All-American Myles Amine, who wrestled the nation's No. 1 ranking away from Nebraska's Eric Schultz with a 7-3 victory in the 197-pound title bout.
The Big 12 had bigger upsets — and more of them.
North Dakota State's unranked Luke Weber stunned national No. 2 and previously unbeaten Travis Wittlake of Oklahoma State in the semifinals at 165. Unseeded 133-pounder Anthony Madrigal of Oklahoma and unranked 174-pounder Jackson Hemauer made runs to the finals.
Weber, who hasn't lost since Jan. 10, surged up to No. 15 this week. Another Big 12 champ — Oklahoma State freshman A.J. Ferrari, who ripped through the 197-pound bracket, beating three top-15 opponents on his way to the title — made a big move. Ferrari climbed eight notches to No. 5 in this week's rankings.
On the team front, Iowa continues to hold a massive lead over the rest of the pack. The Hawkeyes check in this week with 134.5 projected NCAA placement and advancement points. Penn State (75), Nebraska (63), North Carolina State (60.5), Virginia Tech (60.5), Arizona State (56.5), Michigan (52.5), Oklahoma State (52), Missouri (45) and Ohio State (40.5) round out the top 10.
The rankings, which are linked below, do not include wrestlers from conferences and schools that have stated plans not to compete during the 2021 season due to the COVID-19 pandemic.
The Trackwrestling team rankings are based strictly on the number of advancement and placement points each squad would accumulate if its wrestlers finished in those ranking slots at the NCAA Championships. Top-ranked wrestlers earn 20 points, followed by 16 for second, 13.5 for third, 12.5 for fourth, 10 for fifth, 9 for sixth, 6.5 for seventh, 5.5 for eighth, 2 for spots 9-12, 1.5 for spots 13-16 and 1 for 17-25. Team dual outcomes are not factored into the team rankings.
The Trackwrestling rankings include 33 wrestlers at each weight class, representing the number of wrestlers who qualify for the NCAA Championships.
Do you have questions or comments on the Trackwrestling rankings? Email us with feedback at rankings@trackwrestling.com.
| Rank | School | Points |
| --- | --- | --- |
| 1 | Iowa | 134.5 |
| 2 | Penn State | 75 |
| 3 | Nebraska | 63 |
| T-4 | North Carolina State | 60.5 |
| T-4 | Virginia Tech | 60.5 |
| 6 | Arizona State | 56.5 |
| 7 | Michigan | 52.5 |
| 8 | Oklahoma State | 52 |
| 9 | Missouri | 45 |
| 10 | Ohio State | 40.5 |
| 11 | Iowa State | 36.5 |
| T-12 | Central Michigan | 35 |
| T-12 | Minnesota | 35 |
| T-14 | North Carolina | 29 |
| T-14 | Pittsburgh | 29 |
| 16 | Northwestern | 26.5 |
| 17 | Rutgers | 20.5 |
| 18 | Rider | 20 |
| T-19 | Northern Iowa | 17.5 |
| T-19 | Oklahoma | 17.5 |
| T-19 | Stanford | 17.5 |
| T-19 | Wyoming | 17.5 |
| 23 | Purdue | 17 |
| T-24 | Binghamton | 16 |
| T-24 | Virginia | 16 |
| 26 | Utah Valley | 15.5 |
| 27 | Lehigh | 11.5 |
| T-28 | Appalachian State | 10 |
| T-28 | Northern Illinois | 10 |
| T-28 | West Virginia | 10 |
| 31 | Campbell | 9.5 |
| 32 | North Dakota State | 9 |
| T-33 | Illinois | 7.5 |
| T-33 | Indiana | 7.5 |
| 35 | Northern Colorado | 6 |
| T-36 | Army West Point | 5.5 |
| T-36 | Bucknell | 5.5 |
| T-36 | Navy | 5.5 |
| T-36 | Oregon State | 5.5 |
| T-36 | Wisconsin | 5.5 |