News
USA Wrestling
International
USAW
Pantaleo & Valencia win Matteo Pellicone golds, silvers to Burroughs, Suriano, McFadden & Hall, bronzes to Graff, McKenna & Martin
by Gary Abbott, USA Wrestling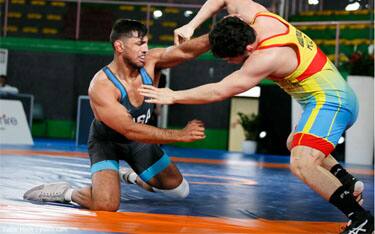 Zahid Valencia of the USA on the way to the 86 kg gold medal at the Matteo Pellicone International. Photo by Justin Hoch.
ROME, Italy – It was a big day for the United States on the final day of the Matteo Pellicone International, a UWW Ranking tournament, which concluded on Friday. The Red-White-And-Blue won two gold medals and nine total medals for the day.
U.S champions on Sunday were Alec Pantaleo at 70 kg and Zahid Valencia at 86 kg.
For the second time today, Pantaleo defeated 2019 World silver medalist Daulet Niyazbekov of Kazakhstan, this time for the gold medal by a 4-0 score. Pantaleo scored one takedown in each period and was never in danger of being scored upon during the match. Pantaleo opened his tournament with a 6-2 win over Niyazbekov and won that pool. Both Pantaleo and Niyazbekov won their cross bracketed semifinals against wrestlers from the opposite pool to secure the rematch. Pantaleo finished with a 4-0 record.
It was an all-USA final at 86 kg, Valencia, a past Junior World silver medalist, beat two-time Junior World champion Mark Hall, by an 11-0 technical fall. Valencia scored first on a step out, then added four straight takedowns, finishing the bout after the final takedown with a gut wrench turn. Valencia won all three of his matches by technical fall.
The U.S. silver medalists were Jordan Burroughs at 74 kg, Nick Suriano at 57 kg, David McFadden at 79 kg and Hall.
In a renewal of their fierce rivalry, two-time World champion and 2016 Olympic bronze medalist Frank Chamizo of Italy edged 2012 Olympic champion and four-time World champion Burroughs, 3-2 in the finals.
Chamizo scored twice in the first period on a step out and a point when Burroughs did not score on the shot clock. Burroughs closed it to 2-1 with a step out point early in the second period. When Burroughs was put on the shot clock for a second time, Chamizo was able to get a step out to lead 3-1. Burroughs made repeated attacks, and secured a step out with five seconds left to close it to 3-2. Chamizo circled in the last seconds and time ran out.
Suriano lost to World silver medalist Nurislam Sanayev of Kazakhstan for the second time today, with the finals match ending 4-2. Sanayev scored two first-period takedowns, with Suriano getting a step out, making it 4-1 at the break. In period two, Suriano pushed the action, but could only get a late step out point. In the first round, Sanayev beat Suriano, 3-2 and went on to win the pool. Suriano, second in the pool, won his cross-bracketed semifinals over Givi Davidov of Italy to earn the rematch with Sanayev.
McFadden also lost a rematch, falling to Galymzhan Usserbayev of Kazakhstan, who was fifth at 2016 Olympics, 6-5 in the bronze-medal bout. The first period was very active, with Usserbayev leading 4-3 after a few good scrambles. Usserbayev added an exposure to lead 6-3 at the break. McFadden' second period takedown closed it to 6-5, but he could not score at the end of the match. In their first match, Usserbayev also edged McFadden, 3-2. McFadden won twice after that first loss to earn the right for the rematch.
Winning bronze medals for the USA were Tyler Graff at 61 kg, Joey McKenna at 65 kg and Myles Martin at 86 kg.
A 2019 World bronze medalist, Graff went 1-2 in a four-man round robin, After a 1-1 record in the morning session, his loss to Adlan Askarov of Kazakhstan, 3-2 in the second session gave him a bronze medal.
McKenna finished with a 2-1 record for the day, defeating Selim Kozan of Turkey, 8-2 in his bronze medal match. McKenna scored a takedown and two turns in the first period, and after a challenge from Kozan was denied, McKenna led 8-2 at the break. The second period saw no scoring, as McKenna controlled the action. His only loss came to past World medalist Bajrang Punia in the semifinals.
Martin was dominant in his bronze-medal bout, a 12-2 technical fall over Clayton Pye of Canada. Martin opened with a four-point double leg and a tilt to lead 6-0. A low single made it 8-0. He hit a blast double for four points, an exchange where Pye received two points, for the 10-point margin. Martin lost 3-1, with his only loss to Hall in his second bout. When Hall made the finals, Martin was pulled into repechage and won his last two bouts by technical fall.
The USA men's freestyle program finished with 12 medals over the two days, including three golds. On Saturday, Kollin Moore won a gold medal at 97 kg, with bronzes to Tony Nelson at 125 kg and Hayden Zillmer at 97 kg.
MATTEO PELLICONE INTERNATIONAL

At Rome, Italy


U.S. men's freestyle results
57 kg: Nick Suriano (Tempe, Ariz./Sunkist Kids), silver medal
LOSS Nurislam Sanayev (Kazakhstan), 3-2
WIN Daulet Temirzhanov (Kazakhstan), injury default
WIN Ahmet Peker (Turkey), 4-2
WIN Givi Davidovi (Italy), 3-1
LOSS Nurislam Sanayev (Kazakhstan), 4-2
61 kg: Tyler Graff (Princeton, N.J./NJRTC/Titan Mercury WC), bronze medal
WIN Anvar Suviniitty (Finland), tech fall 12-2
LOSS Suleyman Atli (Turkey), tech fall 16-6
LOSS Adlan Askarov (Kazakhstan), 3-2
65 kg: Joey McKenna (Philadelphia, Pa./Titan Mercury WC/PRTC), bronze medal
WIN David Habat (Slovenia), 7-3
LOSS Bajrang Punia (India), 6-3
WIN Selim Kozan (Turkey), 8-2
70 kg: Alec Pantaleo (Ann Arbor, Mich./Cliff Keen WC/Titan Mercury WC), gold medal
WIN Daulet Niyazbekov (Kazakhstan), 6-2
WIN Mustafa Kaya (Turkey), forfeit
WIN Vishal Kaliramana (India), tech. fall 10-0, 2:26
WIN Daulet Niyazbekov (Kazakhstan), 4-0
74 kg: Jordan Burroughs (Lincoln, Neb./Nebraska WTC/Sunkist Kids), silver medal
WIN Daniyar Kaisanov (Kazakhstan), 5-0
WIN Narsingh Yadav (India), 4-1
LOSS Frank Chamizo (Italy), 3-2
79 kg: David McFadden (Philadelphia, Pa./Titan Mercury WC/PRTC), silver medal
LOSS Galymzhan Usserbayev (Kazakhstan), 3-2
WIN Muhamed McBryde (USA), 13-7
WIN Ramazan Sari (Turkey), 5-2
LOSS Galymzhan Usserbayev (Kazakhstan), 6-5
79 kg: Muhamed McBryde (Colorado Springs, Colo./USOPTC), 6th place
LOSS Galymzhan Usserbayev (Kazakhstan), 7-5
LOSS David McFadden (USA), 13-7
86 kg: Zahid Valencia (Tempe, Ariz./Sunkist Kids), gold medal
WIN Yeskali Dauletkazy (Kazakhstan), tech fall 11-0, 5:00
WIN Fatih Erdin (Turkey), tech fall 12-2, 5:23
WIN Mark Hall (USA), tech fall, 11-0, 2:42
86 kg: Mark Hall (Philadelphia, Pa./Titan Mercury WC/PRTC), silver medal
WIN Hunter Lee (Canada), tech. fall 11-0, 3:31
WIN Myles Martin (USA), pin 3:57
WIN Clayton Pye (Canada), pin 2:23
LOSS Zahid Valencia (USA), 11-0, 2:42
86 kg: Myles Martin (Columbus, Ohio/Ohio RTC/Titan Mercury WC), bronze medal
WIN Ethan Ramos (Puerto Rico), 6-3
LOSS Mark Hall (USA) pin 3:57
WIN Hunter Lee (Canada), tech. fall 10-0, 3:40
WIN Clayton Pye (Canada), tech. fall 12-2, 2:40
92 kg: Patrick Downey (Deerfield Beach, Fla.), 5th place
LOSS Erhan Yaylaci (Turkey), 11-2
LOSS Selim Yasar (Turkey), 6-1
Withdrew with injury for last two matches