News
USA Wrestling
College
USAW
Life wins NAIA national team title by five points, snapping Grand View's nine-year winning streak
by Gary Abbott, USA Wrestling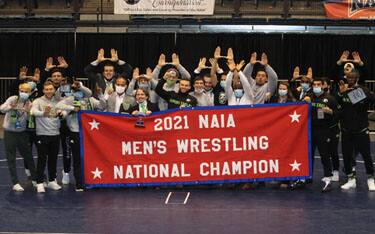 Photo of NAIA champion Life Eagles by Johnny Johnson.
WICHITA, Kansas – It seemed all of the focus on the 2021 NAIA National Wrestling Championships had been on nine-time consecutive champion Grand View and its run at a record 10th straight title.
No 3 ranked Life came to the tournament with a full 12-athlete team and was ready to wrestle. After two days of amazing wrestling, with one national champion and 10 All-Americans, the Eagles will return to Georgia with the national team champion trophy and banner.
Life finished with 158 points, with Grand View in second with 153 points. Rounding out the top five were third place Lindsey Wilson with 89 points, fourth place Indiana Tech with 75.5 points and fifth place Cumberland with 74 points.
The finals started with Life leading by one point (154 to 153). Right off the bat, Life got a national champion, when No. 4 seed Brandon Orum defeated No. 2 seed Lucas Nelson of Brewton Parker in the 125-pound finals, 3-2. This victory put Life up by five points, 158 to 153.
Life had two other finalists, both who were defeated and placed second, No. 5 seed Denver Stonechek (149) and No. 10 seed Asher Eichert (174).
Grand View lost its first finals bout of the night, when No. 1 seed Nolan Saxton of Reinhart defeated No. 3 seed Giovanni Bonila of Grand View in a 15-4 major decision.
The team score remained the same until the final match of the night, when Grand View's No. 2 seed Greg Hagan faced two-time NAIA champion and No. 1 seed Brandon Reed of Lindsey Wilson.
Wilson emerged with a 6-3 victory and his third NAIA title, and the Grand View winning streak was over. Grand View finished with 10 All-Americans but no national champions this year.
Grand View was attempting to become the first college team ever to win 10 straight national titles, regardless of level. They were tied at nine-straight with NCAA Div. I power Iowa, coached at the time by the legendary Dan Gable. When the Iowa Hawkeyes went for title No. 10 in 1987, their streak was snapped by archrival Iowa State when the Div. I Championships were held at the University of Maryland.
Southeastern had a pair of unseeded wrestlers win individual titles, Andreus Bond (149) and Kyle Kirkham (165). Bond beat No. 5 seed Denver Stonecheck of Life, 11-4 in the finals, while Kirkham stopped No. 8 seed Frederick Padilla of Vanguard in the finals, 4-2. Their efforts helped Southeastern place seventh in the team standings.
Indiana Tech also had two individual champions, as No. 3 seed Conner Gimson (133) and No. 2 seed Eric Vermillion (184) stood on top of the podium. Gimson beat No. 5 seed Esco Walker of Cumberland, 4-2, while Vermillion pinned No. 9 seed Tyson Beauperthuy of Midland in 3:16.
In addition to Reed winning a third national title, a pair of top-seeded wrestlers were able to repeat as individual national champions, Baterdene Boldmaa of Doane (141) and Brennan Swafford of Graceland (174). Boldmaa beat No. 7 seed Ryan Moore of Thomas More, 7-4. Swafford beat No. 10 Asher Eichert of Life, 10-7.
The other champion was No. 1 seed Isaac Bartel of Montana State – Northern at 197, winner over No. 2 seed Trevor Lawson of Lindsey Wilson, 6-0.
NAIA NATIONAL CHAMPIONSHIPS
At Wichita, Kansas

Final Results (with seeds listed)
125 pounds
1st Place - 4 Brandon Orum (Life) won by decision over 2 Lucas Nelson (Brewton-Parker) (Dec 3-2)
3rd Place - 3 Randy McCray (Life) won in sudden victory - 1 over 1 Justin Portillo (Grand View) (SV-1 3-1)
5th - 7 Daniel Vargas (Doane) won by decision over 8 Carter Cox (Cumberland) (Dec 11-4)
7th - 6 Isaac Crowell (Southeastern) won by decision over Gage Hudson (Cumberlands) (Dec 8-6)
133 pounds
1st Place - 3 Conner Gimson (Indiana Tech) won by decision over 5 Esco Walker (Cumberland) (Dec 4-2)
3rd Place - 1 Matt Gimson (Indiana Tech) won by fall over 2 Carson Taylor (Grand View) (Fall 5:27)
5th Place - Alex Pena (Wayland Baptist) won by decision over 8 Dominick Arellano (Baker) (Dec 7-1)
7th Place - 6 Mario Ybarra (Concordia) won in sudden victory - 1 over 4 Nick Kunz (Montana State - Northern) (SV-1 3-1)
141 pounds
1st Place - 1 Baterdene Boldmaa (Doane) won by decision over 7 Ryan Moore (Thomas More) (Dec 7-4)
3rd Place - 3 Tyree Johnson (Life) won by fall over 4 Blake Mulkey (Marian) (Fall 4:39)
5th Place - 6 Nick Henneman (Lourdes) won by fall over 9 Austin Wallace-Lister (Warner Pacific) (Fall 1:38)
7th Place - 12 Bryce Nickel (Cumberlands) won by decision over 5 Trent Leon (Reinhardt) (Dec 10-8)
149 pounds
1st Place - Andreus Bond (Southeastern) won by decision over 5 Denver Stonecheck (Life) (Dec 11-4)
3rd Place - 4 Marty Margolis (Grand View) won by decision over Jack Latimer (Arizona Christian) (Dec 6-0)
5th Place - 2 Anthony Maia (Cumberland) won by fall over 6 John Fox (York) (Fall 6:20)
7th Place - 3 Trevor Anderson (Grand View) won by decision over 9 John Deiner (Morningside) (Dec 4-3)
157 pounds
1st Place - 1 Nolan Saxton (Reinhardt) won by major decision over 3 Giovanni Bonilla (Grand View) (Maj 15-4)
3rd Place - 5 Wilder Wichman (Thomas More) won by fall over 2 Derrick Smallwood (Lindsey Wilson) (Fall 3:36)
5th Place - 6 Jack Bass (Life) won by fall over 4 Tanner Abbas (Grand View) (Fall 3:41)
7th Place - Taygen Smith (Hastings) won by decision over 7 Israel Casarez (Graceland) (Dec 4-2)
165 pounds
1st Place - Kyle Kirkham (Southeastern) won by decision over 8 Frederick Padilla (Vanguard) (Dec 4-2)
3rd Place - 5 Cole Smith (Cumberland) won by decision over Gavin Smith (Campbellsville) (Dec 5-0)
5th Place - 4 Sid Ohl (Life) won by major decision over 3 Elias Vaoifi (Missouri Valley) (Maj 10-0)
7th Place - Marcus Urban (Dakota Wesleyan) won by medical forfeit over 1 Kyle Caldwell (Grand View) (MFF)
174 pounds
1st Place - 1 Brennan Swafford (Graceland) won by decision over 10 Asher Eichert (Life) (Dec 10-7)
3rd Place - 2 Casey Randles (Grand View) won by decision over 3 Armon Fayyazi (Vanguard) (Dec 14-8)
5th Place - 5 Isaiah Luellen (Baker) won by decision over 7 Keegan Mulhill (Eastern Oregon) (Dec 5-4)
7th Place - Chase Short (Montana State - Northern) won by major decision over 11 Noah Clary (Lourdes) (Maj 13-1)
184 pounds
1st Place - 2 Eric Vermillion (Indiana Tech) won by fall over 9 Tyson Beauperthuy (Midland) (Fall 3:16)
3rd Place - 3 Ben Lee (Grand View) won by decision over 6 Drew Sams (Graceland) (Dec 6-1)
5th Place - Baker Hadwan (Life) won by decision over 4 Tyler Hall (Lindsey Wilson) (Dec 10-5)
7th Place - Trajan Hurd (Lindsey Wilson) won by decision over Hayden Wempen (Missouri Valley) (Dec 7-4)
197 pounds
1st Place - 1 Isaac Bartel (Montana State - Northern) won by decision over 2 Trevor Lawson (Lindsey Wilson) (Dec 6-0)
3rd Place - 4 Zane Lanham (Life) won by decision over 3 Antonio Stewart (Reinhardt) (Dec 4-3)
5th Place - 5 Diallo Matsimella (Life) won by fall over Levi Perry (Corban) (Fall 6:34)
7th Place - 11 Daulton Mayer (Thomas More) won by fall over 6 Easton Rendleman (Oklahoma City) (Fall 3:27)
285 pounds
1st Place - 1 Brandon Reed (Lindsey Wilson) won by decision over 2 Greg Hagan (Grand View) (Dec 6-3)
3rd Place - 3 Aaron Johnson (Cumberlands) won by decision over 4 Patrick Depiazza (Cumberland) (Dec 3-1)
5th Place - 7 Joshua Isaac (Missouri Valley) won by decision over 11 Jesse Pryor (Southeastern) (Dec 7-5)
7th Place - 6 Noel Orozco (Eastern Oregon) won by decision over 5 Maleek Caton (Williams Baptist) (Dec 4-3)
NAIA Team Standings
1 Life 158.0
2 Grand View 153.0
3 Lindsey Wilson 89.0
4 Indiana Tech 75.5
5 Cumberland 74.0
6 Reinhardt 65.5
7 Southeastern 60.5
8 Thomas More 49.0
9 Graceland 48.5
10 Cumberlands 42.0
11 Montana State - Northern 40.0
12 Doane 38.5
13 Baker 35.5
14 Vanguard 34.0
15 Missouri Valley 31.5
16 Lourdes 30.5
17 Marian 24.5
18 Eastern Oregon 24.0
19 Campbellsville 21.0
20 Brewton-Parker 20.0
(of 52 teams)