News
USA Wrestling
College
USAW
Arizona State repeats as Pac-12 champions, with five individual champions
Photo of Pac-12 champion Arizona State by Tony Rotundo, Wrestlers Are Warriors.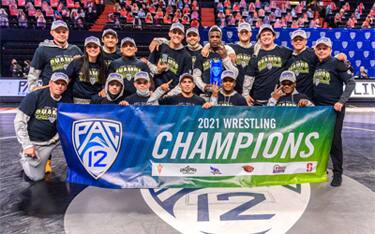 CORVALLIS, Ore. – Arizona State repeated as Pac-12 champions, led by five individual champions : Brandon Courtney (125), Jacori Teemur (157), Anthony Valencia (165), Kordell Norfleet (197) and Cohlton Schultz (285).
Valencia, who beat No. 1 seed Shane Griffith of Stanford in the finals, 7-1, became just the third Sun Devil to win four Pac-12 titles. Courtney, Teemer and Norfleet were also repeat Pac-12 champions. Schultz won his first Pac-12 title as a freshman.
Valencia earned Outstanding Wrestler of the Championships. Valencia entered the competition ranked No. 4 in the nation, with Griffith at No. 1. The win was Valencia's fourth Pac-12 title; last year he defeated Stanford's Jared Hill to take the championship in the 174 class after capturing consecutive titles at 165 in 2017 and 2018. He becomes the third Sun Devil to win four Pac-12 championships, joining Eric Larkin and Markus Mollica.
ASU was in first with 138 points, with host Oregon State second with 123, Stanford in third with 115.5, Cal Poly in fourth with 107, CSU-Bakersfield in fifth with 97.5 and Little Rock in sixth with 69.
Other individual champions were Devan Turner of Oregon State (133), Grant Willits of Oregon State (141), Jaden Abas of Stanford (149), Bernie Truax (Cal Poly at 174 and Dom Ducharme of CSU Bakersfield (184).
The 2021 Most Falls Award went to OREGON STATE's Matt Olguin, who finished with two falls in 11:57.During the event, STANFORD's Nathan Traxler was honored as 2021 Scholar-Athlete of the Year.
Arizona State press release
CORVALLIS, Ore. – The No. 6 Sun Devil wrestling dominated the conference with five individual titles to win its fourth Pac-12 Championship in five years after posting a 138 tournament point total.
The conference title was ASU's 22nd all-time and 20th in the Pac-10/12 era with the help of five individual conference champion performances --- Brandon Courtney (125), Jacori Teemer (157), Anthony Valencia (165), Kordell Norfleet (197) and Cohlton Schultz (HWT).
"Overall, I'm proud of our men and how they competed. Anytime we can bring home another Pac-12 Championship that's great for all of the Sun Devils out there," head coach Zeke Jones said. "We're especially happy for Anthony Valencia picking up a great win. Shane Griffith is an outstanding wrestler and its not often beating someone of that caliber. Jacori Teemer was an outstanding wrestler too."
"I still think we have work to do before the NCAA tournament if we're going to bring a trophy home. We have to be able to get off the bottom, get out of legs, and meet the underhook. If we do those things we will be in position to do it."
Valencia joins an elite group of Sun Devil wrestlers with his fourth Pac-12 Conference Championship title Sunday night. He is the third Sun Devil to do so, behind Eric Larkin and Markus Mollica.
The Pac-12 Conference awarded Valencia the 2021 Outstanding Wrestler of the Championships.
The difference to taking home the team title can also be pinpointed to the three Sun Devils who placed on the podium. Redshirt senior Cade Belshay pinned his opponent while Michael McGee claimed a major decision victory over his wrestler in their third place finishes. Fellow redshirt senior Cory Crooks also placed third with a decision victory.
No. 4 Valencia defeated the fellow top-seed No. 1 Shane Griffith from Stanford in arguably the night's biggest showdown. With three takedowns, he held Griffith to a 7-1 decision.
"I'm just happy to be a part of this, I love these guys. They are my family and I want the best for the team," redshirt senior Anthony Valencia said.
A rematch from last year's 125 championship began the final round, with Brandon Courtney defeating Jackson DiSario in a 7-2 decision.
Reigning Pac-12 Champion Jacori Teemer pounced on Hunter Willits out of the gate with a quick takedown. Teemer continued to apply pressure on the mat, earning takedown points until the final whistle for a 9-4 decision over the Oregon State wrestler.
Top-seed at 197 lbs, Kordell Norfleet dominated Oregon State's J.J. Dixon. The Chicago-native earned a takedown 12 seconds into the bout and the score soared into double digits in the blink of an eye. With six takedowns and a bonus point from riding time, he won in a 16-4 major decision.
Rounding out the night was first-time Pac-12 Championships competitor Cohlton Schultz against Stanford's Nathan Traxler. The redshirt freshman claimed two points after three stall warnings were awarded to Traxler in the 3-1 decision victory.
Courtney, Teemer and Schultz will be making their first appearance at the NCAA's in a couple of weeks while Norfleet will be making his third showing. Valencia punched his fourth ticket to college wrestling's biggest tournament of the year.
The Sun Devils finished with 138 points as a team, while host Oregon State took second (123), Stanford third (115.5), Cal Poly fourth (107), Cal State Bakersfield fifth (97.5) and Little Rock sixth (69).
The 2021 NCAA Division I Wrestling Championships brackets will be announced Wednesday, March 11 at 6 p.m. EST on NCAA.com.The five NCAA qualifiers will now get ready to compete in the final tournament of the season at the NCAA Championships in St. Louis, Missouri, set for March 18-20.
PAC-12 CHAMPIONSHIPS
At Corvallis, Ore.
125 pounds (2 NCAA berths)
1st Place Match - Brandon Courtney (Arizona State University) 12-0, Sr. over Jackson DiSario (Stanford) 8-3, So. (Dec 6-2)
3rd Place Match - Brandon Kaylor (Oregon State) 8-3, RS So. over Antonio Lorenzo (Cal Poly) 4-5, RS Fr. (Dec 3-1)
5th Place Match - Eddie Flores (CSU Bakersfield) 1-4, RS So. over Khyler Brewer (Little Rock) 4-10, RS Fr. (Inj. 0:00)
133 pounds (1 NCAA berth)
1st Place Match - Devan Turner (Oregon State) 5-3, RS Sr. over Chance Rich (CSU Bakersfield) 4-1, RS So. (Dec 3-1)
3rd Place Match - Michael McGee (Arizona State University) 8-1, RS Jr. over Paul Bianchi (Little Rock) 10-5, RS Sr. (MD 12-3)
5th Place Match - Jason Miranda (Stanford) 6-4, Fr. over Benny Martinez (Cal Poly) 1-9, Jr. (MD 9-0)
141 pounds (2 NCAA berths)
1st Place Match - Grant Willits (Oregon State) 8-2, RS Jr. over Real Woods (Stanford) 2-1, So. (Fall 4:42)
3rd Place Match - Angelo Martinoni (CSU Bakersfield) 5-1, RS So. over Lawrence Saenz (Cal Poly) 4-4, Jr. (Fall 0:24)
5th Place Match - Conner Ward (Little Rock) 2-13, RS So. over Julian Chlebove (Arizona State University) 6-7, So. (Fall 2:30)
149 pounds (2 NCAA berths)
1st Place Match - Jaden Abas (Stanford) 9-2, RS Fr. over Legend Lamer (Cal Poly) 11-1, RS Fr. (Dec 10-5)
3rd Place Match - Cory Crooks (Arizona State University) 8-4, RS Fr. over Lane Stigall (Oregon State) 5-6, RS Jr. (Dec 7-2)
5th Place Match - Kalani Tonge (CSU Bakersfield) 1-4, RS Sr. over Kyle Prewitt (Little Rock) 2-12, RS Fr. (Dec 6-1)
157 pounds (2 NCAA berths)
1st Place Match - Jacori Teemer (Arizona State University) 7-1, Jr. over Hunter Willits (Oregon State) 7-3, Sr. (Dec 9-4)
3rd Place Match - Requir Van der Merwe (Stanford) 7-2, RS Sr. over Brawley Lamer (Cal Poly) 3-5, RS Jr. (MD 10-1)
5th Place Match - Joey Bianchi (Little Rock) 4-9, RS Fr. over Brock Rogers (CSU Bakersfield) 1-4, RS Fr. (Dec 6-4)
165 pounds (2 NCAA berths)
1st Place Match - Anthony Valencia (Arizona State University) 11-0, RS So. over Shane Griffith (Stanford) 7-1, RS So. (Dec 7-1)
3rd Place Match - Matt Olguin (Oregon State) 3-1, RS Fr. over Adam Kemp (Cal Poly) 4-5, Jr. (TB-1 2-1)
5th Place Match - Alex Hernandez (Little Rock) 4-10, Fr. over Hunter LaRue (CSU Bakersfield) 0-5, RS Jr. (Dec 7-3)
174 pounds (2 NCAA berths)
1st Place Match - Bernie Truax (Cal Poly) 10-1, RS So. over Trey Munoz (Arizona State University) 6-2, So. (MD 11-2)
3rd Place Match - Triston Wills (Little Rock) 8-9, RS Fr. over Albert Urias (CSU Bakersfield) 3-3, RS So. (Dec 10-7)
5th Place Match - Colton Beisley (Oregon State) 3-7, RS Jr. over Elijah Clever (Stanford) 1-6, Fr. (TF-1.5 6:46 (19-3))
184 pounds (1 NCAA berth)
1st Place Match - Dom Ducharme (CSU Bakersfield) 5-0, RS Sr. over Ryan Reyes (Oregon State) 5-4, So. (TB-1 3-2)
3rd Place Match - Cade Belshay (Arizona State University) 5-6, Sr. over Dylan Miracle (Cal Poly) 3-4, Jr. (Fall 2:31)
5th Place Match - Jared Hill (Stanford) 4-7, RS Sr. over Tanner Mendoza (Little Rock) 4-10, RS Fr. (Dec 5-2)
197 pounds (3 NCAA berths)
1st Place Match - Kordell Norfleet (Arizona State University) 10-0, Sr. over J.J Dixon (Oregon State) 6-4, Jr. (MD 16-4)
3rd Place Match - Nick Stemmet (Stanford) 7-2, Fr. over Trevor Tinker (Cal Poly) 3-6, RS Fr. (Dec 10-4)
5th Place Match - Josh Loomer (CSU Bakersfield) 4-2, RS Jr. over Dylan Johnson (Little Rock) 4-12, Sr. (Fall 1:13)
285 pounds (2 NCAA berths)
1st Place Match - Cohlton Schultz (Arizona State University) 13-0, So. over Nathan Traxler (Stanford) 7-2, RS Sr. (Dec 3-1)
3rd Place Match - Sam Aguilar (Cal Poly) 7-2, RS Jr. over Jacob Sieder (CSU Bakersfield) 4-3, RS Sr. (Fall 1:42)
5th Place Match - Gabe Beyer (Little Rock) 7-9, RS Fr. over Brian Barnes (Oregon State) 1-7, RS Jr. (Fall 3:16)
Team Standings
1. Arizona State 138.0
2. Oregon State 123.0
3. Stanford 115.5
4. Cal Poly 107.0
5. CSU Bakersfield 97.5
6. Little Rock 69.0