News
USA Wrestling
High School & Youth
USAW
Minnesota, Illinois, Iowa and Oklahoma win their pools on day one of Junior National Freestyle Duals
by Gary Abbott, USA Wrestling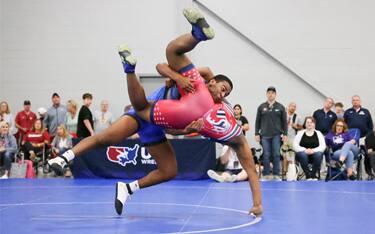 Emmanuel Skillings (Oklahoma Outlaws FS Red) and Bradley Moore II (California) battle at 220 pounds during the Junior National Duals. Photo by John Sachs, Tech-Fall.com
TULSA, Okla. – The first day of the 2021 Junior National Duals in men's freestyle featured the pool competition, with Minnesota Blue (Pool A), Illinois Junior Freestyle (Pool B), Iowa (Pool C) and Oklahoma Outlaws Red (Pool D) winning their pools on Friday, advancing into the Gold/Silver Pool.
With the cancellation of the Junior Greco-Roman Duals in 2020 due to the pandemic, host Oklahoma is the defending champion from 2019.
Minnesota Blue secured the Pool A title with a 45-21 win over Team Wisconsin in the finals. Minnesota ran off five straight wins at the start of the dual from Brandon Morvari (106), Caleb Thoennes (113), Reid Nelson (120), Jore Volk (126) and Derrick Cardinal (132) and never looked back. Eight of the wins over Wisconsin were bonus point victories. To reach the pool finals, Minnesota Blue beat Michigan Blue 58-8 in the semifinals and stopped Nebraska 58-6 in the quarterfinals.
Illinois Junior Freestyle had a good test in the Pool B finals, defeating New Jersey 38-29. Illinois started with three straight wins from Nathan Knowlton (106), Benjamin Aranda (113) and Kannon Webster (120), all by technical fall. Overall, Illinois had nine wins in the dual meet, seven by technical fall. To reach the finals of the pool, Illinois stopped Team Florida, 56-9 and California Blue 64-6 in the quarterfinals.
The Pool C final saw Iowa dominate Minnesota Red, 50-14, capturing 12 matches in the dual meet including eight with bonus points. Scoring a fall for Iowa was Chad Bellis (120). Iowa won the first seven bouts in the final to set the pace. To reach the finals, Iowa stopped Minnesota Red, 50-12 in the semifinals and controlled Arkansas, 64-1 in the quarterfinals.
Host Oklahoma Outlaws Red, the returning champion, had a tough Pool D finals opponent in California, and secured a 40-25 victory. California won four of the first five matches to take a strong early lead, but Oklahoma turned it on after that, taking eight of the final 10 matches. Securing pins for Oklahoma Outlaws Red in the dual were Jordan Williams (145) and Treshaun Tecson (100).
The top eight teams in pool play (the four Pool champions and four Pool runners-up) reached the Gold/Silver Pool. The first round of this pool was held at the end of Friday's session. All four of the Pool winners were able to win their first match in the Gold/Silver Pool.
Three other pools were set to help determine all of the final placements, the Bronze/Copper pool, the Red/Blue pool and the Green/Yellow pool. Competition in these pools were also started on Friday night.
Competition completes on Saturday live on Trackwrestling.
JUNIOR NATIONAL FREESTYLE DUALS
At Tulsa, Okla.

POOL A
1st place - Minnesota Blue 45, Team Wisconsin 21
106 Brandon Morvari (Minnesota Blue) over Kellen Kelly (Team Wisconsin) Fall 1:23
113 Caleb Thoennes (Minnesota Blue) over Ian Radintz (Team Wisconsin) TF 10-0
120 Reid Nelson (Minnesota Blue) over Shane Corrigan (Team Wisconsin) Dec 16-13
126 Jore Volk (Minnesota Blue) over Brayden Sonnentag (Team Wisconsin) Fall 1:17
132 Derrick Cardinal (Minnesota Blue) over Hayden Halter (Team Wisconsin) Fall 0:27
138 Blaine Brenner (Team Wisconsin) over Chase DeBlaere (Minnesota Blue) Dec 12-6
145 Matthew Bianchi (Team Wisconsin) over Cole Becker (Minnesota Blue) Dec 8-4
152 Cael Swensen (Minnesota Blue) over Drake Hayward (Team Wisconsin) TF 10-0
160 Braeden Scoles (Team Wisconsin) over Landen Johnson (Minnesota Blue) TF 13-2
170 Jared Stricker (Team Wisconsin) over Antony Tuttle (Minnesota Blue) TF 11-0
182 Bennett Berge (Minnesota Blue) over Devin Wasley (Team Wisconsin) TF 10-0
195 Quayin Short (Minnesota Blue) over John Gunderson (Team Wisconsin) Dec 9-6
220 Gavin Nelson (Minnesota Blue) over Carter Grewe (Team Wisconsin) TF 10-0
285 Ben Kawczynski (Team Wisconsin) over Gavin Layton (Minnesota Blue) TF 11-1
100 Parker Lyden (Minnesota Blue) over Brendan Burke (Team Wisconsin) TF 12-2
2nd place – Team Wisconsin 53, Michigan Blue 13
3rd place – Michigan Blue 20, Tennessee 29
5th place – Team Colorado 44, Team Alabama 10
7th place – Nebraska 49, Texas B 21
Semifinals
Minnesota Blue 58, Michigan Blue 8
Team Wisconsin 52, Team Colorado 16
Quarterfinals
Minnesota Bule 58, Bebraska 6
Michigan Blue 36, Tennessee 34
Team Wisconsin 66, Texas B 4
Team Colorado 47, Team Alabama 25
Consolations
Tennessee 45, Nebraska 23
Team Alabama 38, Michigan Blue 29
Tennessee 40, Team Colorado 29
Michigan Blue 46, Team Alabama 29
POOL B
1st place – Illinois Junior Freestyle 38, Team New Jersey 29
106 Nathan Knowlton (Illinois JR FS) over Aidan Carmody (Team New Jersey) TF 10-0
113 Benjamin Aranda (Illinois JR FS) over Jeffrey Jacome (Team New Jersey) TF 10-0
120 Kannon Webster (Illinois JR FS) over Conor Collins (Team New Jersey) TF 12-0
126 Garrett Totten (Team New Jersey) over Vincent Robinson (Illinois JR FS) DQ
132 Nasir Bailey (Illinois JR FS) over Kelly Dunnigan (Team New Jersey) Dec 8-3
138 Kole Brower (Illinois JR FS) over Ethan Fernandez (Team New Jersey) Dec 9-4
145 Ty Whalen (Team New Jersey) over Tommy Curran (Illinois JR FS) TF 22-10
152 Andrew Troczynski (Team New Jersey) over Braden Stauffenberg (Illinois JR FS) Dec 7-1
160 Aaron Cramer (Illinois JR FS) over Richard Grungo (Team New Jersey) TF 16-5
170 Brayden Thompson (Illinois JR FS) over Michael Dellagatta (Team New Jersey) TF 14-4
182 Brian Soldano (Team New Jersey) over Deanthony Parker (Illinois JR FS) Dec 17-17
195 Aaron Ayzerov (Team New Jersey) over Tom Culp (Illinois JR FS) TF 18-8
220 Andrew Blackburn-Forst (Illinois JR FS) over Michael Toranzo (Team New Jersey) TF 16-6
285 Ryan Boersma (Illinois JR FS) over Max Acciardi (Team New Jersey) TF 10-0
100 Liam Clark (Team New Jersey) by forfeit
3rd place – Team Georgia Blue 39, Oklahoma Outlaws B
5th place – Team Florida 51, California Blue 20
7th place – North Dakota Red
Semifinals
Illinois Junior Freestyle 56, Team Florida 9
Team New Jersey 41, Team Georgia Blue 25
Quarterfinals
Illinois Junior Freestyle 64, California Blue 6
Team New Jersey 50, Oklahoma Outlaws Blue 18
Team Georgia Blue 55, North Dakota Red 6
Consolations
Oklahoma Outlaws Blue 62, North Dakota Red 7
Team Georgia Blue 52, California Blue 14
Oklahoma Outlaws Blue 39, Team Florida 30
POOL C

1st place - Iowa 50, Minnesota Red 14
106 Carson Doolittle (Iowa) over Brett Stanley (Ohio Red) TF 11-0
113 Nathanael Jesuroga (Iowa) over Codie Cuerbo (Ohio Red) TF 12-1
120 Chad Bellis (Iowa) over Marlon Yarbrough (Ohio Red) Fall 1:36
126 Drake Ayala (Iowa) over Brennen Cernus (Ohio Red) TF 10-0
132 Ryder Block (Iowa) over Ismael Ayoub (Ohio Red) TF 10-0
138 Joel Jesuroga (Iowa) over Zack Mattin (Ohio Red) Dec 3-1
145 Caleb Rathjen (Iowa) over Kael Voinovich (Ohio Red) TF 10-0
152 Victor Voinovich (Ohio Red) over Jack Gaukel (Iowa) TF 10-0
160 Aiden Riggins (Iowa) over Alex Garee (Ohio Red) Dec 11-2
170 Gabe Mcgeough (Iowa) by forfeit
182 Griffin Gammell (Iowa) over Cole Hivnor (Ohio Red) TF 11-0
195 Dylan Fishback (Ohio Red) over Wyatt Voelker (Iowa) Dec 9-4
220 Ben Kueter (Iowa) over Logan Shephard (Ohio Red) TF 11-0
285 Aidan Fockler (Ohio Red) over Easton Fleshman (Iowa) Dec 10-6
100 Dru Ayala (Iowa) over Javaan Yarbrough (Ohio Red) TF 14-3
2nd place – Ohio Red 47, Minnesota Red 22
3rd place – Minnesota Red 37, Team Missouri 30
5th place – Texas A 33, Team Indiana 33
7th place - Arkansas
Semifinals
Iowa 50, Minnesota Red 12
Ohio Red 44, Team Missouri 21
Quarterfinals
Iowa 64, Arkansas 1
Minnesota Red 44, Team Indiana 26
Ohio Red 58, Texas A 7
Consolations
Team Indiana 54, Arkansas 10
Team Missouri 43, Team Indiana 16
Minnesota Red 44, Texas A 22

POOL D
1st place - Oklahoma Outlaws Red 40. California 25
106 Christian Forbes (Oklahoma Outlaws FS Red) over Ray Ray Harris (California) TF 12-2
113 Isaiah Kainoa Medina (California) over Sam Smith (Oklahoma Outlaws FS Red) Dec 16-12
120 Joey Cruz (California) over Eli Griffin (Oklahoma Outlaws FS Red) Dec 6-5
126 Andre Gonzales (California) over Jayce Caviness (Oklahoma Outlaws FS Red) TF 12-2
132 Maxximus Martinez (California) over Jordan Cullors (Oklahoma Outlaws FS Red) TF 10-0
138 Carter Young (Oklahoma Outlaws FS Red) over Johnny Lopez (California) Dec 11-5
145 Jordan Williams (Oklahoma Outlaws FS Red) over Noah Tolentino (California) Fall 2:46
152 Angelo Ferrari (Oklahoma Outlaws FS Red) over Oscar Aranda (California) Dec 5-3
160 John Wiley (Oklahoma Outlaws FS Red) over Manuel (M.J.) Gaitan (California) Dec 9-8
170 Timothy McDonnell (California) over Jaxon Randall (Oklahoma Outlaws FS Red) TF 10-0
182 Eli Cordy (Oklahoma Outlaws FS Red) over Cade Creighton (California) Fall 4:00
195 Kodiak Stephens (California) over AJ Heeg (Oklahoma Outlaws FS Red) Dec 8-6
220 Emmanuel Skillings (Oklahoma Outlaws FS Red) over Bradley Moore II (California) TF 10-0
285 Harley Andrews (Oklahoma Outlaws FS Red) over Daniel Herrera (California) TF 10-0
100 Treshaun Tecson (Oklahoma Outlaws FS Red) over Marcus Tolentino (California) Fall 1:21
2nd place – California 56, North Dakota Blue 12
3rd place – North Dakota Blue 36, Team Kansas 35
5th place – Pennsylvania 50, Team Georgia Red 19
7th place – Team South Carolina
Semifinals
California 49, Team Kansas 16
Oklahoma Outlaws Red 51, North Dakota Blue 15
Quarterfinals
Team Kansas 40, Pennsylvania 29
North Dakota Blue 38, Team Georgia Red 30
Oklahoma Outlaws Red 65, Team South Carolina 1
Consolations
Team Georgia Red 41, Team South Carolina 13
North Dakota Blue 39, Pennsylvania 29
Team Kansas 40, Team Georgia Red 13
GOLD/SILVER POOL
First round
Minnesota Blue 40, Team New Jersey 24
Oklahoma Outlaws Red 38, Ohio Red 28
Illinois Junior Freestyle 43, Team Wisconsin 22
Iowa 36, California 27
BRONZE/COPPER POOL
First round
Oklahoma Outlaws Blue 48, Michigan Blue 21
Team Missouri 51, North Dakota Blue 15
Team Georgia Blue 51, Tennessee 12
Team Kansas 35, Minnesota Red 34
RED/BLUE POOL
First and second rouind
Team Colorado 55, California Blue 13
Pennsylvania 41, Team Indiana 27
Team Florida 43, Team Alabama 21
Texas A 41, Team Georgia Red 30
Team Colorado 37, Team Indiana 31
Pennsylvania 50, California Blue 8
Team Florida 57, Team Georgia Red 11
Texas A 34, Team Alabama 32
GREEN/YELLOW POOL
First two rounds
Texas B 38, Team South Carolina 24
Nebraska 44, Arkansas 27
Nebraska 56, Team South Carolina 16
North Dakota Red 34, Texas B 17