News
USA Wrestling
International
Women
College
USAW
Hall, Bradley, Elam, Reyna, Rau win bouts on FCA Wrestling Truth & Technique card
by Gary Abbott, USA Wrestling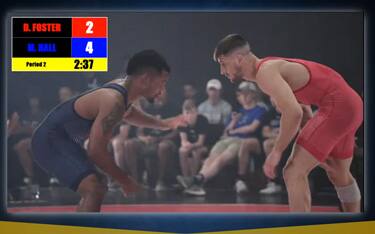 Mark Hall and Drew Foster square off in the Main Event. Video capture from FCA Wrestling stream.
CHARLOTTE, N.C. – FCA Wrestling hosted its first Senior-level competition card on Friday, with five bouts covering three disciplines at Elevation Church, broadcast live and free for fans.
In the men's freestyle main event, two-time Junior World champion and 2021 Senior Nationals champion Mark Hall secured a 12-2 technical fall over Senior Nationals bronze medalist Drew Foster. Hall led 4-2 at the break, scoring two takedowns to Foster's one takedown. In the second period, Hall added two more takedowns, the first on a high crotch and the second on a spin-behind. In par terre, Hall finished the match with two ankle lace turns for the 10 point margin. Both athletes are past NCAA champions, Hall for Penn State and Foster for UNI. Hall avenged a loss to Foster at the Last Chance Qualifier earlier this season.
Dom Bradley, a Junior World champion and past Senior Nationals champion, won a battle of talented big men with a 4-3 victory over U23 World bronze medalist Ty Walz in freestyle wrestling. Bradley did his damage in the first period, scoring a takedown and an ankle lace to lead 2-0. In the second period, Walz scored a point to close it to 4-1, and took numerous shots which Bradley defended. With 30 seconds left, Walz scored a single leg takedown to make it 4-3, but he could not score again. It is the second time this year that Bradley has beaten Walz, who just recently moved to heavyweight after years at 97 kg.
In a battle of young college talents, Missouri star Rocky Elam won a high-scoring technical battle against Virginia star Jay Aiello, 10-8 in men's freestyle. With Aiello leading 3-2 in the first period, Elam took control with a low single takedown and two ankle lace turns to lead 8-3. Aiello kept coming, scoring two takedowns and a pushout late in the bout, but an Elam takedown on a scramble was the difference in a two-point victory. Both will compete for Team USA this year, Elam on the Junior World Team and Aiello on the U23 World Team.
In women's freestyle, 2021 NCWWC national champion and past Junior World Team member Brenda Reyna won by injury default in the second period. Louive. Reyna scored first with a takedown, but Louive came back with a stepout and a takedown to lead 3-2 at the break. Reyna scored six straight points in the second period for an 8-3 lead, but Louive had a leg injury and could not complete the match.
In Greco-Roman, two-time World Team member Joe Rau came out on fire to secure an 8-0 technical fall early in the first period over 2021 Senior Nationals champion Spencer Woods. Rau scored a four-point throw, then quickly turned Woods twice with gut wrenches to end the match quickly.
The card was provided for free to fans, to launch a new resource, "Truth & Technique," which provides wrestlers with technical assistance and biblical truths. During the broadcast, fans saw technique instruction clips from Jordan Burroughs and Mark Hall, and was provided life perspective from Brandon Slay, Carl Perry, Heath Eslinger and Rev. Larry Brey.
For more information on FCA Wrestling, visit it on social media or its official website:
FCA Wrestling website
FCA WRESTLING TRUTH AND TECHNIQUE CARD

At Charlotte, N.C., June 18
Greco-Roman: Joe Rau tech. fall Spencer Woods, 8-0, first period
Women's Freestyle: Brenda Reyna inj. dft. over Lauren Louive, second period
Men's Freestyle: Rocky Elam dec. Jay Aiello, 10-8
Men's Freestyle: Dom Bradley dec. Ty Walz, 4-3
Men's Freestyle: Mark Hall tech. fall Drew Foster, 12-2, second period