News
USA Wrestling
International
College
High School & Youth
USAW
Hall of Fame biography: Bruce Burnett, Distinguished Member
by National Wrestling Hall of Fame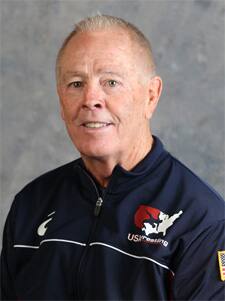 Bruce Burnett has excelled as a coach on the high school, collegiate and international levels, serving as USA Wrestling's national freestyle coach and leading some of the most successful teams in American history.
During his tenure, five Americans won Olympic gold medals and 11 U.S. athletes won 13 World Championships including four champions in 1993 and four in 1995.
From 1993-2000, U.S. wrestlers won 22 World medals (11 gold, four silver and seven bronze) and placed in the Top 10 at the World Championships as a team every year. The United States won its first-ever Senior World Freestyle team title in 1993 and again in 1995, and won the medal count at the 1996 Olympic Games with three gold, a silver and a bronze.
He led the United States to seven World Cup team titles and five Pan American Championships, including 2011 when the U.S. had six medalists, including four champions. From the national teams he coached, 14 wrestlers were inducted as Distinguished Members of the Hall of Fame.
Burnett was the wrestling coach at the United States Naval Academy from 2000-13, leading his teams to a 113-57 overall dual meet record and six consecutive 10-win seasons from 2002-07.
He began his coaching career at Meridian High School in Meridian, Idaho, where he led his teams to a 154-13-2 dual meet record with four state team titles, four state runner-up finishes, six district titles and nine conference titles from 1974-87.
On the mat, Burnett was undefeated in dual meets and a two-time Big Sky Conference and Mountain Intercollegiate Wrestling Association champion for Idaho State University in 1971-72. He was a two-time California Junior College state champion for Bakersfield College, compiling a 55-3 career record and being named the state's outstanding wrestler in 1970. Burnett was a two-time league champion and three-time state place-winner for North Bakersfield (California) High School.
He was inducted into the Idaho State Sports Hall of Fame in 1986, the California Wrestling Hall of Fame in 2004 and the North High School Hall of Fame in 2013. Burnett received the Lifetime Service to Wrestling award from the Idaho Chapter of the National Wrestling Hall of Fame in 2015 and was named the Myron Roderick Man of the Year by USA Wrestling in 2016.
For continued excellence as a coach on every level of competitive wrestling, Bruce Burnett is inducted as a Distinguished Member of the National Wrestling Hall of Fame.