News
USA Wrestling
College
USAW
Campbell wins third straight SoCon title with three champs and five NCAA qualifiers; App State gets five champions
by Jason Williams, Campbell University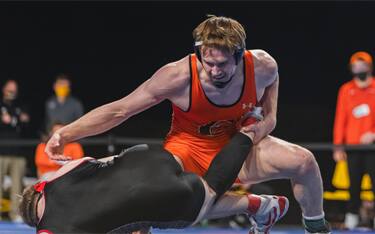 Photo of Caleb Hopkins of Campbell, courtesy of Campbell Athletics
BOONE, N.C. – Campbell held off a late Appalachian State surge to claim its third consecutive Southern Conference Wrestling Championship on Sunday at the Holmes Convocation Center.
With eight Camels making finals appearances, Campbell held an 83-70 advantage heading into the consolation finals before the Mountaineers took an 87-86 lead, winning five individual titles at 125, 133, 141, 149 and 157. Four of those included head to head matchups between the Camels and Mountaineers (125, 141, 149 and 157).
Editor's Note: Appalachian State swept the five lowest weight classes, with SoCon titles from Codi Russell (125), Sean Carter (133), Anthony Brito (141), Jonathan Millner (149) and Cody Bond (157). This tied the Appalachian State school record with five individual conference champions.
Austin Murphy gave Campbell the go-ahead title clinching points at 174 pounds, earning first period back points and hanging on for a 9-3 decision over App State's Thomas Flitz. Chris Kober added to CU's lead at 197 pounds, defeating Chattanooga's Logan Andrew 3-1, securing a third individual Campbell champion.
Campbell finished with 92 team points, staving off Appalachian State's 87. Chattanooga took third with 64 points, followed by Gardner-Webb (50), The Citadel (43.5), VMI (18) and Presbyterian (6.5).
Five Camels secured NCAA berths on the day, with three tournament champions, including Murphy, Kober and Caleb Hopkins at 184 pounds. Two Camels also took true place wins, with Josh Heil at 149 pounds and Taye Ghadiali at heavyweight earning NCAA berths.
The SoCon was awarded two NCAA berths at three weight classes, including 149 pounds, 184 and heavyweight.
Heil becomes Campbell's first four-time NCAA qualifier, while Kober picked up his second NCAA appearance, joined by first time qualifiers Murphy, Hopkins and Ghadiali.
Eight Camels finished on the podium, with five runner-ups to go along with their three individual champions.
Campbell's head coach Scotti Sentes was named the SoCon Coach of the Year, sweeping the league's regular season and tournament championships in his first season at the helm.
Hopkins also earned the 2021 SoCon Pinnacle Award, given to the student-athlete with the highest GPA on the championship winning team.
Chattanooga's Andrew Nicholson, meanwhile, was named the Tournament Most Outstanding Wrestler, winning the 165 title as the No. 3 seed.
Top-seeded Murphy, a junior from Cincinnati, Ohio, reached the finals with a 6-1 decision over Chattanooga's Carial Tarter after earning a first round bye.
Another one of Campbell's four No. 1 seeds, Kober locked in a first period fall over GWU's Sam Mora (1:17) to reach the finals.
After going unbeaten in SoCon matches at 7-0 during the regular season, Hopkins clinched his first NCAA Championships berth with a 5-2 decision over Chattanooga's Matthew Waddell at 184 pounds. The Palmer, Alaska native also blanked VMI's Zach Brown 4-0 in the semifinals after receiving a first round bye.
Making his fourth SoCon finals appearance, Heil, a three-time conference champion, suffered his first ever defeat at the hands of a SoCon opponent, with App State's Jonathan Millner taking the 2-1 decision in the title bout. Heil clinched a spot in the finals with a pair of bonus wins, pinning PC's Reid Stewart (2:07) and registered an 11-3 major decision over Gardner-Webb's Brandon Bright, officially earning his ticket to the NCAA Championships with a 4-3 true place decision over The Citadel's Selwyn Porter.
Ghadiali also gained an automatic berth to the NCAA Championships, taking runner-up at heavyweight in a 5-3 decision against The Citadel's Michael McAleavey. The redshirt freshman, seeded third in the tournament, opened the day with a 20-5 tech fall over Presbyterian's Airin Spell, and topped Anthony Perrine of Gardner-Webb 3-1 in extra time.
Seeded third at 125, Zurich Storm made his first SoCon finals appearance, topping No. 2 seed Fabian Gutierrez from UTC, 8-6 in overtime before falling 11-4 to App State's Codi Russell in the title round. Storm opened the day with a pin over GWU's Aedyn Concepcion (2:03).
Making the final at 141 pounds, Hanna, seeded fourth, opened the tournament with a 20-5 tech fall over PC's Jacob Brasseur before taking down top-seeded Franco Valdes from Chattanooga, 4-2 in extra time. He fell to App State's Anthony Brito, 7-3, in the finals.
Making his second SoCon finals appearance after earning the conference title in 2019, Barton took App State's Cody Bond to overtime, but fell 10-5, placing second. Barton defeated VMI's Blake Showers with an 18-7 major decision in the 157 semifinals.
Campbell, also winners of three-straight SoCon regular season championships, has now claimed four of the last five SoCon tournament titles.
SOUTHERN CONFERENCE CHAMPIONSHIPS
At Boone, N.C., February 28
(with seed listed)
125 (1 NCAA berth)
1st Place Match – No. 1 Codi Russell (Appalachian State), RS Sr. over No. 3 Zurich Storm (Campbell), RS Jr. (Dec 11-4)
3rd Place Match – No. 2 Fabian Gutierrez (Chattanooga), RS Sr. over No. 4 Benny Gomez (Presbyterian College), RS Sr. (TB-2 3-2)
133 (1 NCAA berth)
1st Place Match –No. 2 Sean Carter (Appalachian State), So. over No. 1 Jake Rotunda (The Citadel), RS So. (Dec 3-1)
3rd Place Match – No. 6 Todd Carter (Gardner-Webb), Fr. over No. 3 Colton Landers (Chattanooga), RS Jr. (Dec 9-4)
141 (1 NCAA berth)
1st Place Match – No. 2 Anthony Brito (Appalachian State) 3-0, Sr. over No. 4 Shannon Hanna (Campbell) 2-1, So. (Dec 7-3)
3rd Place Match - No. 3 Trevon Majette (Gardner-Webb) 3-1, RS Jr. over No. 1 Franco Valdes (Chattanooga) 1-2, RS Jr. (M. For.)
149 (2 NCAA berths)
1st Place Match – No. 1 Jonathan Millner (Appalachian State), Sr. over No. 2 Joshua Heil (Campbell), RS Sr. (Dec 2-0)
3rd Place Match - No. 4 Selwyn Porter (The Citadel), Jr. over No. 5 Aidan Murphy (Chattanooga), RS Jr. (Dec 4-2)
157 (1 NCAA allocation)
1st Place Match – No. 2 Cody Bond (Appalachian State), RS Jr. over No. 1 Benjamin Barton (Campbell), RS Fr. (TB-1 10-5)
3rd Place Match –No. 4 Taylor Parks (Gardner-Webb) 2-1, Sr. over No. 3 Weston Wichman (Chattanooga) 2-2, Jr. (Fall 6:37)
165 (1 NCAA berth)
1st Place Match – No. 3 Andrew Nicholson (Chattanooga), RS Jr. over No. 4 Dazjon Casto (The Citadel), Jr. (Dec 3-2)
3rd Place Match – No. 1 William Formato (Appalachian State), Jr. over No. 2 Rodrick Mosley (Gardner-Webb), Jr. (Dec 5-3)
174 (1 NCAA allocation)
1st Place Match – No. 1 Austin Murphy (Campbell), Jr. over No. 2 Thomas Flitz (Appalachian State), RS Sr. (Dec 9-3)
3rd Place Match – No. 3 Evan Schenk (Gardner-Webb), Sr. over No. 5 Carial Tarter (Chattanooga), RS So. (Dec 5-4)
184 (2 NCAA allocations)
1st Place Match – No. 1 Caleb Hopkins (Campbell), Jr. over No. 3 Matthew Waddell (Chattanooga), RS Jr. (Dec 5-2)
3rd Place Match – No. 2 Jhaquan Anderson (Gardner-Webb), So. over No. 6 Kyle Kretzer (The Citadel) 1-2, Jr. (Dec 8-6)
197 (1 NCAA allocation)
1st Place Match – No. 1 Chris Kober (Campbell), Sr. over No. 3 Logan Andrew (Chattanooga), RS Fr., (Dec. 3-1)
3rd Place Match – No. 2 Tyler Mousaw (Virginia Military Institute), Fr. over No. 6 Ben Stemmet (The Citadel) 1-2, Fr. (Fall 3:53)
285 (2 NCAA allocations)
1st Place Match – No. 1 Michael McAleavey (The Citadel), RS Sr. over No. 3 Taye Ghadiali (Campbell), So. (Dec 5-3)
3rd Place Match – No. 2 Anthony Perrine (Gardner-Webb), Sr. over No. 4 Michael Burchell (Appalachian State) 2-2, Jr. (Fall 3:13)

Team Standings
1. Campbell, 92.0
2. Appalachian State, 87.0
3. Chattanooga, 64.0
4. Gardner-Webb, 50.0
5. The Citadel , 43.5
6. Virginia Military Institute, 18.0
7. Presbyterian College, 6.5

NCAA Qualifiers by team
Appalachian State (5)
Codi Russell (1st at 125)
Sean Carter (1st at 133)
Anthony Brito (1st at 141)
Jonathan Millner (1st at 149)
Cody Bond (1st at 157)
Campbell (5)
Joshua Heil (2nd at 149)
Austin Murphy (1st at 174)
Caleb Hopkins (1st at 184)
Chris Kober (1st at 197)
Taye Ghadiali (2nd at 285)
Chattanooga (2)
Andrew Nicholson (1st at 165)
Matthew Waddell (2nd at 184)
The Citadel (1)
Michael McAleavey (1st at 285)