News
USA Wrestling
College
USAW
Penn State up to No. 2, Nebraska to No. 3, Virginia Tech to No. 4 in Trackwrestling Div. I rankings
by Andy Hamilton, Trackwrestling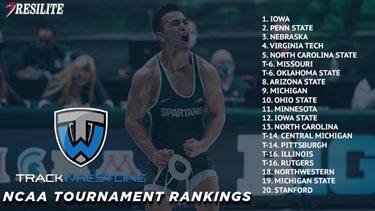 The last weekend of regular-season action combined with the removal of some high-profile individuals spurred a reshuffling near the top of the team standings in the latest edition of the Trackwrestling Division I Rankings presented by Resilite.
Penn State, Nebraska, Virginia Tech, Missouri, North Carolina State and Arizona State made upward moves, while Michigan tumbled after the Wolverines encountered headwinds from an upset and an absence.
Wrestlers who have yet to compete this season, including Michigan 133-pounder Stevan Micic and Stanford 141-pounder Real Woods, were removed from the rankings. The Wolverines also lost ground at 149, where Kanen Storr dropped from No. 8 to No. 20 after dropping a 15-8 decision against previously unranked Peyton Omania of Michigan State.
Iowa continues to lead the team race with 142 projected NCAA placement and advancement points. Penn State surged to second with 68, thanks to upward moves from 133-pounder Roman Bravo-Young and 174-pounder Carter Starocci, who checks in at No. 4 after downing then-No. 2 Kaleb Romero of Ohio State.
Nebraska (67), Virginia Tech (58.5), North Carolina State (55), Missouri (53), Oklahoma State (53), Arizona State (51), Michigan (48.5) and Ohio State (40) round out the top 10. Results from Monday night's dual meet action are not reflected in this week's rankings.
The rankings, which are linked below, do not include wrestlers from conferences and schools that have stated plans not to compete during the 2021 season due to the COVID-19 pandemic.
The Trackwrestling team rankings are based strictly on the number of advancement and placement points each squad would accumulate if its wrestlers finished in those ranking slots at the NCAA Championships. Top-ranked wrestlers earn 20 points, followed by 16 for second, 13.5 for third, 12.5 for fourth, 10 for fifth, 9 for sixth, 6.5 for seventh, 5.5 for eighth, 2 for spots 9-12, 1.5 for spots 13-16 and 1 for 17-25. Team dual outcomes are not factored into the team rankings.
The Trackwrestling rankings include 33 wrestlers at each weight class, representing the number of wrestlers who qualify for the NCAA Championships.
Do you have questions or comments on the Trackwrestling rankings? Email us with feedback at rankings@trackwrestling.com.
| Rank | School | Points |
| --- | --- | --- |
| 1 | Iowa | 142 |
| 2 | Penn State | 68 |
| 3 | Nebraska | 67 |
| 4 | Virginia Tech | 58.5 |
| 5 | North Carolina State | 55 |
| T-6 | Missouri | 53 |
| T-6 | Oklahoma State | 53 |
| 8 | Arizona State | 51 |
| 9 | Michigan | 48.5 |
| 10 | Ohio State | 40 |
| 11 | Minnesota | 37.5 |
| 12 | Iowa State | 33.5 |
| 13 | North Carolina | 31 |
| T-14 | Central Michigan | 30.5 |
| T-14 | Pittsburgh | 30.5 |
| T-16 | Illinois | 30 |
| T-16 | Rutgers | 30 |
| 18 | Northwestern | 26 |
| 19 | Michigan State | 21.5 |
| 20 | Stanford | 18.5 |
| 21 | Wyoming | 17.5 |
| 22 | Utah Valley | 16 |
| 23 | Rider | 15.5 |
| 24 | Binghamton | 14.5 |
| 25 | Northern Iowa | 14 |
| 26 | Northern Colorado | 13.5 |
| T-27 | Purdue | 13 |
| T-27 | Wisconsin | 13 |
| 29 | Indiana | 12.5 |
| 30 | Virginia | 11.5 |
| 31 | Oklahoma | 10.5 |
| 32 | South Dakota State | 10 |
| 33 | Clarion | 9 |
| 34 | Navy | 6.5 |
| 35 | Appalachian State | 6 |
| T-36 | Lehigh | 5 |
| T-36 | West Virginia | 5 |
| 38 | Oregon State | 4.5 |
| 39 | Cal Poly | 3.5 |
| T-40 | Air Force | 3 |
| T-40 | Army West Point | 3 |
| T-40 | Campbell | 3 |
| T-40 | North Dakota State | 3 |
| T-40 | Northern Illinois | 3 |