News
USA Wrestling
High School & Youth
Women
USAW
Wyoming Seminary girls beat Pennsylvania USA Wrestling in all-star freestyle dual meet
by Wyoming Seminary wrestling, Special to TheMat.com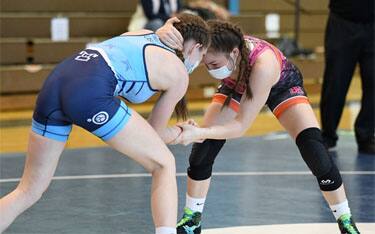 Action image by Chris Atkinson.
Carpenter Athletic Center on the snowy campus of Wyoming Seminary played host to Freestyle for Females: Wyoming Seminary vs. Team Pennsylvania today.
The young Wyoming Seminary girls wresting team was led by freshmen Faith Bartoszek, Carina Giangeruso, Rianne Murphy, Tai Mallqui, Tiffany Stoshak, and Cloe Charlesworth, all who won their matches to lead the Blue Knights to a 62-43 win. Murphy and Charlesworth both picked up falls in their bouts.
Cadet World team member Lilly Freitas picked up two technical falls. Other SEM wrestlers also won via technical fall, including Virginia Foard, Abby Duke, Piper Staniford, and Kendall Bostelman.
Team Pa started out with back-to-back wins from Juliette Trout and Julia Horger in the youth matches. Also earning victories on the day were Pennsylvania were Joelle Scott, Sierra Chiesa, Jael Mille, Alexa Ortiz, Jordyn Fouse, and Haylie Jaffe.
A number of the matches including national ranked athletes, a great showcase of talent.
"Today's match was much needed mat time for our young team. Special thanks to Team Pennsylvania and the event sponsors Wrestle Like A Girl, MyHOUSE Sportsgear, and the James and Amy Bennett Foundation. There were some competitive, exciting matchups today with our sisters from around the commonwealth," said SEM girls wrestling head coach Erin Vandiver.
Wyoming Seminary is getting ready for some major competitions in the next few months.
"This team is preparing for a competition heavy phase culminating with USA Wrestling national events in Iowa and Texas. Today, this team had a lot of fun and that's nice to see. It's good to be back on the mat," said Vandiver.
FREESTYLE FOR FEMALES

Wyoming Seminary 62, Pennsylvania USA Wrestling 43
72 Juliette Trout (PAUSAW) over Emma Grimes (Wyoming Seminary) TF 10-0
100 Julia Horger (PAUSAW) over Hannah Lawrence (Wyoming Seminary) Fall 2:48
106 Jasintai Malqui (Wyoming Seminary) over Sierra Chiesa (PAUSAW) Dec 6-3
112 Tiffany Stoshak (Wyoming Seminary) over Lane Fordyce (PAUSAW) Dec 8-6
112A Abby Duke (Wyoming Seminary) over Emily Murphy (PAUSAW) TF 12-2
152 Faith Bartoszek (Wyoming Seminary) over Alexx Ortiz (PAUSAW) Dec 6-0
164 Lillian Freitas (Wyoming Seminary) over Abbie Miles (PAUSAW) TF 10-0
117 Joelle Scott (PAUSAW) over Avery Kibelbeck (Wyoming Seminary) Fall 5:06
127 Carina Giangeruso (Wyoming Seminary) over Morgan Edwards (PAUSAW) TF 10-0
138 Elleni Johnson (Wyoming Seminary) over Julianna Figueroa (PAUSAW) TF 11-0
100A Sierra Chiesa (PAUSAW) over Ekta Arora (Wyoming Seminary) Fall 1:30
138A Piper Staniford (Wyoming Seminary) over Avry Ryhal (PAUSAW) Dec 11-10
144 Cloe Charlesworth (Wyoming Seminary) over Mackenzie DelVecchio (PAUSAW) Fall 2:27
152A Alexx Ortiz (PAUSAW) over Angelina Dawson (Wyoming Seminary) Dec 11-2
106A Virginia Foard (Wyoming Seminary) over Julia Horger (PAUSAW) TF 10-0
152B Jael Miller (PAUSAW) over Veronica Whitacre (Wyoming Seminary) Dec 7-5
117A Jordlyn Fouse (PAUSAW) over Avery Kibelbeck (Wyoming Seminary) Fall 4:47
164A Lillian Freitas (Wyoming Seminary) over Kaitlyn Pegarella (PAUSAW) TF 12-1
122 Haylie Jaffe (PAUSAW) over Madison Wellen (Wyoming Seminary) Dec 9-2
112B Rianne Murphy (Wyoming Seminary) over Joelle Scott (PAUSAW) Fall 3:34
138B Kendall Bostelman (Wyoming Seminary) over Grace Stem (PAUSAW) TF 11-0