News
USA Wrestling
College
Women
USAW
North Central and Augsburg go 1-2 in tightly contested NCWWC Northwest Regionals
by Gary Abbott, USA Wrestling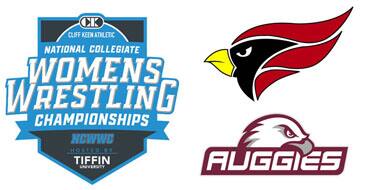 STEVENS POINT, Wis. – Only 10 points separated regional champion North Central College from Augsburg University in the most closely contested of the four NCWWC regional events, the Northwest Regionals held on Saturday.
The top four wrestlers in each weight class have advanced to the National Collegiate Women's Wrestling Championships at Tiffin on March 6. This is the annual women's college national tournament for NCAA wrestling teams.
Both North Central and Augsburg qualified 13 athletes for the national championships. Augsburg had more individual champions with six, while North Central had two champions. However, six North Central wrestlers placed second in their weight class, giving the Cardinal the team victory. The team points went 156 for North Central and 146 for Augsburg.
Augsburg was led by 2020 NCWWC and WCWA national champion Emily Shilson, the 109 pound regional champion. Five other Auggie women stepped on the top of the podium, Gabby Skidmore (130), Autumn Flanigan (136), Kya Rybachek (143), Marlynne Deede (155) and Melissa Jacobs (191).
The two North Central champions were Asia Nguyen-Smith (123) and Yelena Makoyed (170). Putting the team over the top with team points were runners-up Kate Cacho (101), Angelina Graff (109), Sarah Martinez (116), Mateah Roehl (123), Amanda Martinez (130) and Malea Palahniuk (155).
Placing third with 115 points was host Wisconsin Stevens-Point, led by individual champions Brooke Thurber (101) and Abby Nelson (116), and seven national qualifiers.
Iowa Wesleyan was fourth with 65.5 points and four national qualifiers, and Lakeland was fifth with 27 points and two national qualifiers.
NCWWC NORTHWEST REGIONALS
at Stevens Point, Wis.
101
1st Place Match - Brooke Thurber (Wisconsin Stevens Point) won by fall over Kate Cacho (North Central College) (Fall 0:49)
3rd Place - Hannah Michael (Augsburg University)
109
1st Place Match - Emily Shilson (Augsburg University) won by tech fall over Angelina Graff (North Central College) (TF 10-0)
3rd Place Match - Alaina Sunlin (Iowa Wesleyan) won by fall over Kelly Enriquez (Wisconsin Stevens Point) (Fall 2:24)
116
1st Place Match - Abby Nelson (Wisconsin Stevens Point) won by tech fall over Sarah Martinez (North Central College) (TF 14-2)
3rd Place Match - Ashden Welty (Iowa Wesleyan) won by injury default over Elizah Leonard (North Central College) (Inj. 0:00)
123
1st Place Match - Asia Nguyen-Smith (North Central College) won by tech fall over Mateah Roehl (North Central College) (TF 10-0)
3rd Place Match - Maddie Ruckdashel (Lakeland University) won by fall over Morgan Bethea (Wisconsin Stevens Point) (Fall 2:17)
130
1st Place Match - Gabby Skidmore (Augsburg University) won by decision over Amanda Martinez (North Central College) (Dec 2-1)
3rd Place Match - Sierra Brown Ton (Augsburg University) won by tech fall over Kate Gunderson (Lakeland University) (TF 10-0)
5th Place - Addison Young (Wisconsin Stevens Point)
136
1st Place Match - Autumn Flanigan (Augsburg University) won by decision over Savannah Vold (Augsburg University) (Dec 10-2)
3rd Place Match - Abigail Denney (North Central College) won by decision over Megan Struble (Wisconsin Stevens Point) (Dec 8-3)
5th Place - Daisy Scholz (Iowa Wesleyan)
143
1st Place Match - Kya Rybachek (Augsburg University) won by tech fall over Kahlea Jolly (Augsburg University) (TF 11-0)
3rd Place Match - Savannah Hisel (Wisconsin Stevens Point) won by fall over Raena Schledwitz (North Central College) (Fall 0:51)
155
1st Place Match - Marlynne Deede (Augsburg University) won by tech fall over Malea Palahniuk (North Central College) (TF 10-0)
3rd Place Match - Clara Padua-Cruz (Iowa Wesleyan) won by decision over Destynie Pacheco (Augsburg University) (Dec 4-2)
170
1st Place Match - Yelena Makoyed (North Central College) won by fall over Faith Tuttle (Augsburg University) (Fall 1:27)
3rd Place Match - Madison Horn (Augsburg University) won by tech fall over Hana Richter (North Central College) (TF 14-4)
191
1st Place Match - Melissa Jacobs (Augsburg University) won by decision over Tabitha Breitrick (Wisconsin Stevens Point) (Dec 7-4)
3rd Place Match - Amber Latta (North Central College) won by tech fall over Kassandra Ayard (Iowa Wesleyan) (TF 10-0)
4th Place Match
Kassandra Ayard (Iowa Wesleyan) won by fall over Alondra Aguayo (North Central College) (Fall 1:35)
5th Place - Alondra Aguayo (North Central College)
Team Standings
1. North Central College, 156.0
2. Augsburg University, 146.0
3. Wisconsin Stevens Point, 115.0
4. Iowa Wesleyan , 65.5
5. Lakeland University, 27.0
NCWWC Nationals qualifiers (by team)
North Central (13)
Kate Cacho (2nd at 101, NW qualifier)
Angelina Graff (2nd at 109, NW qualifier)
Sarah Martinez (2nd at 116, NW qualifier)
Elizah Leonard (4th at 116, NW qualifier)
Asia Nguyen-Smith (1st at 123, NW qualifier)
Mateah Roehl (2nd at 123, NW qualifier)
Amanda Martinez (2nd at 130, NW qualifier)
Abigail Denney (3rd at 136, NW qualifier)
Raena Schledwitz (4th at 143, NW qualifier)
Malea Palahniuk (2nd at 155, NW qualifier)
Yelena Makoyed (1st at 170, NW qualifier)
Hana Richter (4th at 170, NW qualifier)
Amber Latta (3rd at 191, NW qualifier)
Augsburg (13)
Hannah Michael (3rd at 101, NW qualifier)
Emily Shilson (1st at 109, NW qualifier)
Gabby Skidmore (1st at 130, NW qualifier)
Sierra Brown Ton (3rd at 130, NW qualifier)
Autumn Flanigan (1st at 136, NW qualifier)
Savannah Vold (2nd at 136, NW qualifier)
Kya Rybachek (1st at 143, NW qualifier)
Kahlea Jolly (2nd at 143, NW qualifier)
Marlynne Deede (1st at 155, NW qualifier)
Destynie Pacheco (4th at 155, NW qualifier)
Faith Tuttle (2nd at 170, NW qualifier)
Madison Horn (3rd at 170, NW qualifier)
Melissa Jacobs (1st at 191, NW qualifier)
Wisconsin-Stevens Point (7)
Brooke Thurber (1st at 101, NW qualifier)
Kelly Enriquez (4th at 109, NW qualifier)
Abby Nelson (1st at 116, NW qualifier)
Morgan Bethea (4th at 123, NW qualifier)
Megan Struble (4th at 136, NW qualifier)
Savannah Hisel (3rd at 143, NW qualifier)
Tabitha Breitrick (2nd at 191, NW qualifier)
Iowa Wesleyan (4)
Alaina Sunlin (3rd at 109, NW qualifier)
Ashden Welty (3rd at 116, NW qualifier)
Clara Padua-Cruz (3rd at 155, NW qualifier)
Kassandra Ayard (4th at 191, NW qualifier)
Lakeland (2)
Maddie Ruckdashel (3rd at 123, NW qualifier)
Kate Gunderson (4th at 130, NW qualifier)