News
USA Wrestling
College
USAW
No. 3 Penn State rolls over No. 11 Ohio State, 28-12 in Columbus
by Pat Donghia, Penn State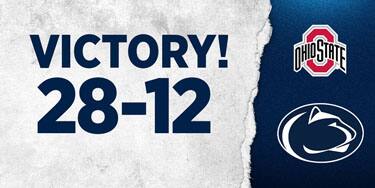 UNIVERSITY PARK, Pa. –The Penn State Nittany Lions (5-0, 5-0 B1G), ranked No. 3 in the latest InterMat Tournament Power Index, won seven of ten bouts to win handily at No. 11 Ohio State (5-4, 5-4 B1G), the team's fifth-straight conference dual away from home. Head coach Cael Sanderson's squad broke the dual meet open in the second half to roll to a 28-12 victory in Columbus. All team and individual rankings listed are InterMat (2/16/21).
Penn State picked up ranked victories at 174, 184 and 285 to take down the Buckeyes. The young Nittany Lions featured a line-up that included five freshmen (two true) and two sophomores, a total of seven underclassmen.
The dual began at 125 where true freshman Robert Howard (Cranford, N.J.) took on No. 10 Malik Heinselman. The Lion freshman battled the Ohio State veteran tough but lost 5-2 in the dual's opening bout. Junior Roman Bravo-Young (Tucson, Ariz.), ranked No. 3 at 133, put on an offensive show in his match-up. Bravo-Yong turned a 6-2 lead into an 18-6 lead with a furious second period that included four takedowns and a reversal. He ended the match with four back points to post a 26-8 technical fall at the 5:37 mark over Ohio State's Jordan Decatur.
Senior Nick Lee (Evansville, Ind.), ranked No. 2 at 141, put Penn State up 9-3 with a dominant 15-3 major over OSU's Dylan D'Emilio. The Lion senior tallied five takedowns in the win. True freshman Beau Bartlett (Tempe, Ariz.) made his Penn State dual debut up at 149, taking on No. 2 Sammy Sasso. Bartlett took an early lead with the bout's first takedown but Sasso came back for the hard-fought 5-3 win to cut Penn State's lead to 9-6 Junior Brady Berge (Mantorville, Minn.), ranked No. 8 at 157, turned a late takedown into a 3-1 win over Ohio State's Elijah Cleary. Berge's win gave the Nittany Lions a 12-6 lead at halftime.
Freshman Joe Lee (Evansville, Ind.), ranked No. 14 at 165, notched his bout's first takedown against No. 10 Ethan Smith but suffered a reversal and was pinned at the 2:34 mark. Smith's win briefly tied the dual at 12-12. Penn State won out. Freshman Carter Starocci (Erie, Pa.), ranked No. 5 at 174, continued his outstanding wrestling, taking on No. 3 Kaleb Romero. A week after downing the nation's second-ranked grappler, Starocci took Romero to a tie-breaker and used a rideout to post a 2-1 (tb) victory, putting Penn State up 15-12.
Sophomore Aaron Brooks (Hagerstown, Md.), ranked No. 2 at 184, controlled No. 20 Rocky Jordan for seven minutes in his bout. Brooks broke open a close 2-1 bout with a six-point second period, on his way to a 13-4 major. Freshman Michael Beard (Pottstown, Pa.), ranked No. 16 at 197, the clinched the Penn State win. Beard turned a shot into a scramble against Gavin Hoffman into a takedown :30 into the first period. He then turned the Buckeye to his back and, after a minute's worth of work, picked up the first period pin at the 1:20 mark to put Penn State up 25-12. Sophomore Seth Nevills (Clovis, Calif.), ranked No. 8 at 285, closed out the dual with Penn State's seventh win of the night. Nevills used a third period takedown to post a 3-2 victory over No. 16 Tate Orndorff and Penn State walked away with a 28-12 victory in Columbus.
The Nittany Lions allowed only three takedowns during the dual meet. Penn State rolled up a 24-3 advantage in takedowns. Sanderson's team picked up seven bonus points off a pin (Beard), a tech fall (Bravo-Young) and two majors (Nick Lee, Brooks).
No extra matches were conducted during the dual meet on a separate mat. This year, with condensed schedules, these extra matches, while not counting towards dual meet scores, are official varsity bouts and count towards NCAA competition minimums.
Penn State is now 5-0 on the year, 5-0 in Big Ten action. Ohio State falls to 5-4, 5-4 B1G. The Nittany Lions close out the dual season with their lone home dual of the season on Monday, Feb. 22. Penn State welcomes Maryland to Rec Hall for a 6 p.m. dual meet that will air live nationally on the Big Ten Network.
Penn State Fans are encouraged to follow Penn State wrestling via twitter at @pennstateWREST, on Penn State Wrestling's Facebook page at www.facebook.com/pennstatewrestling and on Instagram at www.instagram.com/pennstatewrest. This is PENN STATE. WRESTLING lives here.
#3 Penn State 28, #11 Ohio State 12

February 19, 2021 – Columbus, Ohio
125: #10 Malik Heinselman OSU dec. Robert Howard PSU, 5-2
133: #3 Roman Bravo-Young PSU tech fall Jordan Decatur OSU, 26-8 (TF; 5:37)
141: #2 Nick Lee PSU maj. dec. Dylan D'Emilio OSU, 15-3
149: #2 Sammy Sasso OSU dec. Beau Bartlett PSU, 5-3
157: #8 Brady Berge PSU dec. Elijah Cleary OSU, 3-1
165: #10 Ethan Smith OSU pinned #14 Joe Lee PSU, WBF (2:34)
174: #5 Carter Starocci PSU dec. #2 Kaleb Romero OSU, 2-1 (tb)
184: #2 Aaron Brooks PSU maj. dec. #20 Rocky Jordan OSU, 13-4
197: #16 Michael Beard PSU pinned Gavin Hoffman OSU, WBF (1:20)
285: #8 Seth Nevills PSU dec. #16 Tate Orndorff OSU, 3-2
Records:
Penn State (5-0, 5-0 B1G); Ohio State (5-4, 5-4 B1G)
Extra Matches:
None