News
USA Wrestling
College
USAW
Northern Iowa checks in at No. 1 in NWCA Mid-Major Division I Poll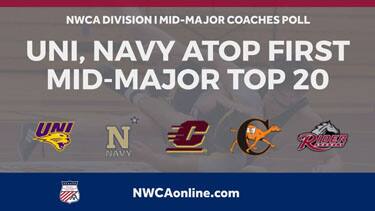 Manheim, Pennsylvania – The National Wrestling Coaches Association released its first Mid-Major Top 20 of the season on Wednesday. Formulated in 2017, the Mid-Major Top 20 concentrates on the programs that fall outside of the traditional "Power 5" conferences.
COVID-19 played a significant role in this year's college sports season, with wrestling being impacted without the participation of seven schools that would qualify for inclusion in the Mid-Major Top 20. The six wrestling Ivy League schools – Brown, Columbia, Cornell, Harvard, Penn and Princeton along with the lone Division III school sponsoring Division I wrestling, Franklin & Marshall, did not compete this season.
Northern Iowa, one of the nation's top non-Power 5 wrestling programs historically, comes in atop of the poll, followed by the U.S. Naval Academy and first-year head coach Cary Kolat. Traditional Mid-American Conference power Central Michigan is third, followed by Campbell at four and Rider fifth.
While the Big 12 is a Power 5 conference, a number of its affiliate members are considered Mid-Majors and seven of them are in the Top 20. The EIWA has six schools in the rankings, followed by the MAC and SoCon with three each.
Methodology: The NWCA Division I Mid-Major Wrestling Coaches Poll is voted on by coaches representing teams from non-Power 5 conferences. Each first-place vote is worth 20 points, 19 points for a second-place vote, 18 for a third-place vote and so on through to one point for a 20th-place vote. The poll is based on dual meet results. Teams who are not competing this season are not included in the voting process.
NWCA Division I Mid-Major Wrestling Coaches Poll
February 17, 2021
| | | | | | |
| --- | --- | --- | --- | --- | --- |
| Rank | School | Record | Points | Conf. | All-Sports Conf. |
| 1 | Northern Iowa (4) | (4-4) | 98 | Big 12 | Missouri Valley |
| 2 | Navy (1) | (5-1) | 96 | EIWA | Patriot League |
| 3 | Central Michigan | (5-2) | 82 | MAC | MAC |
| 4 | Campbell | (8-1) | 81 | SoCon | Big South |
| 5 | Rider | (4-1) | 78 | MAC | Metro Atlantic |
| 6 | Wyoming | (3-3) | 72 | Big 12 | Mountain West |
| 7 | North Dakota State | (7-3) | 63 | Big 12 | Summit |
| 8 | Northern Colorado | (4-2) | 61 | Big 12 | Big Sky |
| 9 | Binghamton | (3-1) | 57 | EIWA | America East |
| 10 | Appalachian State | (7-2) | 56 | SoCon | Sun Belt |
| 11 | Lehigh | (3-4) | 53 | EIWA | Patriot League |
| 12 | Army West Point | (2-3) | 46 | EIWA | Patriot League |
| 13 | Northern Illinois | (6-3) | 44 | MAC | MAC |
| 14 | South Dakota State | (5-6) | 42 | Big 12 | Summit |
| 15 | Chattanooga | (8-4) | 22 | SoCon | SoCon |
| 16 | Drexel | (2-1) | 22 | EIWA | Colonial |
| 17 | Air Force | (2-5) | 21 | Big 12 | Mountain West |
| 18 | Hofstra | (2-1) | 20 | EIWA | Colonial |
| 19 | Utah Valley | (2-4) | 12 | Big 12 | WAC |
| 20 | Cal Poly | (2-3) | 11 | Pac-12 | Big West |
Others Receiving Votes:
Buffalo 6, Edinboro 5, Kent State 1, Lock Haven 1