News
USA Wrestling
College
Women
USAW
This week's Women's College schedule, listed by day; the post-season begins this weekend!!
by Gary Abbott, USA Wrestling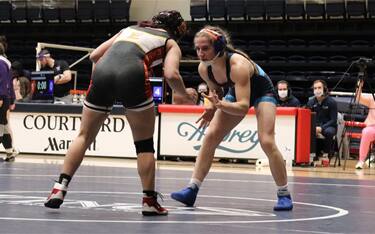 Allison Petix of NCAA No. 2 King University will compete in the NCWWC Southeast qualifier. Photo courtesy of King University.
It seems like the college season just started. Time sure flies by during a pandemic. This week marks the beginning of the post-season for college programs at the NCAA level, as well as the NAIA level.
The week starts out with a few dual meets, with NAIA No. 14 York hosting Otttawa and Central Christian on Tuesday, and a pair of NAIA ranked teams battling in a Tuesday dual meet, with No. 9 Midland and No. 19 William Penn doing battle. There are a few other NAIA duals this week.
None of the NCAA women's programs are competing during the week, because this weekend will be the four regional events which set the field for the NCWWC Nationals. On Saturday, the Northeast Qualifier is at Gannon. On Sunday, the Southeast Qualifier is at Emmanuel, the Southwest Qualifier at McKendree and the Northwest Qualifier at UW-Stevens Point. The top four athletes in each weight class will advance to the NCWWC national event at Tiffin on March 6.
Three of the qualifiers feature four ranked teams, with only the Northeast qualifier having three ranked teams.
The breakdown of programs for the NCWWC qualifiers follows (alphabetically and with ranking):
Northeast
– No. 10 Adrian, Davenport, Delaware Valley, Elmira, No. 9 Gannon, New Jersey City, No. 6 Tiffin, Trine
Southeast
– No. 3 Emmanuel, Ferrum, No. 2 King, No. 14 Limestone, No. 8 Presbyterian
Northwest
– No. 7 Augsburg, Carthage, Iowa Wesleyan, No. 12 (tie) Lakeland, No. 5 North Central, Pacific, No. 11 UW-Stevens Point
Southwest
– No. 4 Colorado Mesa, Fontebonne, No. 15 Lindenwood, No. 1 McKendree, No. 12 (tie) Schreiner, Westminster
The NAIA post season begins with a pair of conference meets, the Mid-South Conference in Bowling Green, Ky. on Saturday and the Heart of American Conference in Fayette, Mo. on Saturday.
The breakdown of programs in this week's NAIA conference meets (alphabetically and with rankings)
Heart of America Conference:
Central Methodist, No. 5 Baker, No. 2 Grand View, No. 16 Missouri Valley, No. 19 William Penn, No. 20 Waldorf
Mid-South Conference:
Brewton-Parker, No. 4 Campbellsville, No. 12 Indiana Tech, No. 1 Life, Lourdes, St. Andrews, No. 6 Cumberlands
There are two more NAIA conference meets next week. The NAIA conference tournaments do not serve as qualifiers to the NAIA Nationals in Jamestown in mid-March. All NAIA women's wrestling teams can enter the national tournament, regardless if they participate in a conference tournament or not.
This week's schedule, broken out by day
Tuesday, Feb. 16 – Ottawa at NAIA No. 14 York
Tuesday, Feb. 16 – Central Christian at NAIA No. 14 York
Tuesday, Feb. 16 – Ottawa vs. Central Christian (at York)
Tuesday, Feb. 16 – NAIA No. 9 Midland vs. NAIA No. 19 William Penn (at Indian Hills CC)
Friday, Feb. 19 – St. Mary at Ottawa
Saturday Feb. 20 - NCWWC Northeast Qualifier at Gannon University (Pa.)
Saturday, Feb. 20 – Mid-South Conference Championships at Bowling Green, Ky.
Saturday, Feb. 20 – Heart of America Athletic Conference Championships at Fayette, Mo.
Saturday, Feb. 20 – Central Christian at No. 9 Midland
Sunday, Feb. 21 - NCWWC Southeast Qualifier at Emmanuel College (Ga.)
Sunday, Feb. 21 - NCWWC Southwest Qualifier at McKendree University (Ill.),
Sunday, Feb. 21 - NCWWC Northwest Qualifier at UW-Stevens Point (Wis.)